»

»

Social Sciences Faculty and Staff
Juneau Campus: Soboleff Bldg
Juneau Campus: Whitehead Bldg
Social Sciences Faculty
Juneau Campus: Whitehead Bldg
Professor of History
Phone: 796-6433, Fax: 796-6406
Email: rrwalz@alaska.edu
Arts and Sciences - Social Sciences
Whitehead Bldg, Rm 228, Juneau Campus
Juneau Campus
Education
Ph.D. History, University of California at Davis (1994)
M.A. History, San Francisco State University (1988)
B.A. History, Whitworth College (1979)
Biography
Bonjour! I'm pleased that you have found your way to this page. Teaching is my life vocation, and I'm pleased to have found my way to a public university such as UAS. I teach a wide array of courses, including surveys in World History, lower-division orientation seminars in the Humanities and Social Sciences, upper-division courses in the Holocaust, Modern European Intellectual History, and the History of Gender and Sexuality, and senior-level seminars on History and Popular Culture.
My areas of research specialization are modern European intellectual history and the history of popular culture in modern France. Recently, Routledge published my Modernism textbook (2nd ed., 2013) in its "Seminar Studies in History" series. I wrote "Surrealism and Film" for Oxford Bibliographies (Oxford University Press, last updated 2015). The University of California Press published my Pulp Surrealism: Insolent Popular Culture in Early Twentieth-Century Paris (2000), a groundbreaking work that bridges high-low cultural divides between French avant-garde movements and popular culture. I write scholarly essays on French crime fiction, most notably "The Rocambolesque and the Modern Enchantment of Popular Fiction" on the criminal-turned-avenger Rocambole in The Re-Enchantment of the World: Secular Magic in a Rational Age (eds. Joshua Landy and Michael Saler, Stanford University Press, 2009). I am also a great fan of bande dessinée (French comics) and recently published the article, "Putain de guerre! Teaching Jacques Tardi's WWI Graphic Novels", for Fiction and Film for French Historians (2014). My current book project is "Shady Detectives, Elegant Criminals, and Dark Avengers," a cultural history of French crime writing, 1815-1950.
As a scholar of popular culture, I also make periodic contributions to trade press publications. I translated "Death of Nick Carter," a crime parody by Surrealist Philippe Soupault, from French into English for the literary review McSweeney's Quarterly Concern, issue 24 (2007). I have also written introductions to French crime book reissues, "The Genius of Crime" for the classic 1911 French crime thriller, Fantômas by Pierre Souvestre and Marcel Allain (Dover, 2006), and "Vidocq: Rogue Cop" for the Memoirs of Vidocq: Master of Crime (AK Press, 2003). I also devour contemporary French crime fiction. Some of my favorite French polar ("hardboiled" crime) writers are Léo Malet, Didier Daeninckx, Jean-Claude Izzo, and Fred Vargas. I also have a special fondness for the St. Cyr/Kohler crime series by Canadian author J. Robert Janes, set during the Nazi Occupation of France.
Professionally, I am an active member in French historical societies, currently the Vice-President of the Western Society for French History, previously co-editor of the Journal of the Western Society for French History (2011-2015), and currently the Assistant Editor of H-France Forum (Society for French Historical Studies). I also share my scholarly interests in history and popular culture with the Juneau community, through the UAS "Evening at Egan" and "Sound + Motion" lecture series, recently "Who's Afraid of the Big Bad Borg? The Ecological Imperative in the Age of Cybernetic Organisms" (2014) and "Viewing the Elephant Man" (2016). When not engaged in academic matters, for musical pleasure I play cello in the Juneau Symphony Orchestra.
Juneau Campus: Soboleff Bldg
Professor of Anthropology
Phone: 796-6017, Fax: 796-6406
Email: edhill@alaska.edu
Arts and Sciences - Social Sciences
Soboleff Bldg, 217, Juneau Campus
Juneau Campus
Education
Erica received her Ph.D. from the University of New Mexico in 1999. She has archaeological excavation experience in Alaska, Florida, the Southwest, Mexico, Peru, and the Russian Far East and has conducted ethnographic fieldwork in Honduras.
Biography
Erica is a broadly trained archaeologist with research interests in Peru and the Arctic. She received her B.A. from the University of Florida, and earned an M.A. and Ph.D. in Anthropology at the University of New Mexico. She has excavation experience in Alaska, Florida, the Southwest U.S, Mexico, Peru, and the Russian Far East and has conducted ethnographic fieldwork in Honduras.
Erica is interested in ancient belief systems and cosmology, especially the cross-cultural study of funerary ritual and sacrifice. Her work in Peru focuses on iconography and burial evidence of the Moche, a pre-Inca culture of the Pacific coast of South America. (Selected publications on the Moche)
More recently, Erica's work has focused on the prehistory of human–animal relations in the Bering Sea region. She is particularly interested in how approaches from animal geography can be applied to archaeological evidence. (Selected publications on human–animal relations.)
Erica is the editor of Iñupiaq Ethnohistory: Selected Essays by Ernest S. Burch, Jr. (2013) and co-editor, with Jon B. Hageman, of The Archaeology of Ancestors: Death, Memory and Veneration (2016).
As a 2016–2017 Fulbright–NSF Arctic Research Scholar, Erica spent a semester at the University of Iceland in Reykjavik studying the Icelandic language and researching the use of horses in Viking Age burial practices.
Many of Erica's publications are available at academia.edu and at ScholarWorks@UA.
Selected Publications on the Moche
2016    Identifying the Revered Dead in Moche Iconography, pp. 189–212 in Erica Hill and Jon B. Hageman, eds. The Archaeology of Ancestors: Death, Memory and Veneration. University Press of Florida, Gainesville, FL.
2013   Death, Emotion, and the Household among the Late Moche of Peru. In The Oxford Handbook of the Archaeology of Death and Burial, edited by Sarah Tarlow and Liv Nilsson Stutz, pp. 597–616. Oxford University Press, Oxford.
2008   Animism and Sacrifice: Reconstructing Moche Religion through Architecture, Iconography, and Archaeological Features. In Religion in the Material World, edited by Lars Fogelin, pp. 38–60. Center for Archaeological Investigations, Southern Illinois University, Carbondale, IL.
2006    Moche Skulls in Cross-Cultural Perspective, pp. 91–100 in Michelle Bonogofsky, ed. Skull Collection, Modification and Decoration. British Archaeology Reports (BAR) International Series 1539. Oxford, Archaeopress.
2003    Sacrificing: Moche Bodies, Journal of Material Culture 8(3):285–299.
2000    The Embodied Sacrifice, Cambridge Archaeological Journal 10(2):307–316.
1998    Death as a Rite of Passage: The Iconography of the Moche Burial Theme, Antiquity 72(277):528–538.
Selected Publications on Human–Animal Relations
2013    Archaeology and Animal Persons: Toward a Prehistory of Human-Animal Relations, Environment &Society: Advances in Research 4:117–136.
2012    The Nonempirical Past: Enculturated Landscapes and Other-than-Human Persons in Southwest Alaska. Arctic Anthropology 49(2):41–57.
2011    Animals as Agents: Hunting Ritual and Relational Ontologies in Prehistoric Alaska and Chukotka. Cambridge Archaeological Journal 21(3):407–426.
Juneau Campus: Soboleff Bldg
Associate Professor of Anthropology
Phone: 796-6413, Fax: 796-6406
Email: dbmonteith@alaska.edu
Arts and Sciences - Social Sciences
Soboleff Bldg, 221, Juneau Campus
Juneau Campus
Education
Ph.D., Michigan State University. Dr. Monteith specializes in ethnohistory, economic anthropology, cultural ecology pertaining to subsistence, Tlingit art and oral narratives, and archeology of Southeast Alaska; his geographical areas of interest include Alaska, the Russian Far East, and Siberia.
Biography
Dan grew up in Seattle, Washington and went to the University of Chicago for a bachelor's degree in anthropology. He earned a master's degree and Ph.D. in anthropology from Michigan State University. He also holds a master's degree in social science from the University of Chicago. While in Chicago he worked at the Field Natural History Museum and Oriental Institute Museum. As a student his summers were spent working in the fishing industry in Bristol Bay. This experience led him to his current research, which is an anthropological study of the Bristol Bay fishery.Daniel has a wide range of practical experience. In 1992-93 he was employed by the Forest Service as an archeologist in the Ketchikan area of the Tongass National Forest. He then worked for the Tongass Tribe on a federal project; and during 1995-96 in the Economic Development Center at the UAS- Ketchikan Campus. In 1998 he became the Executive Director of Historic Ketchikan. Curriculum Vitae
Juneau Campus: Soboleff Bldg
Professor of History
Phone: 796-6329, Fax: 796-6406
Email: dhnoon@alaska.edu
Arts and Sciences - Social Sciences
Soboleff Bldg, 215, Juneau Campus
Juneau Campus
Education
Ph.D., University of Minnesota. Dr. Noon earned his degree in American Studies and teaches all periods of U.S. history. He is particularly interested in the period between the Civil War and World War I; the history of race and social science; and contemporary debates about empire in American history.
Biography
David Noon has taught U.S. history on the UAS Juneau campus since Fall, 2002. His dissertation, "This is (Not) a Child: Race, Gender, and 'Development' in the Child Sciences, 1880-1910," displays the full range of Dr. Noon's research interests in history, which include developmental psychology, criminology, medicine, and the social construction of race and gender. More recently, Dr. Noon has written about the use of World War analogies in contemporary political rhetoric, cold war historical memory in the fiction of Don DeLillo, and the work of neoconservatives and Christian prophecy writers in the war on terrorism.
Juneau Campus: Whitehead Bldg
Associate Professor of Social Sciences, Social Sciences Department Chair
Phone: 796-6152, Fax: 796-6406
Email: levess@alaska.edu
Juneau Campus: Whitehead Bldg
Ketchikan Campus: Ziegler Bldg
Ketchikan Campus Director, Professor of Anthropology/Sociology
Phone: 228-4515, Fax: 225-3624
Email: pmschulte@alaska.edu
Arts and Sciences - Social Sciences, Ketchikan Director's Office
Ziegler Bldg, Room 116A, Ketchikan Campus
Ketchikan Campus
http://www.uas.alaska.edu/ketchikan
Education
Ph.D., University of New Mexico. Dr. Schulte specializes in multicultural education, Alaska Native cultures, sociocultural change, and archaeology of southeast Alaska.
Biography
Priscilla Schulte has been teaching on the Ketchikan campus since 1980 and has been teaching distance classes for over ten years. Most of her students are in southeast Alaska, but some are from as far away as Connecticut. Priscilla has taught summer classes on the Juneau campus as well as distance delivery classes by video and audio conference to the Juneau campus. She teaches primarily lower division anthropology and sociology classes, as well as multicultural education classes.
Priscilla started her teaching career by teaching anthropology at Dine College (formerly Navajo Community College) now located in Tsaile, Arizona. Her anthropological fieldwork in Arizona and Chicago sparked her interest in completing an M.A. in anthropology at the University of Connecticut. During her years of living and teaching on the Navajo Nation, she began her doctoral work at the University of New Mexico which she completed after her move to Alaska in 1980.
Priscilla's research and teaching interests are in multicultural education, Alaska Native cultures (primarily of southeast Alaska), and Native American culture change. She produced the video, "The Bear Stands Up," which has aired on public television. Her most recent research has focused on the totem pole carvers of the CCC era. She is an adopted member of the Tongass Brown Bear clan of the Tlingit people. She is the mother of two daughters who have inspired and encouraged her in her research and teaching.
One of the most exciting events of Priscilla's teaching year is the annual fieldtrip coordinated with the Forest Service to do archaeological and ethnographic fieldwork with local Native elders, cultural teachers, and UAS students. The field trips focus on the survey and inventory of important cultural sites located in southern southeast Alaska.
Ketchikan Campus: Paul Bldg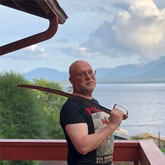 Professor of History
Phone: 228-4541
Email: jtradzilowski@alaska.edu
Arts and Sciences - Social Sciences
Paul Bldg, Room 503, Ketchikan Campus
Ketchikan Campus
Education
Ph.D., 1999, Arizona State University, specializing in Modern U.S. History, Russia/Eastern Europe, and Public History.
Certificate in Scholarly Publishing, 1994, Arizona State University.
BA, 1989, History, Southwest Minnesota State University.
Biography
Hello! Welcome to my faculty homepage!
I have taught history, art history and geography at UAS on the Ketchikan campus since 2007. Prior to moving to Alaska, I taught history courses at University of St. Thomas, Hamline University, and Anoka-Ramsey College in Minnesota. I also served as assistant project director at Center for Nations in Transition, at the Hubert H. Humphrey Institute of Public Affairs at the University of Minnesota where I helped design and administer USAID and State Department-sponsored training programs for business, economics, and political science faculty and NGO leaders in Ukraine and east central Europe.
My research and teaching interests are wide-ranging and diverse: immigration and ethnicity, military history, war and genocide, the impact of technology on the history and geography of the Great Plains and Midwest, local and regional studies, and the history of Poland, Russia, Ukraine and central and eastern Europe.
Ketchikan Campus: Paul Bldg
Associate Professor of Sociology
Phone: 228-4527, Fax: 225-3624
Email: wlurquhartii@alaska.edu
Arts and Sciences - Social Sciences
Paul Bldg, Room 505, Ketchikan Campus
Ketchikan Campus
Education
Ph.D., MA, Tulane University
B.S., Oregon State University
William Urquhart's recent doctoral dissertation on school violence and bullying includes ethnographic and statistical studies at a remote Western Alaska village and at an inner-city high school in pre-Katrina New Orleans.  This work emphasizes the importance of social account conversations in defining peer group norms for retaliation in disadvantaged areas, and will soon be published in book form as a monograph.  His other research interests include Alaskan social problems such as alcoholism and domestic violence, and organizational behavior perspectives on workplace violence.  Currently, he is investigating the effect of climatic temperature variation on seasonal domestic violence rate cycles in northern states.  He enjoys teaching distance education classes, and some of his course offerings include Theory and Research in Criminology, Social Psychology, and Alaska Social Problems; Deviant Behavior, Organizational Behavior, and Environmental Sociology.
Biography
Bill was born and raised in Ketchikan, following four generations of Alaska commercial fishermen, prospectors, and pioneer women.  His interest in sociology was piqued through his early experiences commercial fishing with his family, where he observed social change affecting the organizational structure of the industry.  Since returning to Alaska from New Orleans in 2002 for dissertation research, Bill has lived in several areas of the state, including time working as an educator and wrestling coach in Western Alaska and in Fairbanks. 
In addition to serving as an instructor at UAS, Bill is an independent consultant to several Alaska school districts, working with student information systems and federal and state data reporting.  Bill also plays the Scottish Great Highland Bagpipes; he is the Lead Bagpiper with Ketchikan's Misty Thistle Pipes & Drums, and also performs at select solo engagements.  Bill enjoys spending his spare time with his wife Frankie, a science teacher in Ketchikan, and their small children, Liam, Neila, and Torran.
Other
Advising contact for all distance-based students in the Bachelor of Liberal Arts degree.
Ketchikan Campus: Paul Bldg
Ketchikan Campus: Paul Bldg
Assistant Professor of Economics
Phone: 228-4559, Fax: 225-3624
Email: aospehar@alaska.edu
Arts and Sciences - Social Sciences
Paul Bldg, Room 506, Ketchikan Campus
Ketchikan Campus
Education
Ann Spehar earned a Masters in Applied Economics at Seattle University in Washington State where she also earned two undergraduate degrees in economics and math at the University of Washington. She holds a Master in Education in curriculum and instruction from Montana State University and has two years of study toward a doctorate degree in economics at Washington State University and the University of Calgary in Alberta, Canada.
Courses Taught
Ann Spehar is currently an Assistant Professor in Economics at the University of Alaska Southeast. She is responsible for designing, developing and instructing online asynchronous courses in Money and Banking, International Economics, Intermediate Macroeconomic Theory, and principles courses.
Other
Spehar's field of interest is the theory of the endogenous business cycles. She has studied the 1930's U.S. 'Great Depression' extensively, and has compared it to the 2008 financial crisis. Spehar has recently published two papers on that topic in the World Economics Journal.   She has also published in the International Journal of Wilderness.
Spehar has also worked as a consultant in industry, with areas of expertise in mathematical modeling, software engineering and project management. She worked 15 years at the Boeing Company, supporting clients that included Bell Laboratories, AT&T Long Lines, McDonnell Douglas and Hanford Nuclear Facility. She served in executive leadership at the Boeing Company in Seattle and received over 700 hours of Boeing Company training when that company was expanding its territory beyond aviation into computer timesharing services to the world. At the time, Boeing Computer Services (BCS) provided cutting edge computer engineering consultation to 148 government and commercial customers.
Ann Spehar was born in Fairbanks, Alaska "before it was a state" where her father served as editor of the Fairbanks Daily News Minor and headed up AP for Alaska.  She has recently moved from Montana with her husband Alex and Australian Shepherd Montana.
Juneau Campus: Whitehead Bldg