Student Accounts
The Student Accounts Office is responsible for billing and collection of student tuition, fees and housing charges. Our office staff is dedicated to helping you meet your personal financial responsibilities by providing courteous service in regards to any questions about your student account. Please stop by, call or email us with your questions. We are located on the second floor of the Novatney Building in room 215.
Our Mission Statement
Our office is dedicated to providing quality services to the students, parents, faculty and staff, and to support the University of Alaska's educational goals through the correct assessment of student fees, collections procedures, and receipting the University funds.
Juneau Campus: Novatney Bldg
Ketchikan Campus: Ziegler Bldg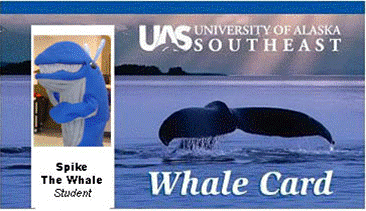 Whale Card
What are the Benefits?
It's convenient: Using your Whale Card is easier than carrying cash, checks or credit cards.
It's faster than cash: The Whale Card will always have exact change.
It's safe: If your Whale Card is lost or stolen, simply email or call (907) 796-6267, and we'll take care of the rest.
The Safeway store in Juneau offers a 10% discount all day on Sundays when you present your Whale Card.
What can I do with my Whale Card?
It's your official UAS ID
It's your library card (NEW! Set this up at the Egan Library)
It's your key access to campus buildings
It's your key access for residents of on-campus housing
It's your access to the UAS Juneau Recreation Center
It's a way to pay for many things around campus including dining service locations, as well as campus stores and on-campus housing laundry facilities
How can I apply for my Whale Card?
On campus
Fill out the Whale Card Application Form
Take the completed form to Student Accounts to receive your Whale Card
Distance students
Distance students can apply for and receive Whale Cards via mail.
Fill out the Whale Card Application Form
Scan a current, valid picture ID (state ID, driver's license, passport, military ID, etc.)
Take an eligible digital photo of yourself (head and shoulders close up photo of just yourself). Formats accepted: .jpg / .jpeg or .png
Send all required documents to uas.cashier@alaska.edu or fax to (907)-796-6006
Once issued, the Whale Card will be mailed to the address listed on the student's university account or to their local campus for pickup. You can check and update your address on UAOnline
How much will it cost to get my Whale Card?
There is no cost for your initial card. However, replacing lost, stolen, or damaged cards will require a fee of $10.
Dining Dollars and Whalebucks
What's the difference between "Dining Dollars" and "Whalebucks"?
Dining Dollars are used for food purchases only at the on-campus dining facilities as well as at the campus stores. They cannot be used for non-food purchases. In addition, Dining Dollars accounts do not carry over from one term to another.
Whale Bucks can be used at any of the campus stores as well as for housing laundry facilities.
How do I add Whalebucks?
There are a few different ways to add Whalebucks to the Whale Card:
Through the eAccounts website
By visiting the Student Accounts office
By using the machines located at John Pugh Hall or at the Main Housing Lodge
Please note
unused Whalebucks expire after 18 months
unused Dining Dollars expire at the end of every term, and no refunds are available
there will be a $10 administrative fee for Whalebucks account refunds or transferring money from a UAA Wolf or UAF PolarExpress card
2018–2019 Tuition Schedule
The 2018–2019 tuition and fee schedule runs from Fall Semester 2018 through Summer Semester 2019. Additional credits are assessed at the appropriate rate per credit. For non-residents, these rates are $751 per credit for lower division, $795 for upper division, and $1,028 for graduate credit.
Non-residents may take up to 4 credits per semester at the resident rate; however, additional credits will cause all credits, including the first four, to be re-assessed at the non-resident rate.
For Alaskan residents, all credits are assessed at $212 per credit for lower division, $256 for upper division, and $489 for graduate credit.
Western Undergraduate Exchange (WUE) program: residents of Arizona, California, Colorado, Hawaii, Idaho, Montana, Nevada, New Mexico, North Dakota, Oregon, South Dakota, Utah, Washington and Wyoming and are eligible under the WUE program. The WUE surcharge is 150% of the lower division resident tuition rate.
Tuition prices vary, based upon the following criteria:
Lower division (000 - 299 level), upper division (300-499 level) and graduate (600-699 level) courses.
Resident - State of Alaska, Sister City, Yukon and Northwest Territory residents.
Non-resident - Residents of all non-WUE states, International students.
WUE - residents of the 14 other participating western states and the Northern Mariana Islands
Following are three graphs showing tuition costs per credit for Resident, WUE and Non-RES for Lower Division, Upper Division and Graduate level courses per semester.
LOWER DIVISION (000-299)
#
Resident $212
WUE $318
Non-Res $751
1
$212

4 credits or less same as resident tuition

2
$424
3
$636
4
$848
5
$1060
$1,590
$3,755
6
$1,272
$1,908
$4,506
7
$1,484
$2,226
$5,257
8
$1,696
$2,544
$6,008
9
$1,908
$2,862
$6,759
10
$2,120
$3,180
$7,510
11
$2,332
$3,498
$8,261
12
$2,544
$3,816
$9,012
13
$2,756
$4,134
$9,763
14
$2,968
$4,452
$10,514
15
$3,180
$4,770
$11,265
16
$3,392
$5,088
$12,016
17
$3,604
$5,406
$12,767
18
$3,816
$5,724
$13,518
19
$4,028
$6,042
$14,269
20
$4,240
$6,360
$15,020
21
$4,452
$6,678
$15,771
#
Resident $256
WUE $384
Non-Res $795
1
$256

4 credits or less same as resident tuition

2
$512
3
$768
4
$1,024
5
$1,280
$1,920
$3,975
6
$1,536
$2,304
$4,770
7
$1,792
$2,688
$5,565
8
$2,048
$3,072
$6,360
9
$2,304
$3,456
$7,155
10
$2,560
$3,840
$7,950
11
$2,816
$4,224
$8,745
12
$3,072
$4,608
$9,540
13
$3,328
$4,992
$10,335
14
$3,584
$5,376
$11,130
15
$3,840
$5,760
$11,925
16
$4,096
$6,144
$12,720
17
$4,352
$6,528
$13,515
18
$4,608
$6,912
$14,310
19
$4,864
$7,296
$15,105
20
$5,120
$7,680
$15,900
21
$5,376
$8,064
$16,695
#
Resident $489
Non-Res $1028
1
$489

4 credits or less same as resident tuition

2
$978
3
$1,467
4
$1,956
5
$2,445
$5,140
6
$2,934
$6,168
7
$3,423
$7,196
8
$3,912
$8,224
9
$4,401
$9,252
10
$4,890
$10,280
11
$5,379
$11,308
12
$5,868
$12,336
13
$6,357
$13,364
14
$6,846
$14,392
15
$7,335
$15,420
2018–2019 Fees
Network Access Fee
Lower Division: $8 per credit
Upper Division: $10 per credit
Graduate: $20 per credit
Non-resident rate: $30 per Lower Division (000-200 level) credit
Non-resident rate: $32 per Upper Division (300-400 level) credit
Non-resident rate: $41 per Graduate credit
The purpose of the network charge is to cover rapidly rising costs, especially in the maintenance and enhancement of our university-wide technology infrastructure. The charge will be applied at a 4% rate on a course-by-course basis to tuition, non-resident surcharges if applicable, and fees in lieu of tuition, for credit and non-credit courses. Courses with applicable fees less than the lower division credit hour tuition rate will be exempt from the charge. All calculated fees will be rounded to the nearest dollar.
Consolidated Fee - Juneau
$47 per credit
The non-refundable consolidated fee is used to provide students with a variety of opportunities and services that enhance the quality of the educational experience and facilitate the delivery of instruction by covering costs associated with the use of various in-class and e-learning instructional materials, supplies, and technologies, as well as learning support resources, student activities and recreation. The Juneau campus consolidated fee partially funds these specific student services: student government, student health clinic, the Egan Library, the campus learning and testing center, the I.T. HelpDesk, Whalesong, the UAS recreation center, and the Juneau campus shuttle system.
Consolidated Fee - Sitka and Ketchikan
$25 per credit
The non-refundable consolidated fee is used to provide students with a variety of opportunities and services that enhance the quality of the educational experience and facilitate the delivery of instruction by covering the costs associated with the use of various in-class and e-learning instructional materials, supplies, and technologies, as well as learning support resources, and student activities. The Sitka and Ketchikan campus consolidated fee supports these specific student services: student government, campus learning and testing center, campus computer lab, I.T. HelpDesk, and the campus library.
Optional Student Alumni Fee (Juneau Only - Applies to Fall Term)
$15 per year, optional*
The optional student alumni fee is charged to students taking 6 or more credits during the fall semester. Students must notify UAS cashier or Alumni Office if they would like to opt out of the fee two weeks following the start of the Fall term. Students starting in the Spring will need to notify the UAS Alumni Office for membership.
Lab/Materials Fees
A lab/material fee may be charged for certain courses that require the use of special materials, supplies, services, or equipment as noted in course descriptions.
* Fee is refundable if student requests to opt out by the last day to drop classes with 100% refund. (See Academic Calendar for 100% refund dates.)
Miscellaneous Student Fees
Whale Card ID Replacement 
UAS has a one card system. Go to Student Accounts office in the Novatney Building to get your card. It's your ID, Meal Plan and Key Access, all in one! Come see us in Student Accounts for more information.
Your first card is free, any replacement cards will cost $10. Please come visit Student Accounts in Novatney 215 to get your card.
Student Housing Vehicle Registration
Student Housing residents may register one vehicle per student at Student Housing without a fee. Limits are one vehicle per single resident (no boats or trailers), and two vehicles for family residents. Students failing to register their vehicle will be assessed a parking fee and may have their vehicle removed from the student housing lot.
Monthly Bus Pass
Students enrolled in 9 credits or more are eligible to purchase bus passes at the discounted rate of $20 (limit one per month) during the semester.  Students enrolled in less than 9 credits may purchase bus passes at the standard $40.00 rate. Bus passes are good for unlimited riding all month anywhere in the Juneau Borough.  This is a benefit offered by the City and Borough of Juneau to UAS students.
If you don't pay your tuition and fees in full or make other payment arrangements by the final fee payment deadline, it could result in cancellation of your class schedule. UAS may withhold transcripts, grades and other services, and cancel meal plans and housing if you do not pay your financial obligations. If the university takes such UAS, you will still be responsible for your balance in full. Registration may be withheld from any student who is delinquent in paying any amount due to the university. The registration process is not complete until you have paid all fees and charges. The university may drop you from your courses after the fee payment deadline if you owe a balance to the university. A $100 reinstatement fee will be charged to re-enroll in any dropped courses.
All tuition and fees must be paid by the fee payment deadline published in the current semester class schedule. This includes room rent, meal plan costs, student activity fees, health fees and deposits. Any charges unpaid at the end of the previous semester are also due and must be paid before you can re-enroll. If you owe money to the university and submit an enrollment form and payment for the current semester, you will not be enrolled into your classes; the payment will be applied toward your balance. If the current semester payment is by check from a source other than the student, the payment will be returned to the source.
Please refer to the Academic Calendar for semester deadlines.
Notice
Student fees for the Spring 2019 term are due by
January 28th, 2019.
  Thank you.
Payment Options
Web:  Log onto UAOnline to pay with any major credit card or a checking account.**


Paying with a debit card? Many debit cards have a daily limit of $500 to $2,000. If you try to make a payment for more than that amount, your card may be declined unless you communicate with your bank first.
In Person:  Cash, check or credit card payments can be made at the walk-up counter, second floor of Novatney Building, Monday-Friday, 8 a.m.-5:00 p.m. 
By Mail:  Send checks payable to UAS, clearly marked with the student ID to ensure it is credited to the proper student account, to: 

UAS Office of the Bursar
11066 Auke Lake Way
Juneau, AK 99801
** Beginning May 1, 2018, the non-refundable service fee for credit and debit card payments made through UAOnline will increase to 2.85%.  The fee will continue to be charged separately to your card. E-Check payments made using UAOnline continue to be FREE of any service charge. Payments may also be submitted to UAS campuses with no service fee.
Billing Statements
Electronic bills are generated on the 15th of each month and made available via UAOnline. An e-mail reminder will be sent to your UA assigned email address each time a new bill is generated. To view your electronic bill, go to UAOnline and choose Student Services & Account Information from the main menu, then select Student Account, and then Statement and Payment history. The Student Account option will also direct you to where you can make a payment.
Payment is due by the published deadline even if a bill is not received.  It is the student's responsibility to periodically check their account to ensure they are in good standing.
Instructions on how to pay online
Don't wait in line; pay tuition and fees online! The TouchNet system is open 24/7 and you are able to provide permission to others to access and pay your Student Account online.
Instructions for online fee payment (credit card or personal check)
Go to http://uaonline.alaska.edu, select Login to Secured Area and log on using your student ID and PIN Number.
Select Student Services and Account Information.
Select Student Account
Select Account Detail for Term (Semester) Pay Term Balance.
Carefully read the instructions and terms on this page.
Select Make a Payment, select term, amount, and payment method.*
Print the confirmation page. Review the Account Detail for Term to verify the payment was accepted.
*If paying by credit card, choose the type of card; enter the credit card number and the expiration date. NOTE: The address on your credit card bill must match the billing address that you enter on this screen. 
*If paying by check, enter the routing number, account number, name, address and amount. Click on Continue. If you agree with the terms, click on I Agree.
Tuition Management Systems
If you would like to pay your education expenses monthly, use the interest-free monthly payment option offered by our partner, Tuition Management Systems. The payment plan is available for a small enrollment fee and includes personal account service, automated account information 24 hours a day, and access to your account through their website. For more information on payment options, education loans, free education payment counseling, please visit the Tuition Management Systems website at www.afford.com. You may also call them toll-free at 1-800-722-4867.
Paying with Financial Aid
Financial aid will appear on your student account when it is disbursed by the Financial Aid Office. To ensure that your aid is disbursed timely, please review the Financial Aid checklist on their webpage at http://www.uas.alaska.edu/financial_aid/checklist.html.
The Student Accounts Office and the Office of Financial Aid are two separate departments, but they work closely together. If you have any questions regarding your Student Accounts statements, please contact Student Accounts at (907) 796-6267. If you have questions regarding your Financial Aid Award Letter or have other questions concerning your aid eligibility/status, please contact the Office of Financial Aid at (907) 796-6255.
Class Cancellation and Financial Responsibility Guidelines
If you have registered for classes but have changed your mind about attending, it is your responsibility to inform the Registration Office that you wish to cancel your reservations. Otherwise, you are liable for any charges due on your student account.
When you register for a course you are agreeing to pay all charges on your student account by the published term due date, and acknowledge that the University may take action to deregister* you or take other action for non-payment. University policy requires a financial hold be placed on your student account if you fail to meet your financial obligations. A financial hold may be placed on a student account for balances in excess of $50. Financial Holds prevent any access to registration, grades, transcripts, and diplomas. Access to University services will be reinstated once a student pays the outstanding balance. Students may contact the Student Accounts office to discuss options.
*This is NOT a guarantee of being dropped; you must OFFICIALLY drop a course WITHIN THE DROP PERIOD to cancel financial responsibility for selected courses.
Tuition Waivers
If you are using any kind of tuition waiver, please complete waiver request form and submit it to the Student Accounts office. You may submit by email uas.cashier@alaska.edu, fax (907) 796-6006, or in person at the Novatney Building room 215. DocuSign forms have been added to the Forms page for your convenience.
Senior Citizen Waiver
The UA Board of Regents policy waives regular tuition for Alaska residents at the age of full Social Security retirement benefits. You are eligible to utilize the Senior Citizen Tuition Waiver and enroll in UAS courses if:
you are a permanent resident of Alaska;
you are eligible to receive full Social Security retirement benefits; and
there is space (i.e. no wait list) in the class or classes you want.
Do not register until the first day of instruction if you are using a senior tuition waiver. You must meet both age and residency requirements by one of the following dates to be eligible for the corresponding semester: September 1 for fall; January 1 for spring; May 1 for summer. Reimbursements will not be made to senior citizens who pay for a course and then request a waiver. Please call (907) 796-6267 for more information.
Employee Tuition Waiver
Employee tuition waivers "waive" the cost of 16 credits per academic year for University employees. Other criteria:
Tuition waivers cover tuition only.
The employee must be employed on the first day of instruction to be eligible.
Employees may waive a maximum of 8 tuition credits per semester.
The employee is responsible for paying all other fees by the payment deadline.
Tuition Waivers must be submitted before the end of the semester.
Tuition Waivers must be signed by the employee to be valid.
Reimbursements will not be made to employees/dependents who pay for a course or courses and later become eligible.
Dependents must be under the age of 24 on the first day of instruction to be eligible.
Waivers found to be ineligible will be reversed and the students will be responsible for payment of waived tuition
DocuSign waiver forms can be located under the Forms tab for electronic submission.  Forms may also be submitted via mail or fax to the UAS Student Accounts Office at 11066 Auke Lake Way, Juneau, AK 99801 or (907) 796-6006.
Refunds
There are many reasons why a student might be eligible for a refund. If you have questions or believe you should have a refund please call us at (907) 796-6267 or email us at uas.cashier@alaska.edu. Refund checks picked up at the Student Accounts Office require current, valid identification that matches to the check name.  Refund checks will not be released to third-parties without prior authorization and approval.
Refunds can take up to two weeks to process after being requested.
Financial Aid Refund
Refunds to students for Financial Aid are generated after the aid is received and all charges have been paid. Refunds for payments made on a student account should be requested by notifying Student Accounts at (907) 796-6267. Each semester, the initial disbursement of financial aid to your student account begins no earlier than 10 days prior to the first day of classes. The disbursement date is NOT the day you should expect a refund, but rather, is the day we begin processing refunds. Student refunds are processed in the order they are disbursed by the financial aid department. * Speed up your financial aid refund by signing up or ensuring your account information is correct for Direct Deposit.  https://uaonline.alaska.edu/
*Course changes made after financial aid has been disbursed may result in a delay or reversal of the financial aid refund.  Students should meet with their advisor or a Financial Aid representative to ensure they continue to meet aid requirements.
If you are expecting Financial Aid or Scholarships that are not listed on your UAOnline student account, call the Financial Aid office at (907) 796-6255 or email at finaid@uas.alaska.edu.
If you have received confirmation that your tuition and fees will be paid by a third-party agency or university department, and you don't see the payment applied to your student account on UAOnline, call the Student Accounts office (907) 796-6492 or email us at uas.cashier@alaska.edu
Petitions for a Tuition Refund
Petitions for refund of University financial obligations may be granted when a student has been physically disabled, has experienced a death in the family, has a change in employment hours or location beyond the student's control or has other extenuating circumstances. Written documentation of the condition is required (petition forms may be obtained online, from the Student Accounts office, or from Records and Registration). All petitions should be turned into Records and Registration. Petitions are reviewed only if documentation of circumstances is provided. Petitions are reviewed only after a student has officially withdrawn from the course(s). After the fourth week of the semester, verification of attendance and participation is required from each instructor. Petitions must be filed by the last day of instruction for the term for which the petition is filed.
Direct Deposit now available
Great news! The University of Alaska offers Direct Deposit! Students have the option to elect to receive refunds directly into their bank accounts.
Once you set up your bank information online (checking or savings), all future refunds and excess financial aid will be deposited directly to your bank account within 3-4 days of when the University processes a payment.
The initial setup is quite simple using UAOnline and will only have to be done once unless you change banks or decide to stop participating in your direct deposit.
You will be notified via UA e-mail when the setup is complete, when a deposit is processed and any time you make changes to your direct deposit bank information.
To learn more about Direct Deposit, click on "Information on Direct Deposit Services" on UAOnline home page (prior to logging in to Secured Area)
To set up direct deposit and begin receiving Direct Deposits, sign on to UAOnline Secured Area. Then:
Click on Student Services; Financial Aid & Account Information.
Click on Direct Deposit Services.
Click on First time Setup off direct deposit (take note of the other options available here once you have initially set up direct deposit).
Next, follow the instructions on how to enter your bank information. Be sure to confirm your account number with your bank.
End by clicking on the "Submit" button.
Petty Cash Reimbursement
On department approval, legitimate University expenses, under $100 incurred by employees out-of-pocket, may be reimbursed directly to the employees from the Student Accounts office by presenting a petty cash voucher along with the original sales receipts.
The voucher must be signed by the head of the department or the Supervisor for whom the funds are being spent. 
Petty cash vouchers can be obtained from the Student Accounts office in the Novatney building, room 215.