Law Enforcement Program
Is a career in law enforcement or the justice field for you? Professions in the justice and law enforcement fields call for individuals with a strong sense of purpose, commitment, and dedication to their communities and public service. A wide range of career opportunities are possible.
UAS Sitka's Associate of Applied Science (A.A.S.) degree in Law Enforcement provides the academic foundation to get you started, or to enhance your existing career.
Recent high school graduate? Make the most of your time while waiting to reach 21, the age of eligibility for most police academies and sworn enforcement positions by getting your AAS degree in law enforcement. Be more qualified and competitive during the hiring process.
Mid-career Law Enforcement Professional? Invest in your career and promotion potential by enhancing your knowledge and qualifications for the next step with an AAS degree.
Justice Career Explorer? Think beyond the badge - even if you're not sure which area of justice you're pursuing, the law enforcement program's courses and AAS degree provide the core education to discover your interests.
Working in a related field? An education in law enforcement processes and procedures can help you understand the challenges on the justice side of government and public administration.
Why UAS Sitka's Law Enforcement Degree Program?
Designed for busy people - study, interact with other students, and complete your work via the web-based platform - anytime, anywhere.
Our classes are taught by instructors with current field enforcement experience
Courses and credits earned are transferable to UAA and UAF degree programs
Learn More
Law Enforcement Program
The A.A.S. degree is an online learning program - taught entirely via a web-based platform. Students must have computer access and a stable internet connection.
Most course textbooks are available in electronic form for e-readers, tablets, and online access.
Students participate in online discussion boards, submit assignments, and take exams via the Blackboard platform.
Study, participate, and complete course work anytime, anywhere with a tablet, laptop, or computer and an internet connection.
Do you want to know if online learning is a good fit for you? See this tutorial "Is Online Learning Right for Me?" to find out more.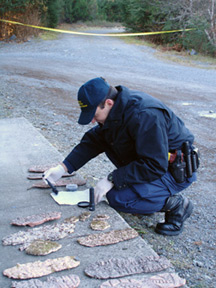 Law Enforcement
Sitka Campus
1332 Seward Avenue
Sitka, Alaska
99835