Dean of Students
Welcome to the University of Alaska Southeast Dean of Students resource page.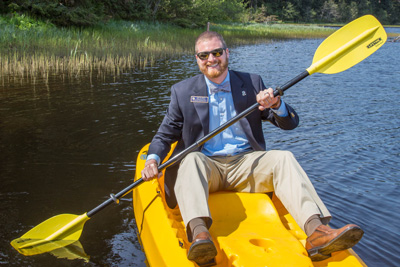 As Dean of Students and Campus Life, I have the opportunity to work with students, faculty, and staff in creating a welcoming environment for responsible academic and social engagement. By working with departments such as Housing and Residence Life, Campus Recreation, Student Activities, Food Services, Student Government, and the CARE Team, a holistic approach to student success and support can be developed and sustained resulting in a positive student experience at UAS. As Dean of Students and Campus Life I also oversee student rights and responsibilities including allegations of code of conduct violations through the conduct process. If you have any questions or concerns regarding the conduct process, I encourage you to explore the resources on this site and always welcome invitations to meet in person or on the phone. Whether you are with us for a three week certification or a four-year degree, I'm glad you're a part of our community and hope you have a great experience at UAS.
Mission
The Office of Student Integrity as division of the Dean of Students Office at the University of Alaska Southeast seeks to enhance the institutional mission of student learning by developing an educated, fair, and just community through the promotion of integrity, civility, and accountability.
Guiding Principles
To sustain this mission we are committed to:
Work collaboratively with all members of the community to sustain an ethical and safe environment in which scholarship may flourish.
Promote active citizenship among students and resolve conduct allegations with fairness, respect, and
equity. In collaboration with campus partners, establish prevention services and programs covering topics including but not limited to sexual assault, domestic violence, interpersonal conflict, depression, suicide, and academic dishonesty.
Interpret and disseminate University regulations and standards as applicable.
Promote compliance with the spirit and intent of the University of Alaska Southeast Student Code of Conduct.
Serve as a resource for students, faculty, staff, parents and others concerning student rights and responsibilities.
Facilitate, with dignity, the resolution of concerns and disputes at the lowest level possible.
Serve as an advocate for, and resource to, student victims of crimes, harassment, and other traumatic experiences.
Guide students toward a greater sense of individual responsibility and civil, ethical behavior that advances the quality and inclusivity of the University learning environment.
Provide support and counsel to students in making appropriate choices concerning behavior.
Vision
The Office of Student Rights and Responsibilities at the University of Alaska Southeast will be a guiding force in creating partnerships and connections between students, faculty, and staff to promote a positive learning community unified in a commitment to student learning, academic integrity, mutual respect, and social justice.