»

»

M.Ed. Reading Specialist
Master of Education, Reading--Reading Specialist
Overview of the Program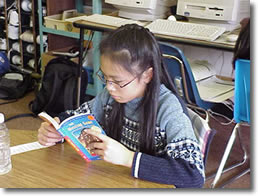 The School of Education Master of Education, Reading--Reading Specialist prepares graduates to become reading specialists for children in kindergarten through the twelfth grade. Program candidates will apply reading theory and research, learn new methodologies, and develop collaborative leadership skills. Candidates address the Alaska English/Language Arts standards as well as the CCSS, while recognizing and addressing how individual students may vary in achieving standardized goals. Candidates increase their abilities to teach fluent reading skills and comprehension strategies, assess reading difficulties, and develop student engagement in reading. Candidates gain the skills to work with colleagues and provide leadership in literacy issues to their colleagues and district.
The International Reading Association nationally recognizes the M.ED. Reading--Reading Specialist Program.
The M.Ed. Reading-Reading Specialist program is completely distance delivered, with the exception of one summer, three-week course conducted in Juneau. All distance courses use computer or audio-conference instruction. Coursework is dynamic, interactive and reflective.  Assignments often apply concepts directly with classroom practice. Successful completion of eight courses in the masters sequence qualify the participant for a recommendation of reading endorsement for state licensure.
Feel free to browse and share the brochure for this program. 
Please note: This program is currently only available to candidates who live in Alaska. Candidates living outside Alaska are welcome to apply to this program, but should understand that this program is specifically designed to train teachers for the unique teaching conditions of various Alaskan communities and that applicants will need to reside in Alaska to complete the program.
Comments from the NCATE Review by the International Reading Association
"Their theory of "classrooms as cultures" that permeates throughout the program is quite relevant. The entire program is extremely culturally responsive. Their conceptual framework is aligned with the Alaska State Standards and IRA standards. Their program has a strong philosophical base. They have a wide range of field experiences that will assist the candidate in reflecting on their growth as literacy professional. Braided discussions, as a forum, for self-reflection is novel." (2002)
-used with permission from NCATE
Contact
Lisa K Richardson
Assistant Professor
Phone: 796-6435
---
Delores Graver
Program Assistant
Phone: 796-6424
---
Degree Requirements
Please refer to the academic catalog for a complete list of course requirements.
Application Process
Master of Education Program - Reading--Reading Specialist
Do not hesitate to contact the Student Services Assistant with any questions about application materials of the application process. The following items are necessary for a complete application file:
A completed graduate application and $60 processing fee;
Official academic transcript indicating a baccalaureate degree and a GPA of 3.0;

Transcripts from UAA, UAF, or UAS are not required to be submitted.

Two SOE recommendations written by former or current professors, employers, or supervisors who are familiar with your work and performance and are not related to you;

This requirement can be met by logging in to the UAS application portal and providing contact information for two references.

Writing sample per these instructions;
Resume;
A copy of current teaching or administrative certificate.
---
Send all of these items to:
UAS Admissions
11066 Auke Lake Way
Juneau, AK 99801-8671
Fax: 907-796-6002
READING  SPECIALIST  M. Ed.
COURSE SEQUENCE POSSIBILITIES
2 Courses per semester:  2 years
SUMMER

FALL

SPRING

EDRE 671

EDET 678**

EDRE 674

EDET 628**

ED 626*

EDRE 675

EDRE 678

ED 626*

EDRE 676

EDRE 677

EDRE 679

ED 696

EDRE 698
All Courses without an asterisk are offered in only the semester indicated.
*ED 626:  Offered Fall and Spring semesters
**Students choose between EDET 678 & EDET 628
EDRE 698:  Must be taken only after all other courses are completed. 
1 Course per semester:  3 years
SUMMER

FALL

SPRING

EDRE 671

EDRE 674

EDRE 675

EDRE 676

EDRE 677

EDRE 678

EDET 678**

EDRE 679

EDET 628**

EDRE 696

ED 626*

EDRE 698
*626 is offered both Fall and Spring.  Students may choose which semester to add the extra course.
 ENDORSEMENT ONLY
SUMMER

FALL

SPRING

EDRE 671

EDRE 674

EDRE 675

EDRE 678

EDRE 676

EDRE 677

EDRE 679

EDRE 696
OR
| | | |
| --- | --- | --- |
| SUMMER | FALL | SPRING |
| EDRE 671 | EDRE 674 | EDRE 675 |
| EDRE 676 | EDRE 677 | EDRE 678 |
| | EDRE 679 | EDRE 696 |
Reading Specialist Core:  Required for Endorsement/Graduate Certificate
| | |
| --- | --- |
| Course | Name |
| EDRE 671 | Language, Reading and Culture |
| EDRE 674 | Developing Reading ECE-12 |
| EDRE 675 | Reading and Cognition |
| EDRE 678 | Literature and Reading: Supporting Readers at   all Levels |
| EDRE 679 | Reading and Literacy in the Content Areas |
| EDRE 676 | Reading Instruction and Assessment I |
| EDRE 677 | Reading Instruction and Assessment II |
| EDRE 696 | Reading Teacher as Leader |
Masters (MEd) additional courses
| | |
| --- | --- |
| ED 626 | Classroom Research |
| EDRE 698 | Masters Portfolio |
| EDET 678** | Emerging Technologies |
| EDET 628** | Technology in Instructional Design |
**Students choose between EDET 693 and EDET 628