Posting Announcements on UAS Online
Clicking on the announcement tab opens the dialog box seen below.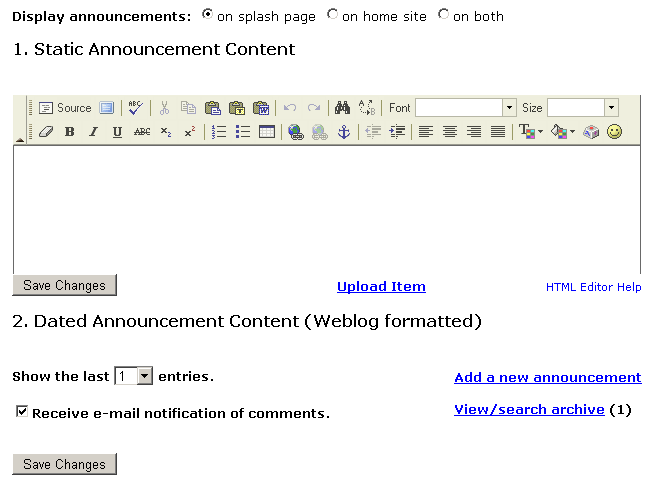 1. Static Announcements
Static announcements will appear permanently until changed by the instructor. To post a static announcement for the course simply type the announcement into the text box. You can then decide if you want the announcement placed on the splash page for the course, in the announcement box on the course homesite, or both. The announcement is then posted by clicking on the Save Changes button.
You can also place objects such as images or format text displayed the announcements box using the Upload feature and the WYSIWYG editor. Click here for information on using the Upload feature and the WYSIWYG editor. You may also use HTML. Clicking on the HTML Tips link will bring up a list of basic commands that can be used.
2.Creating Dated Announcements
You can now add dated announcements to the announcement section of the course site. These announcements will appear below any static announcement posted to the course site.
The total number of announcement to display can be set using the Show Last _ Entries dropdown. The most recent entry is always displayed first.
Click on the view archive entry to view an archive showing all of the dated announcements that are currently available. The archive will appear similar to the one below.
To remove an announcement select the check box in front of the announcement and the click on the Remove items button. You can return to the main page at any time using the link in the upper right hand corner of the Archives dialog box.
To add a new dated announcement click on the Add a new entry Link located in the Dated Announcements section. The Add a new entry dialog box opens as seen below.
Enter a title for the Announcement in the Title text box and then enter the announcement in Text Area block. You can format the announcement using html or the WYSIWYG editor. You can also attach documents or images to the announcement using the Add Attachment link located below the text block. For information on using the WYSIWYG editor click here. For instructions on adding an attachment click here. Finally, if you do not want to receive comments on the item select the Freeze comments radio button. If you wish to inspect the announcement's appearance you can click on the Preview button in the lower right hand corner of the dialog box. When you satisfied with the announcement click on the Post Item button to add the announcement to the course site.