This information relates to an older version of our Classroom Management system, and much of it is no longer valid.  
Turn on Web Meeting
To turn the Web Meeting feature go to Instructor Tools and and Click the Comm Tools tab. Open the Synchronous Communication dialog box and select the "On" radio button. Webmeeting link will be now be displayed on your course homesite as described in the Student Access section below.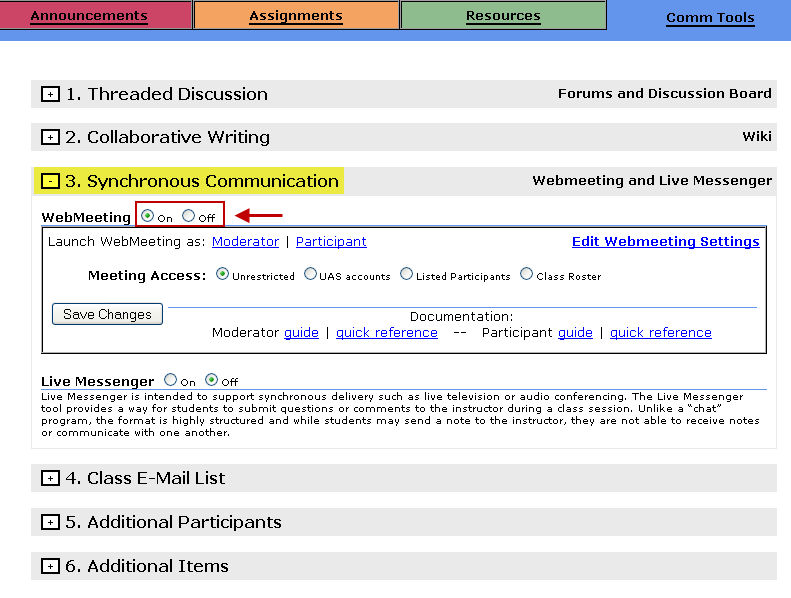 Edit Settings
To edit your Webmeeting settings, click the link in the upper right-hand corner of the dialog box (see above image). Here you can change the behavior of your Web Meeting in a variety of ways.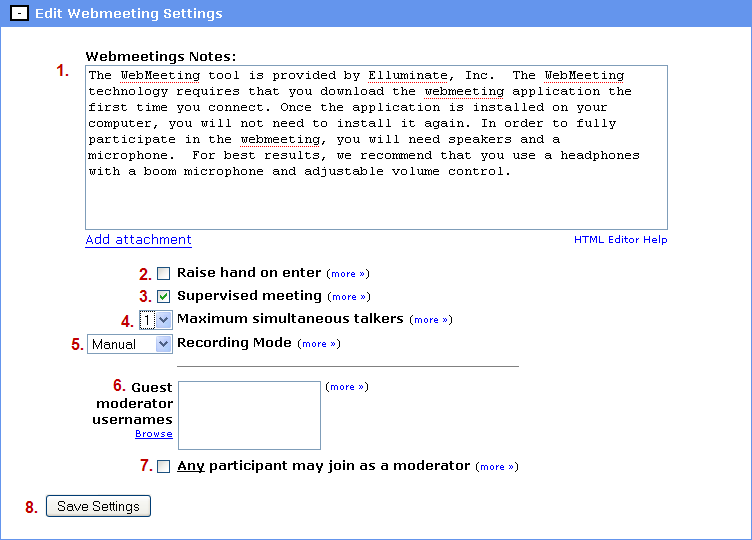 1. Webmeeting Notes
Change the displayed text on the WebMeeting page of your course site.
2. Raise Hand on Enter
Specify that when users will automatically raise their hand when entering a meeting. This notifies others they have joined the meeting.
3. Supervised Meeting
When selected moderators will see all private messages of participants. Also, the Follow Moderator option will be selected, meaning the participants will not be able to scroll through slides independently.
4. Maximum Simultaneous Talkers
This option allows you to set how many participants (from 1 to 4) can talk at the same time in your Elluminate Live! session. This number can also be changed by moderators during the meeting.
5. Recording Mode
Manual - a moderator must start the recorder,
Automatic - the meeting is recorded as soon as the first person joins the meeting,
Disabled - the meeting cannot be recorded
6. Guest Moderator Usernames
Guest moderators will automatically join the webmeeting as a moderator. This is useful if you want to provide moderator access to a another user for a limited period of time.
7. Any Participant May Join as a Moderator
Allows participants the choice of joining as a moderator. This can be convenient if you want participants to be able to access restricted features such as recordings or document sharing on their own. Note: this option will not allow participants to change these settings or delete or rename existing recordings.
8. Be sure to save your changes when you are done.
Modify Archived Sessions
When you record an Elluminate session it will stored as an archive. Below the "Edit Webmeeting Settings" box you will see a section titled "Archived Webmeetings." Here you can make changes to how your recorded Elluminate sessions are displayed.

Student Access
When your Webmeeting feature is turned on, links to the meeting appear on the side bar area of your course site. To turn the Webmeeting link on, click on the drop down arrow next to the name and select, "Show Link."
Students can view recorded sessions under the View Archives and Documentation link.