Richard A. Caulfield, PhD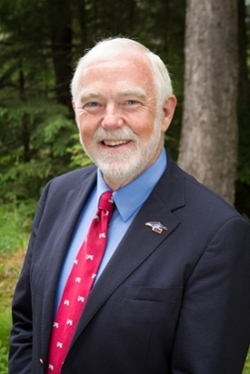 Dr. Richard Caulfield serves as Provost at the University of Alaska Southeast, including campuses in Juneau, Ketchikan and Sitka. As chief academic officer at UAS he reports to Chancellor John Pugh and works closely with faculty, staff, and students in support of academic innovation and excellence. He serves on the UA Statewide Academic Council (SAC) and is responsible for ensuring that UAS academic programs are fully compliant with regional, national, and professional accreditation standards. He is actively engaged with implementing the university's strategic and assessment goals and strategies.
Dr. Caulfield earned his PhD in Development Studies from the University of East Anglia in the United Kingdom. His PhD dissertation focused on aboriginal subsistence whaling in Greenland (Kalaallit Nunaat) and on cultural dynamics of natural resource use in the Arctic. His dissertation research led to the publication of two books: Greenlanders, Whales and Whaling (University Press of New England) and Inuit, Whaling, and Sustainability (co-author/Alta Mira Press). He earned a Master's degree in Education from the University of Alaska Fairbanks (UAF), and BA and BS degrees in Political Science and Natural Resources from the University of California, Berkeley.
Rick began his university teaching career in 1985 at UAF's Bristol Bay Campus in Dillingham. He rose to the rank of full professor at UAF working with the Department of Alaska Native and Rural Development. The department's students are primarily Alaska Native from throughout the state who seek leadership roles in their communities and regions. Rick's research interests in the cultural dynamics of natural resource use took him to Greenland, Denmark, Canada, New Zealand, and Russia. He served on national and international science steering committees and boards, including the NSF Oceans-Atmosphere-Ice Interactions Scientific Committee, the International Arctic Social Sciences Association, and the University of the Arctic.
Prior to coming to UAS, Caulfield directed UAF's community campus in Fairbanks, UAF Community and Technical College. The campus focuses on workforce development, academic preparation, and lifelong learning. In this capacity he was involved with the Alaska Process Industries Career Consortium, Allied Health Alliance, and "Putting Alaska's Resources to Work" steering committee. Rick also worked with the Alaska Department of Fish and Game, Division of Subsistence, conducting research in Alaskan villages.
A 36-year Alaska resident, Rick combines academic and professional interests with experience in commercial fishing, flying, sailing, home construction, dog mushing, hunting, fishing, and other outdoor pursuits.