Juneau Commencement 
UAS Juneau will honor 2014-2015 graduates on Sunday, May 3rd, 2015 at 2 p.m.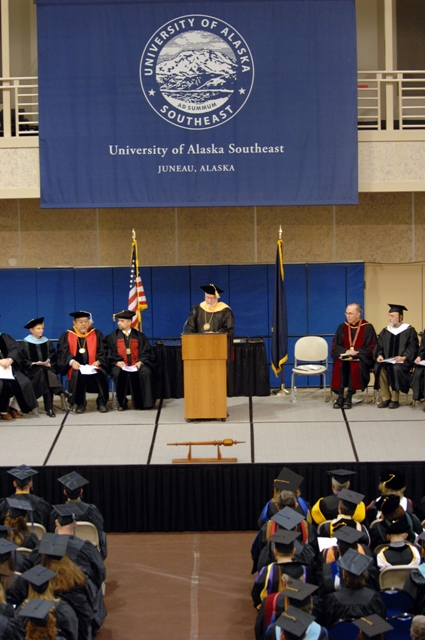 in the Student Recreation Center.    
The Native and Rural Student Center will be hosting the Wooch.een Graduation Celebration on
Date/Time TBA
. Students can participate in both the Wooch.een Celebration and the UAS Juneau Commencement Ceremony. For more information on the Wooch.een Celebration, please contact Kolene James at 907-796-6454.Unable to attend commencement?  View the live
webcast
or
UATV
cable broadcast.
All family, friends and community members are welcome.
For Families coming into Juneau from out of town, please visit
http://www.traveljuneau.com/
for travel planners, tips and suggestions on planning your visit.
There is limited parking available at the Student Recreation Center, there will be a shuttle driving from the main campus parking lot to the Student Recreation Center.
Please Note: participating in commencement does not guarantee graduation. Be sure to get your application for graduation in before the posted
deadlines
Diploma Information
Diplomas are printed and mailed after final grades are verified at the end of the semester. Candidates for graduation will receive a scroll during the commencement ceremony.  
Photo samples taken of students during commencement by Dave Gelotte Photography along with order forms will be mailed to students.  For inquiries please contact the Alumni and Friends Association at 907-796-6569.
Juneau Commencement Timeline
March 1st


Masters students must order cap, gown, tassel and hood.

Please contact the Bookstore for ordering after this date: 796-6401

April 1st


All other students must order cap, gown, tassel, and invitations.

Please contact the Bookstore for ordering after this date: 796-6401

May 3rd 

12 p.m. :  Doors open, students must check in at front counter at the Student Recreation Center
May 3rd 

1 p.m. : Students must be checked in
May 3rd 

1:30 p.m. : Line up for ceremony
May 3rd 

2 p.m. :  Ceremony begins