»

Human Anatomy and Physiology Alumni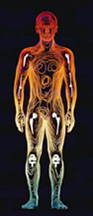 Human Anatomy and Physiology Alumni
2010-2011
Kris Giani
EMT III EMT instructor BLS instructor Paramedic student krisgiani@gmail.com
Lynne Petersen
loverlyo@yahoo.com Spring 2011
Liz Stromme
I took BIO 111 (Fall 2010) and 112 (spring 2011) back to back here in Sitka through Elluminate. I am a pre-nursing student returning back to school after a long absence. This class requires a lot of work, but it is a fun and interesting subject and there are a veriety of formats presented to learn the material. Marnie makes herself very accessible for questions and help and I think budgeting your time is very important for the amount of material covered. Also, if the coloring workbook is being used, it is your bible for th eclosed book tests. Understanding the level of information in the CWB will be extremely helpful at test time. Enjoy and good luck! lizowski@hotmail.com
Seth Sutherland
Natalie Sattler
Sitka, AK BIO 111 and 112 - taken fall 2010 and spring 2011 Career goal - Science Teacher contact info: natalie.sattler@tetonscience.org
LeeAnn Stamper
Nursing student - lstamper12@yahoo.com My advice to new students taking A&P is to keep communication going when in doubt or experience frustration. Don't allow yourself to get behind on anything as this will only enhance frustration. This class can be fun and exciting if approached in a manner of diligence.
Anonymous
For success on tests: Know the coloring workbook @ study photogallery images!
Anonymous
Ask questions! Engage yourself in the class. Also, try to work with others when you can. Read the test - but know when you can scan - such as when it is listing different areas (specifically bones, muscles, and blood vessels) - often diagrams are much more helpful than reading five paragraphs that just fly out of your mind once you are done.
Anonymous
Study the Coloring Workbook and get it down cold. Study the most highly rated Photo Gallery images. If you do, you'll have the mid-term and final exams knocked.
2009-2010
Anonymous
Utilize the teacher. They are there to help us succeed. Read over instructions carefully. Plan ahead of time for study. Do not get lazy and fall behind. Good luck!
Debra Scola
Took BIOL 111 fall of 2009... BIOL 112 spring of 2010 email address dpeacern@gmail.com.
Kathryn Werdal
907-317-0019 Anc.horage, 2010 Heading for PA School.
Brandi Rolston
I just completed the second semester of Anatomy and Physiology this spring. I was in Wasilla, AK and in Oregon for the first part of this semester. I found the online class to be very good. I would say that you should stay on track with the coloring workbook and readings in the textbook. I am currently trying to finish my classes so that I will be able to apply to nursing school next summer.
Anonymous
Angela Macias
I live in Delta Junction, Alaska. I took BIOL 111/112 during 2009/2010. I am currently a high school teacher and an EMT 3. Next fall, I will be going into the paramedic program at UAF. I loved this class, but found it to require a great deal of time. To be successful in this class, I think it's really important to keep up with the assignments and make sure you're always moving forward in some way. There are a number of running assignments and it takes a little while to get used to that and to keep them all going at the same time, but it is worth making the effort. This topic and this class are very rewarding if you spend the time investing in them. If you have any questions, I can be contacted at admacias@gmail.com.
Anonymous
This is an intense, information packed course that requires dedication and diligence to fulfill the course requirements. Time management and organizational skills are very important to stay on task. The CWB is your Bible to this course. Do not get behind in it. You will get out of this course what you put into it.
Chris Love
A&P I and II 2009-2010 chlove54@hotmail.com
Selina Booth
UAS Distance (Barrow, AK) Fall 2009, BIOL 111 Spring 2010, BIOL 112 Career Goals: Nursing Contact Information: Selina.Booth@north-slope.org The best advice I can offer is to stay on schedule and take advantage of all the resources avaliable. Marnie provides a number of valuable tools that will greatly add to the learning experience if you take advantage of them. Be prepared to invest the time into this class (I spent about 20 hours per week) to get all that you can out of it. As you may already know, everything is connected so make sure you understand one system/concept before moving on to the next. This isn't a course that you can rush through. Marnie is a wonderful resource and is ALWAYS willing to help. In my opinion, there simply isn't any reason why a serious student should not do well in this class. Lastly, enjoy the class. It is simply wonderful! I learned so much and feel it was well worth the time invested. Good luck!
2008-2009
Anonymous
It is a fast paced class that you need to keep up with but it has times when catch up is possible. The class is great as for information and Marnie is a great teacher with a world of information yet she loves to learn new things that come from the world of others that she meets in class. Enjoy and learn with a smile.
Wilma Vinton
Wilma Vinton, MICP, EMT III, NREMT-P wvinton@acsalaska.net 907-388-7766 cell 
Anonymous
I took Bio 111 in fall 2008 and Bio 112 in spring 2009. I live in Fort Richardson, AK. My advice would be to find at least one person in the class to do your school work with and help each other with questions and issues. It can get overwhelming by yourself. Keeping track of due dates was a little tough between labs, disease team due dates, coloring work book due dates, and video due dates. Check website every couple days or else you'll probably forget something's due. 
Anonymous
My advice is that when you research a topic for discussion board or for the open book tests, you research it until you feel confident with your knowledge. Then make an outline. Then type it up as if you were explaining it to a friend. Re-read it and omit redundant info and errors. This will help out your disease team a lot and you will learn more!
Irvin "Skeeter" Kreider
Irvin "Skeeter" Kreider, Soldotna, Spring 2009 I had real issues with KPC helping me with my midterm and final closed book test, they would not proctor it and I had to take it at the Kenai Library, they were very nice and helpful, but it will cost $20 dollars. KPC said they will not proctor my tests because I was not a student with them...odd, I always thought KPC was part of the UAA network, sort of like UAS! Which is a wonderful and helpful college. Marnie Chapman is a great instructor and I highly recommend her. I am a paramedic working on my pre-reqs. for nursing school, there are a few paramedic 2 RN transition courses available down south that are approx. 2 semesters long. IJLJS@YAHOO.COM
Lily Schroeder
My name is Lily Schroeder and I completed the biology 112 course in Ketchikan, Alaska during the 2009 semester. I am working on my prerequisite courses for a nursing program in Washington. My advice for successfully completing this course would be to put yourself on a reasonable schedule for completing assignments and stick to it! This is an invigorating course that has changed the way I view the body and how it works. Professor Chapman does an excellent job of relating everyday activities to how your body functions.
Anne Beesley
Anne Beesley, Anchorage, Biol 112 - Spring 2009 - akannieb@hotmail.com Start early getting your class materials together and familiarizing yourself with Elluminate. Make contact with your resources in Sitka and communicate frequently with your instructor. Try to stay disciplined in your studies by making time to review the material on a frequent basis...this will help you to learn the large amount of facts throughout the semester.
Anonymous
Use the textbook pictures and study the textbook and CWB literature.
Mara Krey
Biol 112 Spring '09~ Mara Krey ALWAYS do your coloring workbook. Do not get behind. Also don't wait to cram for the tests... there is too much information in the coloring workbook to do that. This class is a lot of fun and you will learn A LOT more than you plan on learning. But it is made fun with interactive learning. You will enjoy it!
Semi-Anonymous
Anonymous
Do not get behind!
Semi-Anonymous
Hi! I'm Lorraine from Dillingham, Alaska. If you are in Dillingham and find yourself the only person from here in the class I would be glad to give you a hand getting started or help you with labs.
2006-2007
Anonymous
At the beginning of this course I was a bit apprehensive about the coloring workbook - it seemed to take a lot of time and I was uncertain about its value to me. By the end of the semester I realized that it was one of the best learning aids for the class, I think that touching the diagrams with colored pencils helped me learn location and function without having to concentrate on memorizing every body part.
Anonymous
Marnie's class is very informative. There is a lot of information covered every week, don't get behind or you will be doing double work the next week. The Elluminate is a great tool for class as well as team project if you can get all team members to use it. I am going for the 2 year RN program. Good luck to future students.
Irine Pinay
irinepinay@gmail.com My career goal is to obain a Radiologic Technology degree.
Marika Geertz
I took BIOL111 in the Spring of 2007. I am interested in a physician's assistant degree. Please contact me for help at marikageertz@yahoo.com
2005-2006
Anonymous
Lots of work but I learned a lot and I have a new respect/interest for science that I didn't have before as I never considered myself a "science" student before I took BIOL 111 & 112. Thanks Marnie and Lori!
Anonymous
Try not to get behind in your assignments. The class moves quickly, there is a lot of work to do, and it's nearly impossible to catch up if you get too far behind. Pace yourself and have fun.
Anonymous
This class is great! My advice is to keep up with the assignments and focus on the coloring work book. The text is great, but it can be overwhelming. Use the text to better understand what's in the CWB.
Amanda Harris
Amanda Harris radiology tech. amanda@amandaharris.net
Anita M. Kunz
Anita M. Kunz P.O. Box 543 Butte, MT 59701 onemercurygirl@yahoo.com
Anonymous
I enjoyed this class very much. The teachers were excellent and the flow of the class was great for me.
Anonymous
I think that distance A&P with Marnie and Lori is really the way to go. It is a bit hard with many parts to do and longer labs, but it is made up by the understanding that comes from taking the class. I know it will be a firm foundation from which I can craft my Nursing Career from and help me be more effective in the care I give even now! Advice - Make a list and stay on track. DO your color workbook! Do the videos as early as you can (or at the latest during break), it will pay off later. Stay in contact with your Disease buddies - Good communication will save your bacon! On that note, talk to the teachers if you have problems, they are encouraging and helpful. (Also, watch your english on the final paper with Marnie). Lastly, Have fun. Don't stress too much!
2004-2005
Jessica Blanco
I am currently working on a Bachelors of Biology. I then plan to go to dental school to become a dentist and then do four years of residency to become an oral and maxillofacial surgeon. I would love to help. This class was awesome. I do have some words of advice, though. You'll probably hear this a lot, but work on your workbook! Do not leave this for the last minute because it's not checked until the end of the semester. You should constantly work on it as you go through each chapter and go over previous chapters at least 15 minutes to 1/2 and hour a week to make sure you remember everything. If you don't do this, you'll wish you would have because both the midterm and the final are taken from questions from the work book. Anyway, good luck with everything and please contact me if you would like any help. -Jessy (907)523-5247 (907)209-7720 JessyBlanco@aol.com
Anonymous
You can get so much out of this class (including a good grade) if you can put in the time. Following is a weekly breakdown of the time I spent on this class: 2 hours for the audioconference, 5 hours on labs and quizzes, 2 hours reading, 1 hour coloring workbook, 15 min on caucus.
Margaret Krize
Anchorage. 529-7369 or sing_66@hotmail.com I am changing careers. I wish to be in the Medical field. I'm not clear on what degree yet. I suggest that you do not fall behind on anything in this class. Don't be afraid to ask Marnie questions. She is always there for us.
Anonymous
I've survived both 111 and 112! Keep up with assignments, always call Marnie or one of her tutors with ANY questions you have they are a great help and totally there for you! Do get together with fellow students to study- it really helps!
Semi-Anonymous
What a way to take Anatomy and Physiology! This is the best biology class and take it from someone who took it the traditional way 13 years ago and did not get the depth of understanding out of it that way as I did this way! Feel free to contact me with any questions you have at ajball@gci.net
Linda Smith
Hello, my name is Linda Smith, I am presently enrolled in the HIM degree program. I took Marnie's BIOL 111/112 in fall 2004 and spring 2005. I live in Palmer and my best advice is stay caught up, ask questions, attend audio conferences, call someone if you need help or have questions. If you would like to contact me my e-mail address is: desimonesmith@hotmail.com Have Fun!
Karl Lennox
My name Karl Lennox and took the Fall 2004 BIOL 111 and the Spring 2005 BIOL 112 classes. Both classes helped me get into and prepaired me for paramedic school. I lived in Kotzebue, Alaska during these classes but I also was able to travel around and still keep up with in class. If you have any questions about these classes or how they helped me please email me at karljlennox@hotmail.com
Brenda Hulet
Hi I'm Brenda Hulet, I have taken BIOL 111/112 in 2004/2005. Best advice I can give to you is "stay caught up". If I can be of any help, please contact me at brendahulet@yahoo.com
Rosa Mergenthal
My name is Rosa Mergenthal. I am in Petersburg AK. And I took this class for the fall 04 and spring 05 semester. I plan to become an RN and eventually an OB-GYN. I can be reached at (907)-772-2885 or at Relm865@hotmail.com I would be glad to help with any questions! :)
Anonymous
Marnie you were a great instructor. I feel my learning experince in anatomy was enjoyable. And after Bio 111 I would not have thought that would be possible. I also feel I really learned the material instead of stressing and memorizing things just for a test! Thank you.
2003
Louise L. Lenz
I took this class distance learning from Petersburg in Fall and Spring, 2003. I am currently a Certified Nursing Assistant and have been accepted into the Weber State Utah nursing program which I will start in Fall, 2003. The best way to contact me is on my cell phone at (907) 209-2843, or by mail at P. O. Box 1371, Petersburg, AK 99833. My advice to new students is to keep up with the work. Do not let yourself fall behind. Always have the information read before the lecture so you will understand the lecture. I know it looks like a daunting task when you see the book and find out all the work involved, but it is all NECESSARY for you to learn the material. And it is WONDERFUL to learn about the human body. Good luck!!
2002
Matthew Rogers
I took the class in McGrath in 2003. Currently work as a CI for the CHAP program and plan on going to PA school next year. Vitusdog@hotmail.com
Sue Steward
Hello, this is Sue Steward from Seward. I was blessed to take A&P I&II the fall of 2002 through the spring of 2003. I am an itinerant CHA IV for the Chugachmiut region as well a medical support assistant for North Star Health Clinic. I am preparing to apply to Medical School for PA-C. I am so thankful that Marnie offers this class. I have spoken with John Riley, PA-C program coordinator for Alaska and expressed how great it is. I needed this class as a prerequisite to P.A. School.
Cathy Shepard
My Name is Cathy Shepard from Homer AK I took A&P I & II in '02 & '03. Currently I work as a dental assistant, and I aspire to be a dental hygienist. I can be reached at jpscc@hotmail.com. Advice: The hard part is deciding what you are interested in, the rest is easy.
Nancy Scott
I have taken Anatomy & Physiology II at UAS while living at Bridger, Montana, during the spring semester, 2003. I am currently a math teacher, but I also have 10 years of medical experience. My goal is to become certified in some health aspect: Physician Assistant, Medical Technologist, etc. I have tried for years to gradually complete the science courses that I needed, but that has been a difficult feat while raising six children.
Angela Menish
I took this class in Petersburg 2002-2003. I work as a CNA at PMC and will be attending Weber State AK outreach Nursing program September 2003.
Rebecca Merrion
I took the class in Fall 02 and Spring 03 in Dutch Harbor. I am an LPN at the clinic in Dutch for the last 6 years and plan to stay here for at least 3 more years. I am working toward an Associate degree in registered nursing. Students are welcome to contact me at work (which is the best place to reach me) at 907-581-1202. Please feel free to contact me.
Jennifer Allen
I took the first part of this class in Anchorage in spring of 2002 and the second part in Haines in the spring of 200. I'm hoping to head to nursing school in the next year. It's a wonderful class although it's a lot of work!
Kate Anthony
I took the class in the Fall of 2001 and Spring of 2003 in Seward, Alaska. I took the course to learn how to code in Medical Business. I currently am a coder and will be pursuing my associates degree in coding through UAS through long distance. The best way to contact me is through my email address kanthony@provak.org. Advice: keep up as best you can and work with people in the class and in the field so that you understand all the concepts!
Tricia Castilleja
I took the class from Elmendorf AFB, Fall 2002 and Spring 2003. I am currently a full time mother and student. I am looking into Radiology as a career, but with two growing kids and one on the way I may have to put that on hold for awhile. My suggestion to new students is don't fall behind if you can help it, keep Ms. Chapman informed and know you have one of the best instructors. If you would like to contact me email is best at: casaloca@gci.net.