Expand Your Career Skills or Personal Interests
Career Training
UAS Sitka Campus offers noncredit courses designed to provide alternatives for enhancing your workplace skills. If you are interested in furthering your academic education, you will find more information on the Adult Learners or Transfer Students pages.
Certifications and Recertifications
A variety of courses are available for providing continuing education contact hours or CEUs in order to fulfill on-the-job training, licensing or certification requirements.
Personal Enrichment and Community Workshops
We regularly schedule workshops for instructors to share their interests and passions with community members.
Customized Trainings
Our Continuing Education staff works with businesses and agencies to provide trainings based on their employees' needs. Contact us to help you plan your next training.
Noncredit/CEU Online Programs
Noncredit/CEU Online Courses
In addition to the online courses listed on our Noncredit/CEU Program pages, the following are also offered on a regular basis:
Current Schedule of Noncredit/CEU Offerings
Registration Information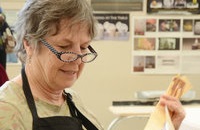 "When I first met Delores Churchill ... we went to Haida Gwaii and gathered spruce root."
Mary Olsen, NWC Arts Student