Checklist for Entering a Program
Are you ready to pursue an educational program at UAS Sitka Campus? This checklist will guide you through the process. Many of the steps can be completed at the same time, in order to streamline your progress.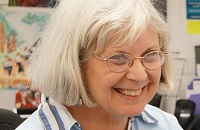 "We are here to help students, wherever you live."
Cheryl Stromme, Student Success Advisor
Student Success Center
Hours:
Summer Semester
General Operating Hours
Mon-Thurs: 8am-7pm
Fri: 8am-5pm
Sat: Closed
Advising
Mon-Fri: 9am-5pm
(or by appointment)
Testing
Mon-Thurs: 10am-5pm
Fri: 10am-5pm
Sat: Closed
(or by appointment)
Tutoring
By appointment only.