Evening at Egan Lecture: 20/20 Vision Ceramic Exhibition: Visiting Artist Lecture Series
Juneau, AK
20/20 Vision Ceramic Exhibition: Visiting Artist Lecture Series
Jeremy Kane, Assistant Prof. of Art
Saturday, November 8, 2008, 7 P.M.
Egan Lecture Hall, University of Alaska Southeast
---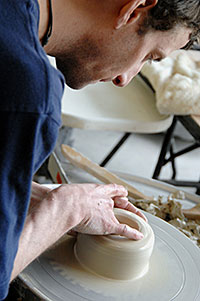 The University of Alaska Southeast and the Alaska State Museum are jointly hosting a "20/20 Vision" Ceramics Symposium next week. The ceramics event brings together 10 Alaska artists and10 ceramicists from the Lower 48 for workshops, lectures and shows.  Workshops and ceramics demonstrations will be held at the UAS Auke Lake campus on Tuesday, Nov. 4, and Wednesday, Nov. 5, from 5:30 to 9 p.m., in the ceramics studio in Sobeloff Building Room 106. There is no cost and the demonstrations are open to the public.
"The purpose of these workshops is mainly to teach students at the University of Alaska Southeast and show them a bit of the professionalism that occurs with ceramic artists at a higher level," UAS Ceramics faculty Jeremy Kane told the Juneau Empire. A one-time special Saturday Evening at Egan lecture caps off a week of events on Saturday, November 8, 2008, 7 p.m. at the UAS Egan Lecture Hall.
Three contemporary ceramic artists and former colleagues and mentors of Kane, Josh Deweese, Ted Adler, and Liz Zacher will share their recent work and influences. The lecture will be facilitated by Kane. Prior to the lecture, a UAS Student Art Opening will be held from 5 to 7 p.m. in the Lake Room at the Auke Lake campus.
"The event is geared toward showcasing the ceramics program at UAS that has been growing over the past five years," Kane told the Empire.  UAS celebrated its first Bachelor of Arts in Art graduate this year.
Kane is also co-curating the 20/20 Vision invitational exhibit.  Forty pieces of contemporary ceramics will be displayed at the Alaska State Museum from Nov. 7 through Dec. 17. An opening reception will be held from 4 to 7 p.m. on Friday, Nov. 7, at the museum.
The Evening at Egan lecture series is held every Friday (unless noted) at 7 p.m. through November 21, 2008. Please note, there is no Evening at Egan lecture on October 31.
All Evening at Egan lectures are simulcast.
Video stream archives: http://www.uas.alaska.edu/media/productions
Visit the Evening at Egan Website for all scheduled lectures.