Evening at Egan 2010: Climbing Denali, Egan Lecture Hall, Friday, September 17, 7:00 p.m.
Juneau, Alaska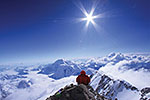 The UAS Evening at Egan series continues this week with a multi-media presentation by Outdoor Studies Program Director Forest Wagner, staff, and students on their pinnacle adventure. Outdoor Studies (ODS) made UAS history in May 2010 when they climbed North America's highest peak for their capstone course.
Students Acacia Edmiston, Sammy Becker, Travis Haskins, Yosuke Sano and Freddie Munoz made the trek for the University's Outdoor Studies program. Chosen by the students themselves at the outset of their program, the expedition marked the decade anniversary for the ODS program.
"I had never really considered climbing Denali, but the infectious attitude and spirit of this year's ODS group quickly convinced me that this may be a real possibility," said Shea Mack, one of the three faculty and staff members on the trip.
The group began their two-week long expedition from base camp on May 12. As they made their way up, some team members experienced the effects of altitude sickness or difficult weather.
Three climbers out of the original eight successfully made the summit: Student Yosuke Sano and instructors Forest Wagner and Shea Mack.
Still, the expedition was a resounding success for the entire group.
"I felt the magnitude as we were leaving the mountain in the plane and I saw how big it was. We couldn't see the whole thing flying in; it was too foggy," Edmiston said. "Flying out was the first time that I had seen the whole mountain at once, and it was pretty impressive to see what we had accomplished."
Since its inception in 1999, the ODS program has done capstone expeditions in the Brooks range and the Wrangell mountains, as well as multisport trips, like last year's sea-kayaking/climbing expedition near Sitka. The 10-month program seeks to combine outdoor skills and academic coursework to provide a liberal arts approach to studying human interaction with the natural world. Students in the program develop skills and characteristics that are essential to success as an individual, a group member and a leader in outdoor and adventure settings. They also work to earn a Certificate in Outdoor Skills and Leadership.  In process is a B.A. degree with an emphasis in Outdoor Studies.
For the full schedule please see the Evening at Egan website at: http://www.uas.alaska.edu/eganlecture/
Additional Resources
Files