Anderson Science Building Remodel Complete
Public Meeting for Associated Highway Improvements Thursday, Jan. 27, 7- 9 p.m. UAS Recreation Center, Rm. 115
Juneau, Alaska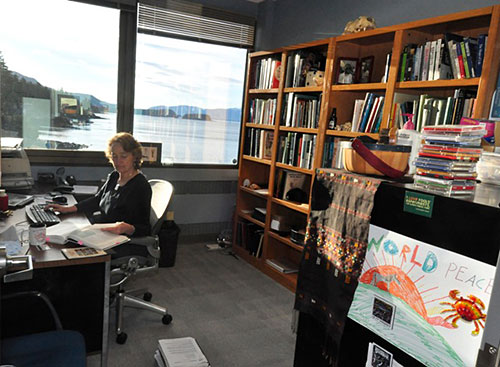 University of Alaska Southeast students and faculty are back in the Juneau campus principal science building with the completion of an extensive remodeling project. The Anderson Building provides classrooms, teaching labs, and research labs for faculty and students in the UAS biology and marine biology programs.  It is one of the few North Pacific Marine Laboratories.
The location within walking distance of campus on Glacier Highway merges the classroom and lab experience with the marine environment. The water view of the Bay provides continual inspiration for the budding biologist. Teaching labs are in close proximity to faculty offices and research labs. Students can initiate and conduct their own research projects with faculty mentors.  Salt-water tanks, provided with flow-through seawater delivered directly from Auke Bay, allow the study of a variety of invertebrates as well as marine algae.  Auke Bay is just steps away, providing easy access to the intertidal zone. The new dive locker is a welcome addition for those faculty and students who venture into the depths of the marine environment. The genetics lab offers the students the opportunity to use the most current techniques to study population dynamics at the molecular level.
Drs. Carolyn Bergstrom, Mike Stekoll, David Tallmon, and Sherry Tamone study a wide breadth of topics related to the unique environment of Southeast Alaska – from hormonal regulation of growth and reproduction in crabs, to the genetics of salmon and bears; from marine plant interactions to the effects of predation and competition in the marine environment.  Who wouldn't want to become a biologist in a setting like this?
Major building components have been upgraded or replaced including heating and ventilating equipment and controls, the roof membrane and insulation, new restrooms, interior finishes, elevator replacement, classroom and laboratory casework and the emergency generator.
Pedestrian Access Update/Public Meeting
Pedestrian access to the Anderson Building from the main UAS campus will include a bridge connecting to the third floor and a paved and lighted pathway. The project plan hinges on the design of the Alaska Department of Transportation and Public Facilities proposed re-alignment of Glacier Highway. DOT&PF and UAS are re-examining the impacts of the future road and right-of-way.
DOT&PF is hosting a public hearing on improvements to Glacier Highway between Auke Bay Elementary School and Fritz Cove Road on Thursday, January 27, 2011 at the UAS REC Center, Rm. 115 from 7-9 p.m.
Road construction is intended for 2011. Construction of the pedestrian access is not likely to begin before 2012.