UAS Secures Funds to Purchase Mine Simulator
Juneau, Alaska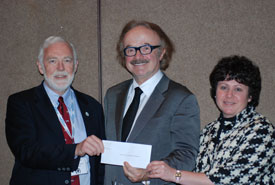 Coeur Alaska CEO Chairman, President & CEO Dennis Wheeler presented a check for $20,000 to UAS Provost Rick Caulfield and Development Director Lynne Johnson at a luncheon at the Alaska Miner's Association Conference March 16. The donation will help sustain up to $2000 in scholarships annually to UAS Environmental Science and Marine Biology students.
"This supports students in our flagship programs and enhances their ability to study the environment of Southeast Alaska as part of their undergraduate education," said Associate Professor of Environmental Science and Department Chair Eran Hood.
UAS' philanthropic partnership with Coeur goes back many years with the establishment of the Coeur d'Alene Mines Environmental Leadership Scholarship.  This fund was established with a $20,000 gift honoring Coeur d'Alene Mines Corporation as the first recipient of the DuPont/Conoco Environmental Leadership Awards in 1991.  The fund was re-named the Coeur Alaska – Kensington Gold Mine Environmental Science Award and currently provides scholarship support to full-time students studying with a minimum 3.0 GPA.  Students must be Alaskan residents with award preference given first to Juneau residents and, secondly, to residents of Southeast Alaska.
The university assists with training needs for Coeur's Kensington Mine through the UAS/MAPTS Mine Training Center.