Word and Voices: UAS poets to bring community together
Juneau, Alaska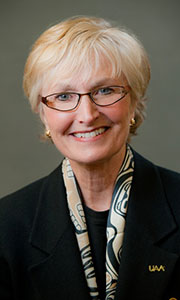 Chancellor Fran Ulmer will give a special presentation of the findings of the Deepwater Horizon Oil Spill Commission at the UAS Egan Lecture Hall (Room 112) Tuesday, March 1, 2011, 7- 8:30 p.m. Watch live in Juneau on Channel 11. Chancellor Ulmer will discuss the report issued by the Commission earlier this year, and provide an opportunity for questions.
Ulmer is chancellor of Alaska's largest public university, the University of Alaska Anchorage (UAA).   She was appointed by President Barack Obama in June 2010 to the National Commission on the BP Deepwater Horizon Oil Spill and Offshore Drilling. The commission was charged with investigating the causes of the explosion and oil spill, and recommending changes to prevent future disasters from occurring.
Chancellor Ulmer was part of a panel discussion on the implications for Alaska of the Deepwater Horizon oil spill held at UAS in July of 2010.  She did not make specific comments at that time since the Oil Spill Commission was still gathering information. Chancellor Ulmer spoke on the findings of the Commission earlier this month in Fairbanks.