First National Bank Alaska donates $26,000 in continued support for UAS' "Getting Ready for College" program
For the sixth consecutive year, First National Bank Alaska has supported the Getting Ready for College program at the University of Alaska Southeast with a gift of $26,000
Juneau, Alaska
Date of Press Release: October 4, 2012
For the sixth consecutive year, First National Bank Alaska has supported the Getting Ready for College program at the University of Alaska Southeast with a gift of $26,000. The goal of the program is to educate students (grades 5-12) in rural Southeast Alaska on the positive lifetime economic impact of continuing their education past high school.
The program strives to help students prepare for success after high school by providing training and resources to students, their families and local education professionals. In 2011, UAS staff delivered the program to more than 1,500 students located in 17 communities throughout Southeast. This year the program will be extended to include Bethel.
UAS Vice Chancellor for Enrollment Management Joseph Nelson said, "The big message we hope to convey is that getting a college education is an investment worth making: people with a college education have better job opportunities, earn more money, and develop skills and knowledge that can never be taken away. However, what many families don't understand is that preparing for college doesn't begin during a student's junior or senior year of high school - it begins when a student first sets foot in school, and it continues through middle school and high school. We want students to know that a college education is worth the effort and that help is available to them. We are thrilled to have a partner like FNBA help us get out this important message."
First National Bank Alaska is Alaskan-owned and operated since 1922 with ATMs and 30 branches in 18 communities throughout the state.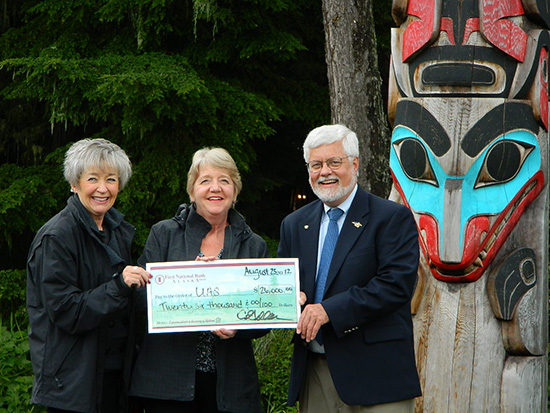 Left to right: Linda Gordon (wife of George Gordon, Director on the Board of First National Bank Alaska) Suzie Longacre (wife of Senior Vice President Doug Longacre) John Pugh.
Press Release Contact
Joe Nelson, Vice Chancellor of Enrollment Management
University of Alaska Southeast
(907) 796-6100
joe.nelson@alaska.edu