Postcards from Tomorrow Square' with James & Deborah Fallows
Juneau, Alaska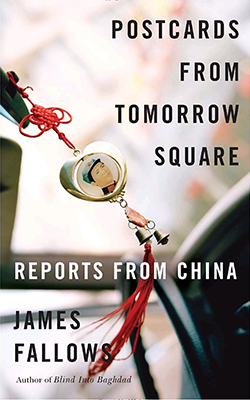 Sunday, November 11, 3 p.m. Egan Lecture Hall

The University of Alaska Southeast and the Juneau World Affairs Council present, Postcards from Tomorrow Square' with James & Deborah Fallows.  James Fallows is a national correspondent for The Atlantic and winner of the National Book Award. He will discuss his book, Postcards from Tomorrow Square, which covers China's economic explosion, environmental impact and the transition to democracy. Deborah Fallows is a linguist and China expert. She is the author of Dreaming in Chinese.  The presentation is on Sunday, November 11 at 3 p.m. A light reception will follow.  Also Sunday at 11 a.m., the Fallows will have a brunch meeting with UAS students and Student Government in the Housing Lodge.
James Fallows delivers a monumental and richly-textured look at everything you need to know about doing business in China. And he means everything. Reporting from China since 2006, Fallows lucidly explains the economic, political, social, environmental and cultural forces that have transformed China -- from poverty to world superpower -- at breakneck speed.
Deborah Fallows spent the last few years absorbing the culture, the politics and the people of China to offer talks that give a refreshingly different take on the world's next superpower. Unlike many observers, she shed her Western preconceptions and relied on her background in linguistics to grasp the enormity of Chinese life through language.