Tribe Signs Memorandum of Agreement with University of Alaska Southeast
Juneau, Alaska
Date of Press Release: August 7, 2018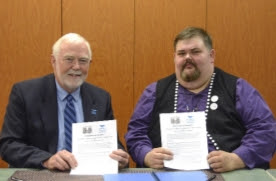 Central Council of Tlingit and Haida Indian Tribes of Alaska (Tlingit & Haida) and the University of Alaska Southeast (UAS) Juneau Campus formalized their commitment to expand communication, collaboration, and mutually beneficial partnerships through a Memorandum of Agreement (MOA). The MOA was signed on August 6, 2018 by Tlingit & Haida President Richard (Chalyee Éesh) Peterson and UAS Chancellor Rick Caulfield during a regularly scheduled UAS Juneau Campus Advisory Council meeting in Juneau, Alaska.
The MOA broadly identifies areas for collaboration such as educational opportunities and equity for students and tribal citizens, increase educational attainment, promote awareness and appreciation of the region's rich indigenous cultures and languages, build a quality workforce and promote self-determination and community self-reliance.
"Partnerships and building areas for collaboration have been a key area of focus for me," said President Peterson. "There are a lot of areas of overlap between Tlingit & Haida and UAS, for example our Vocational Training & Resource Center and UAS' Technical Education Center, so it was very natural to develop this agreement. We must continue to broaden our ability to work together to strengthen our effectiveness to serve our tribal citizens and for the wellbeing of our community and our region."
"UAS and Tlingit & Haida have common interests in areas such as employment training, student scholarships and support, indigenous languages and arts, teacher education, tribal management, and tourism," said Chancellor Caulfield. "Working together, we can only improve the services for Tlingit & Haida's tribal citizens and for UAS students. I'm grateful to President Richard Peterson for his commitment to collaboration and to UAS Vice Chancellor Joe Nelson who will provide UAS leadership in this effort."
As part of the first steps under the MOA, Tlingit & Haida and UAS will designate representatives to serve on a MOA Steering Committee that will meet at least twice annually (fall, spring) to identify shared goals and objectives, develop timelines, implement action steps for goals and objectives, maintain regular contact, and communication at leadership and program levels in delivering higher education and community outreach services. The committee will establish ad hoc working groups as necessary to advance the MOA's scope, goals, objectives, and implementation steps under each program area exploring potential areas of collaboration.