Covid-19 Office Operations
Our offices are available for phone or video appointments. Email or call for more information. For information, please visit the UA coronavirus information website.
The Juneau campus has a team of staff and faculty academic advisors dedicated to serving you from greeting to graduation. Most students are originally assigned to a staff advisor and transition to a faculty advisor as they delve more deeply into their academic program. We are pleased to introduce you to our staff academic advisors!
To find out who your assigned advisor is, or to make an appointment with an advisor, please call the Student Resource Center at 907-796-6000 or toll-free at 1-877-465-4827.
General Advising / Career Ed / Student Resource Center
Juneau Campus: Mourant Bldg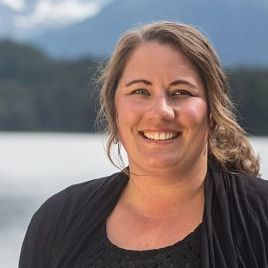 Academic Advisor
Phone: 796-6439
Email: ajtriplett@alaska.edu
SRC: Academic Advising
Mourant Bldg, 1st Floor, Juneau Campus
Juneau Campus
http://www.uas.alaska.edu/advising
Biography
Born and raised on a farm in central Ohio, Amanda moved to Juneau in 2004 to attend UAS.  Although she had never been to Alaska, she was instantly hooked and never looked back. The beautiful campus, amazing professors, friendly staff and small class size allowed her to excel in her studies and graduate with a BLA.  Now Amanda takes her passion of UAS all over the state talking to prospective students about the amazing opportunities that UAS can offer them.
In her spare time, Amanda enjoys speeding time with her family, camping, fishing, and skating with the Juneau Rollergirls. 
Juneau Campus: Mourant Bldg
School of Arts and Sciences
Juneau Campus: Whitehead Bldg
Academic Advisor
Phone: 796-6090
Email: dmcarl2@alaska.edu
Arts and Sciences
Juneau Campus
Education
Bachelor of Science – Hotel, Tourism, Restaurant Management, University of Wisconsin – Stout
Master of Education – Student Development Administration, Seattle University
Juneau Campus: Novatney Bldg
School of Education
Juneau Campus: Hendrickson Annex
Additional Advising / Student Resource Center
Juneau Campus: Mourant Bldg
Contact Us
Academic Advising Juneau
Mourant Bldg 1st Floor
11066 Auke Lake Way
Juneau, AK
99801
Mailstop: MO 1
Hours:
| | |
| --- | --- |
| Monday–Friday | 8:00 am - 5:00 pm |