Can't Make it to the Auction but Still Want in on the Fun? 
Online bids are being accepted for the following items. Bids will be placed in sealed envelopes and opened during the live auction after the in-room bidding is completed for each item. If your bid beats the one in the room, a representative from UAS Alumni & Friends will contact you regarding payment.  Online bidding will close at 12:00 NOON on Friday, April 11. 
Descriptions are listed first.  To make a bid, scroll to the bottom of this page and enter your bid on the appropriate line.  Thank you for your support!
---
Package #1: One Week Stay in a Rancho Mirage Condo near Palm Springs
Enjoy a week in this 2 bedroom, 2 bath golf course condo that accommodates 4. This is a bright and cheerful home located near the popular "River" complex of restaurants and entertainment.
Arrangements need to be made for a time between May 1st and Dec. 31st.  Reservations need to be made within two years of the auction.  (donated by John & Margaret Pugh)
---
Package #2: "Forest Gothic," Framed Print by artist Byron Birdsall
"Forest Gothic" was painted in 1979 by Byron Birdsall.  This print is #286 out of 500.  (donated by Dwain & Carolyn Reddekopp)
---
Package #3: Destination Vacation at Sunnyside - (Xtra tuffs or boots required!)
Relax at Sunnyside camp on the east side of Lisianski Inlet near Pelican. Book your travel through Alaska Seaplanes or the Alaska Marine Highway. Your hostess Karen Polley will pick you up  in Pelican and take you to Sunnyside.  (Xtra tuffs or boots required!)  Accommodations include a four bunk cabin with porch and easy chairs.  Dine on fresh seafood and fresh garden vegetables. You will travel in a skiff to and from Pelican for a tour of town. Visit Rose's Bar and Grill or the Lisianski Café for a taste of Pelican! Pelican has a yearly king salmon derby in June and fishing is good all year.  If prearranged, fishing charters are available.  (Xtra tuffs or boots required!) Watch eagles, seals, and other wildlife, kayak or skiff in the protected waters of the inlet. Walk the beach or hike the hillside to the alpine meadows. (Xtra tuffs or boots required!) Maximum 4 adults for 3 days/4 nights.  Also includes 1 round-trip ticket on Alaska Seaplanes.  Suggested minimum bid: $1000 (donated by Karen Polley and Alaska Seaplanes) 
---
Package #4: Two Alaska Airlines Ticket Vouchers
Good anywhere they fly, including Hawaii and Mexico.  Minimum bid $1,322.  (donated by Alaska Airlines) 
---
Package #5: "African Violet" Quilt
Beautiful quilt designed for hanging on a wall (includes wall hangers), featuring colors reminiscent of African violets - purples, greens, whites. made by Karen Polley and machine-quilted by Alaskan Rose Quilting.  (Donated by Karen Polley)
---
Package #6: Evening cruise with cocktails and hors d'oeuvres for 8 people
Mix and mingle with friends while enjoying drinks and appetizers. About Alaska Quest Charters:  "Our yacht is a custom made steel expedition trawler. We offer custom small ship charters in Southeast Alaska. Our inside space is warm, spacious and comforting. Our outside space allows for great opportunities for the perfect photograph, and allows us to travel with two skiffs and 4 kayaks. If you are looking for a custom boat charter, we offer great exploring, wildlife viewing, glacier and fjord viewing and of course, whale watching and fishing.Tish prepares and serves meals using fresh Alaskan seafood and products, many harvested while on board. She cooks fresh and healthy and posts many of her recipes on this website. See our "Menu" page for recipes and descriptions of the culinary delights that await you aboard the Alaska Quest." (donated by Tom & Tish Satre, Alaska Quest Charters alaskaquestcharters.com) 
---
Package #7: Limited Edition Bottle of "Solstice Sauvignon" and Matching Glasses
Designed exclusively for the Juneau Rotary Wine Auction this past February, "Solstice Sauvignon" is a 2012 Sauvignon Blanc from Woodward Canyon Estate of Lowden, Washington. This wine is light straw in color and absolutely brilliant. The nose is showing nuanced minerality and the acidity of gooseberry. There are subtle flavors of melon and perceptible spice; the fruit is in delightful balance with the acidity. The texture is layered and rich and the finish is generous and long. This 2012 sauvignon blanc should benefit from additional time in bottle and will be perfect match for Pacific Northwest seafood. 91 point rating by Wine Spectator.  Also includes 4 stemless wineglasses engraved to commemorate this year's Rotary Wine Auction.  (donated by Juneau Rotary Club)
---
Package #8: Whale Watching and Wildlife Quest for 2
Allen Marine invites you to board a high speed waterjet-powered catamaran specially designed for wildlife viewing. Relax in the warm, comfortable, spacious main cabin, surrounded by large windows as your experienced captain guides you through the island-studded waters of Stephen's Passage. Against a majestic backdrop of snow-capped peaks and glaciers, the onboard naturalist will explain the behavior and habitat of wildlife you may encounter, including humpback and killer whales, Steller sea lions, Dall's porpoise, harbor seals, bald eagles, bears and deer.(donated by Allen Marine)
---
Package #9: Take Me Out to the Ball Game!
2 tickets to the Alumni Group Suite at the Seattle Mariners vs. Los Angeles Angels game in Seattle, July26, an Autographed Baseball from outfielder Felix Hernandez #34, a bobblehead, tshirt and challenge coins! (donated by the Seattle Mariners and the UAS Office of Development & Alumni Relations)
---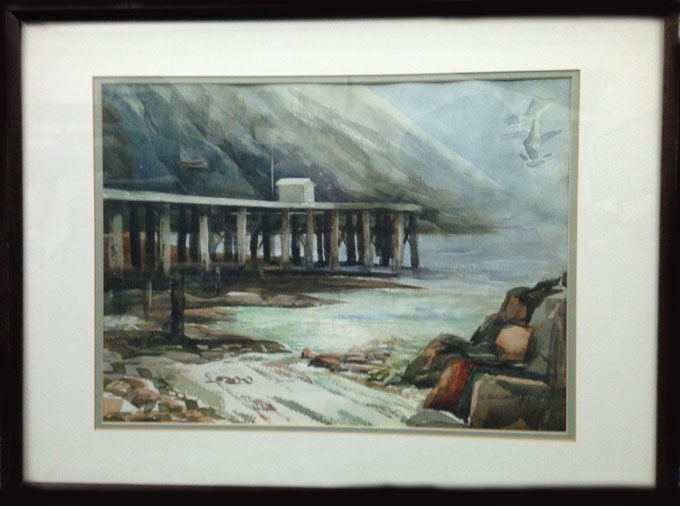 Package #10: Original Jack Quisenberry Painting of the Dupont Dock at the end of Thane Road
Jack Quisenberry was a watercolor artist who found inspiration in our local environment of rainy forests, beach debris, the frothing water of storms and the ever changing light.    This watercolor original was inspired by the stormy weather along the roadside where old a derelict boat was beaten by the storms.  The watercolor is over 30 years old but we see the same frothing water beat the shore along Egan Drive today.  Jack and his wife Marjorie moved to Juneau in 1965.  He had been a marine pilot and in his early career. In Juneau, he served as staff for the Congressional Delegation until his second retirement.  He was the problem corner personality for many years, but spent as much time as possible painting.  Jack passed away in 1988.   (donated by Karen Polley)
---
Package #11: Gourmet Soup and Salad Supper for Six
Enjoy what's sure to be a delicious soup and salad dinner prepared and hosted by Laraine Derr, former owner of Chez Alaska Cooking School. (donated by Laraine Derr)
---
Package #12: Dianne Anderson print "Ice Passages"
From the Juneau Artist Gallery website:  "Dianne Anderson is a local artist and retired art teacher residing in Juneau for almost three decades. She is in love with the land called Alaska and her work reflects this joy in the life cycles of the wilderness, and the warmth of its people. One of her favorite themes is the summer roadside blooms of fuchsia and pink as fireweed engulfs the ditches and fields of Alaska. Her media include oil paintings, silk batik, and zinc etching. Zinc etching is a process of drawing into a zinc plate, then submerging the zinc in acid to form the lines, which then holds the inked colors.  The inked plate is then rubbed and pressed to the paper.  Editions are printed on hand-made paper, made from fireweed or the artist's bluejeans." (donated by Dianne Anderson)
---
Package #13: Pendelton "Home of the Free" Wool Blanket
From the Pendelton website: "Where the buffalo roam and the flag flies free – our Home of the Free design captures the spirit of the Old West. The reversible blanket is predominantly grey on one side, blue on the other. Unnapped. 82% pure virgin wool/18% cotton. Dry clean. Made in the USA. 64 x 80 inches."  Twin size warm and wooly blanket.  (donated by John Svensson)
---