»

»

Faculty and Staff Stories
Sitka Faculty are Chosen for their Experience
Before they became teachers and researchers, most Sitka faculty members worked as practitioners in their chosen fields.
Cheryl Stromme, Student Success Advisor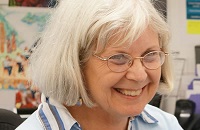 "We are here to help students, wherever you live."
---
Liz Zacher, Art Professor
"I went to college at the University of Hartford, primarily to start as a psychology major. I was really interested in the realm of art therapy. And I did research and found that most of the art therapy programs required a degree in psychology and also in fine art ... but I had no idea where to start.
So I focused on my psychology degree and dabbled in art. Once I came to ceramics, my life kind of changed! It was also at a point in my pursuit of a degree in psychology that I was working on my thesis project ... I had been working with kids that had dealt with some bad life situations. I came to a crossroads in my professional path - realizing I'm a very sensitive person, and hearing about the abuse that a lot of these kids had gone through - it was super challenging for me. And I said, "there's no way I'm going to be able to be a psychologist, I'll be crying all the time."
So it was very convenient to have ceramics come into my life at that point. It was an amazing community of artists, and I just fell in love. I knew then, that was my focus." 
---
Paul Bahna, M.D. - UAS Professor
"Doctors like medical assistants because they can do multiple tasks in the medical office. As a doctor I value having a multi-skilled person who can help in so many clinical and office areas of a doctor's office."
Medical assistants are in many ways the face of health care -- often the first and last person the patient sees when they make an office visit.

Medical assistants take the medical histories of patients, providing doctors with helpful and thorough information about the past treatment, ongoing problems, family history, and current medications that a patient is taking.

Medical assistants do triage -- documenting the medical complaint and assessing what is needed through observation and direct contact with the patient.

Medical assistants help doctors by taking vital signs, EKG, basic lab tests

Medical assistants help educate the patient about medications the doctor has prescribed, and guide them on the road to recovery.

Finally — and also very important — medical assistants are trained to be efficient and accurate medical office workers as well 

… handling patient records with understanding and insight, working in reception or on the phone, processing paper work efficiently, reporting accurately to insurance companies, and being able to explain the complicated language of health care bills to our patients!
As a doctor I value having such a multi-skilled person on my staff -- a professional who can provide a useful service in so many different areas of the ambulatory care setting. For example, medical assistants can be a great help in outpatient clinics, doctors' offices, urgent care centers, pediatric, geriatric or oncology centers. Medical assistants are versatile, and helpful in both the clinical and office duties. 
In my view as a former medical director at hospitals and public health centers, medical assistants are an important part of the family of medical care professionals. I'm proud of the Medical Assisting program here at UAS."
---