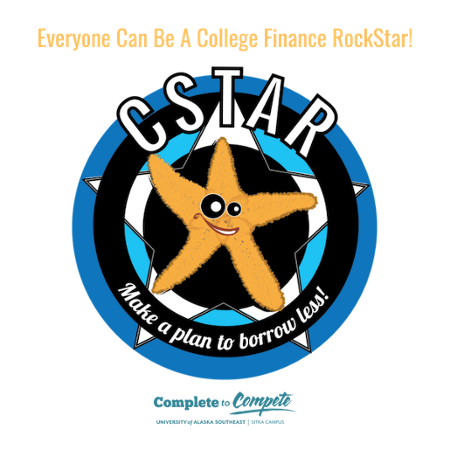 CSTAR:  College Skills that Achieve Results
Money management is a great skillset for anyone to have, no matter when you begin your financial literacy journey. UAS Sitka is excited to provide you with access to iGrad, putting the resources you need at your fingertips while navigating your way through college classes, degree completion, graduation, and even beyond as you transition into the workforce or make a career change.
iGrad:  Your Personalized Financial Wellness Program
iGrad is a personalized financial literacy online program with information, training modules and resources for individuals at different life stages. Users create a profile which includes a financial wellness and money personality assessment. Based on your situation and preferences, iGrad will make recommendations for further training in areas that are useful for you!
Become a UAS Finance RockStar
The CSTAR Challenge incentive program uses iGrad activities to guide you through tasks like finding scholarships, staying eligible for student aid, and choosing a degree that will deliver job satisfaction and the best chance to pay back college debt.
Once you've mastered paying for college you can look ahead! What will be the most effective ways to start paying back your college debt? How will loan payments affect your life after college? How can college debt help you develop and improve your credit score? Find out by taking your financial literacy skills to the RockStar level!
Earn CSTAR Rewards
Participating in the CSTAR Challenge involves completing a list of tasks assigned to each level in the College Skills that Achieve Results financial literacy program (Student with Financial Aid) (Self-financing Student). As you progress through the iGrad tools, activities, and short courses, you will earn a CSTAR Reward at each level.
CSTAR Challenge Support Group
Join the CSTAR Challenge Support Group on the UAS Sitka Facebook page to keep up with tips and recommendations from our Financial Literacy Specialist, as well as events and opportunities like scholarships.
Create Your iGrad Account
It's free! Go to www.igrad.com/schools/uassitka
Use your alaska.edu email address as your user name, create a password, and you're in!
Then take the iGrad financial wellness and money personality assessments to start with a personalized view of your resource and training options.
Join the CSTAR Challenge
It's also free! Register for CSTAR.
While gaining money management skills through your personalized iGrad profile, you can also earn CSTAR rewards!
The CSTAR Challenge incentive program is for UA students taking at least one course through the UAS Sitka Campus. To complete your CSTAR registration you will need to provide your full name and 8-digit UA ID number.
Financial Literacy Specialist