Applied Fisheries
UAS Sitka's Fisheries program offers local and distance studies across Alaska that lead to jobs in the science, management and regulation of commercial fisheries -- Alaska's largest industry.
 Explore Fisheries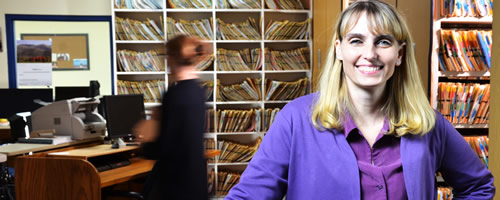 Health Information Management
The business and financial side of healthcare offers rewarding opportunities for students looking for a professional career without direct patient contact.
 Explore HIM
Medical Assisting
Our Medical Assisting certificate program is a gateway to this fast-growing medical career, at the junction of clinical and office procedures.
 Explore Medical Assisting
Associate of Arts
An AA degree explores the humanities, sciences, and arts, while preparing for a wide array of career possibilities and Bachelor programs at UAS or elsewhere.
 Explore Associate of Arts
Health Sciences
Certified Nurse Aide, Pre-Nursing Qualifications and a Health Science AAS are pathways that lead into the allied health professions.
 Explore Health Science
Associate of Science
The AS degree delivers a broad foundation for education, medical, scientific, and technical careers, emphasizing science but exploring the arts and humanities as well. 
 Explore Associate of Science
Law Enforcement
UAS offers the Law Enforcement Occupational Endorsement in partnership with the Alaska Law Enforcement Training Academy.

 Explore Law Enforcement
All Programs
Along with our featured distance learning programs, UAS Sitka offers local welding and construction, local and online non-credit training and a doorway to the entire catalog of UAS, UAA, and UAF educational programs. See the entire list.
 Explore All Programs