PITAAS Student Spotlights
PITAAS Application
2020–2021 PITAAS Application
The 2020–2021 PITAAS application had a previous priority deadline of March 16. As of March, this deadline has been extended to April 27. If you have already applied or started the application process, your place in the priority queue is maintained. We will accept students to capacity. If you have questions about this deadline, please contact David Russell-Jensen at 907-796-6019 or by emailing uas.pitaas@alaska.edu.

PITAAS Cultural Scholarship Opportunity
Students with UAS freshman or sophomore standing who are interested in eligible Alaska Native Language or Alaska Native Studies course scholarships may apply for individual course tuition waiver scholarships, funded through PITAAS. Freshman or sophomores can receive up to 8 credits of funding.
Application for Summer 2020 courses
Application for Fall 2020 courses
View Summer 2020 course registration date requirements on the UAS Academic Calendar.
PITAAS Program
Preparing Indigenous Teachers & Administrators for Alaska Schools
The Challenge: Alaska needs more Alaska Native teachers
In Alaska schools, Alaska Natives make up 25% of the student body and less than 5% of the teaching force.
In 2000, the University of Alaska Southeast created the PITAAS Program with the help of a federal grant to address this shortage of Alaska Native teachers.
The PITAAS Program has grown to include many services designed to meet its goals: more Alaska Native teachers and administrators in Alaskan schools, preschool through high school. 
The PITAAS Program can help you earn your teaching degree at the University of Alaska Southeast!
Students who are accepted to the program receive a scholarship that generally covers tuition, fees,books, and room and board at UAS for the entire program period (contingent upon continued grant funding). Students must be enrolled in an education degree program at UAS, have a minimum 3.0 GPA upon entry and maintain a minimum 3.0 GPA in order to continue receiving this scholarship.* 
In order to receive a PITAAS scholarship, students must have college junior status and be admitted to one of the following degree programs at UAS:
Undergraduate Teacher Preparation Programs:  
BA Elementary Education
BA Special Education
BA or BS in an academic area leading toward a teacher certification
Post Graduate Teacher Certification Programs:  
Master's of Art in Teaching (MAT):
Elementary MAT (Distance)
Secondary MAT
Special Education MAT 
Graduate Certificates, Endorsements and Master of Education (M.Ed) Programs:
Educational Technology
Mathematics Education
Reading Specialist
Special Education
Educational Leadership 
Superintendent Endorsement
Scholarship for Graduate Students & Teachers Seeking a Type B Principal Endorsement
*The PITAAS GPA requirement is higher than UAS Financial Aid and may differ from the requirements set forth by your degree program. The conditions stated here are separate and in addition to any requirements imposed by those offices.
Support Services
Foundations in Native Education Class
Undergraduate UAS PITAAS students are required to take a year-long course that is designed to build leadership skills and strengthen Native identity.
Tutoring
PITAAS students are also provided with group and individual tutoring support through The Learning Center.
Native and Rural Student Center
The Native and Rural Student Center provides a welcoming space for students to gather in a comfortable environment, as well as staff support to meet student needs.
Wooch.Een
The Alaska Native student organization, Wooch.Een, meets regularly and sponsors many cultural activities throughout the year.
Cultural Inclusion/Faculty Fellowship
PITAAS contributes toward UAS as a culturally responsive institution by integrating Native culture into courses and supporting UAS faculty to meet the learning needs of Native students.
Partners of the Alaskan Community
Sealaska Heritage Institute, the Central Council of Tlingit and Haida Indian Tribes of Alaska, Alaska Native Brotherhood and Sisterhood, Future Educators of Alaska, and school districts from Southeast Alaska are partners with UAS in the PITAAS Program.
Juneau Campus: Mourant Bldg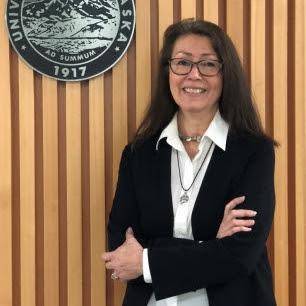 Ronalda Cadiente-Brown, M.A.
Associate Vice Chancellor for Alaska Native Programs and Director of PITAAS
796-6005 (Fax)
The TEACH Grant is designed for students who intend to teach full time in a high-need field at a public or private elementary or secondary school that the U.S. Department of Education has designated as having a high concentration of students from low-income families.
Students enrolled in the M.Ed. in Special Education, M.Ed. in Reading or MAT Secondary with endorsement in Science, Math or Foreign Language are eligible to receive the TEACH grant if they meet all other requirements. Please refer to the UAS Financial Aid website for additional information.
Alaska College of Education Tuition Scholarship Application
Fall 2019, Spring 2020, and Summer 2020 semesters
The Alaska College of Education tuition scholarships are awarded in support of those qualities the College encourages in its students. These qualities include academic excellence and a willingness and ability to contribute to the field of education and the UAS community.
There are a limited number of tuition scholarships awarded each academic year. A student may apply for more than one semester's award. These scholarships will cover up to $1,000 of tuition charges for courses offered by the UAS campus. Tuition scholarships must be used in full during the semester in which they were awarded.
Please note for summer scholarship: Tuition scholarships will only pay for summer semester courses that begin on or before the 17th of June, 2020.
Eligibility
:
Be formally admitted to an Alaska College of Education program.
Be officially registered in at least 3 credits at UAS.
Have a cumulative grade point average of 3.0 or higher and be in good academic standing.
Have completed at least 9 credits in education courses.
Submit a statement of need including how this scholarship will assist your educational pursuits at UAS or your future career development (maximum 250 words).
 Application Deadlines:
Completed Fall semester applications must be submitted to the College of Education no later than 5 pm on Friday, September 27, 2019.
Completed Spring semester applications must be submitted to the College of Education no later than 5 pm on January 17, 2020.
Completed Summer semester applications must be submitted to the College of Education no later than 5 pm on April 14, 2020.
AKCOE Tuition Scholarship Application - Fall 2019, Spring 2020 and Summer 2020 semesters
Return completed applications to uas.education@alaska.edu or by mail to the following address:
UAS AKCOE
Student Services Assistant, HA 2
11066 Auke Lake Way
Juneau, AK 99801