»

»

Virtual Private Network (VPN)
A Virtual Private Network (VPN) allows a network user to access network resources from a separate ISP. In the UAS environment, this means that you can access many campus resources from home, without having a UA internet connection.
VPN Uses
Once connected to the UAS VPN connection, your computer will behave as though it were connected through the wireless network on campus. You can connect to:
Fileshare Access
Campus Printing
Keyed Software
UAS VPN
UAS has implemented a new VPN service that allows personal computers and mobile devices to access internal UAS network resources. This service is similar to that provided by UAA and UAF, and provides a more seamless transition for patrons moving between campuses.
Complete installation instructions can be found on the UAS VPN Installation tab.
Please direct all support questions to the UAS Help Desk.
Legacy VPN
Support for UAS's old VPN service (utilizing the Cisco VPN client) has been discontinued. Instructions for transitioning to the new service can be found on the UAS VPN Installation tab above.
Please note:
The new UAS VPN service uses the Cisco AnyConnect client to allow your device access to internal network resources. Before beginning the installation instructions below please uninstall the old Cisco Systems VPN client. Once the uninstall process has completed you should be prompted to reboot your computer. If you are not prompted to reboot your device please perform a manual reboot before moving on to the installation of the new client.
Installation
To begin the installation process for the new UAS VPN Service access the VPN server login page at https://jun-vpn.uas.alaska.edu (See Figure 1). Select UA-Users in the Group field, then log in using your UA username and password. If you are unable to log in please click the Login Help link at the bottom of the VPN login page, or update your credentials at the ELMO support page.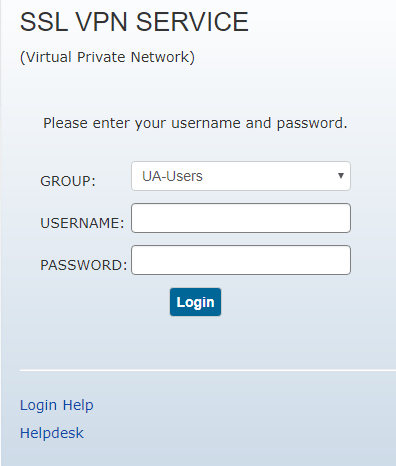 Figure 1.  Login
You will then be prompted to download and install the AnyConnect Secure Mobility Client. The page will present you a blue Download button customized for your operating system.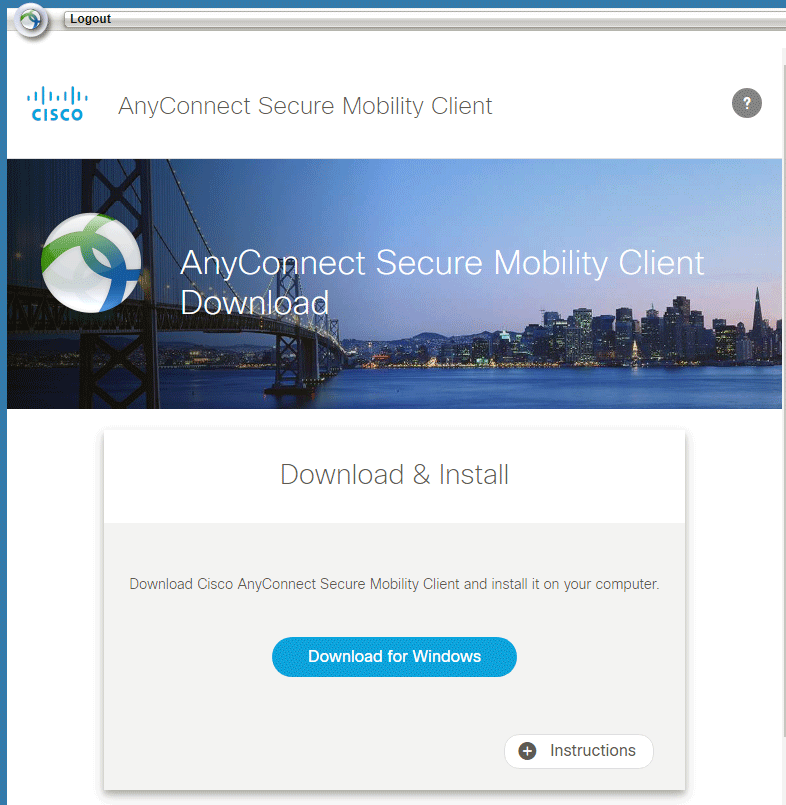 Figure 2.  Download & Install Prompt
Run the installer file. After the installation has completed, launch the Cisco AnyConnect Application. The application will prompt you for a server address. Please enter "jun-vpn.uas.alaska.edu" (See Figure 3). Click "Connect," and you will be prompted for your UA username and password. The client will once again verify your login credentials and connect to the UAS campus network.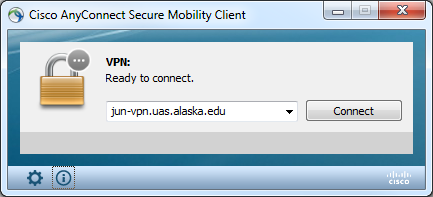 Figure 3.  AnyConnect Client
Please contact the UAS Help Desk with any questions or assistance with this application.
Supported Operating Systems
| | |
| --- | --- |
| Windows | 7, 8, 8.1, 10 |
| Mac | 10.8 and later |
| Linux | Red Hat 6, 7 & Ubuntu 12.04, 14.04 |
Mobile devices are also supported:
Chrome OS: Chrome Web Store (Instructions)
Android: Google Play Store
Apple: iTunes Store
In this situation, you may see an error message similar to "VPN Connection terminated locally by the Client. Reason 403: Unable to contact the security gateway."
This error is most commonly caused by the use of an incorrect or expired password.
Try logging into another UAS tool such as webmail or UAS Online - if your password works in these locations, try the VPN again.
If none of these locations work, use ELMO to reset your password.
Though there are some explanations that this error may be linked to the existence of multiple styles of network connections, in our case, it is commonly that a password has expired. Please update your password at ELMO and try connecting again.
There are a number of places you can check to try to track down this issue. First, verify that the computer did not go into standby or hibernate. These can interrupt your network connection when the VPN client expects a constant link to the VPN server.
If wireless is in use, perhaps you have moved to (or are in) a location with low or nonexistent wireless signal, and the VPN might have dropped as a result. Further, it's possible a bad network cable or problem with the router or Internet connection could have caused this drop.