UAS Establishes Emma Marks Memorial Award Fund
The purpose of the fund is to support the growing Alaska Native Language program, with emphasis on emergency needs. High on the list is support for students close to graduation.
Juneau, AK
Date of Press Release: January 14, 2008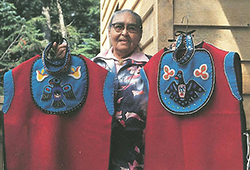 A scholarship fund has been established in the name of  the head of one of the last fluent speaking families of the Tlingit language. "The personal histories and testimonials delivered at the funeral and memorial services for Emma Marks in September, 2006 were dramatic evidence of her influence on the survival of the Tlingit language as well as traditional art," recalls renowned linguist, writer and UAS faculty Richard Dauenhauer. "Raising their children on a fishing boat, the Marks family was one of the last to continue using Tlingit as a home language."
Now the younger generation acknowledge their debt to Emma's children: Nora Marks Dauenhauer, Florence Marks Sheakley, and John Marks as teachers of the language. Florence and other children in the family (Jim, Leo, Peter, and Paul) are also active as artists and teachers in beadwork, carving, and silver work.
Nora and Richard Dauenhauer created the Emma Marks Memorial for Alaska Native Languages Fund in 2007, with initial donations that were matched by the University of Alaska Southeast. The purpose of the fund is to support the growing Alaska Native Language program, with emphasis on emergency needs. High on the list is support for students close to graduation.
Emma Marks Memorial for Alaska Native Languages Fund Facts
Fund purpose: To provide financial support for the study of native languages, including, but not limited to, student scholarships, tuition, teaching assistants, adjunct faculty, curriculum development and materials. Intent is to build the fund to endowment, lasting in perpetuity, at a minimum level of $25,000.
Minimum award: $250
Fund balance: $7,200
Application process:Applications are on-going. Apply through the UAS Financial Aid Office. The UAS Financial Aid Office review applications and in consultation with UAS Alaska Native Languages faculty, determine scholarship recipients.
To Make a Contribution: Additional contributions to the fund may be made by check, credit card or on-line. Mail check, payable to "UAS Emma Marks Memorial" to:
UAS Development Office,
11120 Glacier Hwy.,
Juneau, Alaska, 99801.
On-line:
Click on the "Give to UAS" button and indicate the Emma Marks Memorial in the comments field.
Most current scholarship programs target beginning, full-time, and at-risk students. Emma Marks Fund priority scholarship recipients are advanced, high achieving students who are typically part-time, and therefore not recipients of other scholarship support. Funds may also supplement the salaries of adjuncts when enrollments fall below the minimum for full support and to support teaching assistants as part of their learning experience.
Lance Twitchell is the first recipient of the award. Twitchell fit the profile as a part-time student, one course short of a BA degree, with a track record high on achievement, but low on money. The award financed his UAS tuition and enabled him to complete his degree.
After seven years of Tribal government activity, Lance decided to return to school and pursue teaching and creative writing as career choices. In 2007, he coached the cast and crew of the nationally staged Tlingit-language production "Macbeth", a joint project of the Sealaska Heritage Institute and Perseverance Theatre. During this time, he took courses through the University of Alaska Southeast that helped complete the thirteen-year goal of attaining a Bachelor of Arts from the University of Minnesota.
Today Lance is a graduate student in the Master of Fine Arts Creative Writing program at the University of Alaska Fairbanks, and he teaches "Intro to Academic Writing" as a Teacher Assistant in the English Department. He is a recipient of the Harold McCracken Award for Outstanding Fiction and Nonfiction Writing About Alaska and the North Country, Honorable Mention for the Northern Light's Essay Contest, and the George McDaniel Writing Fund (a private scholarship).
"Learning the Tlingit language has opened an awareness of self and community for me, and as one of our elders once said, 'it has unlocked a place in my subconscious where our ancestors have wisely placed things.' We cannot emphasize enough, as a people, how important it is for all of our people to actively learn our language and keep our identity, our culture, our ancestor's tongue, from dying," notes Twitchell.
"I have found my way to a goal that was envisioned long ago and was extremely difficult to achieve. I am proud to be a recipient of this award, and hope to live up to the expectations of being placed in the same sentence with a woman as amazing as Mrs. Marks," he said.
Individuals and organizations can make contributions to the fund in the names of departed loved ones, whose names will be noted in the award letters to recipients. In a modern twist to an old tradition, the hosts of a recent potlatch donated money to the fund in memory of the departed elder Paul Jackson. Contributions can support students and delivery of courses in Tlingit, Haida, and Tsimshian on campus and via distance delivery to other communities.
Press Release Contact
X̱'unei Lance Twitchell, M.F.A., Ph.D.
UAS Professor of Alaska Native Languages
907-796-6114
latwitchell@alaska.edu