Marketing and Branding
Consistency is Essential
Consistent branding across UAS and its Schools creates an overall image of mission clarity, coordination, and communication. Defining our university through consistent branding will raise our profile locally, regionally, statewide and nationally. Our goal is to unite the three campuses in Juneau, Ketchikan and Sitka in one visual message. Together, we can build community and alumni pride and attract, enroll and graduate more students!
UAS Official Logos
Diverse organizations, like universities, maintain a family of related logos, united by a common color palette.
Whale Tail Logo: The main logo of UAS used for academic, administration, and marketing. The logo is comprised of two parts: the whale tail and the wordmark. Available in many variations designed to accommodate all campus, school and department names in both horizontal and vertical formats.
School Spirit Logo: A design refresh has given the previous UAS logo a more athletic style, in keeping with its use for school spirit and merchandise.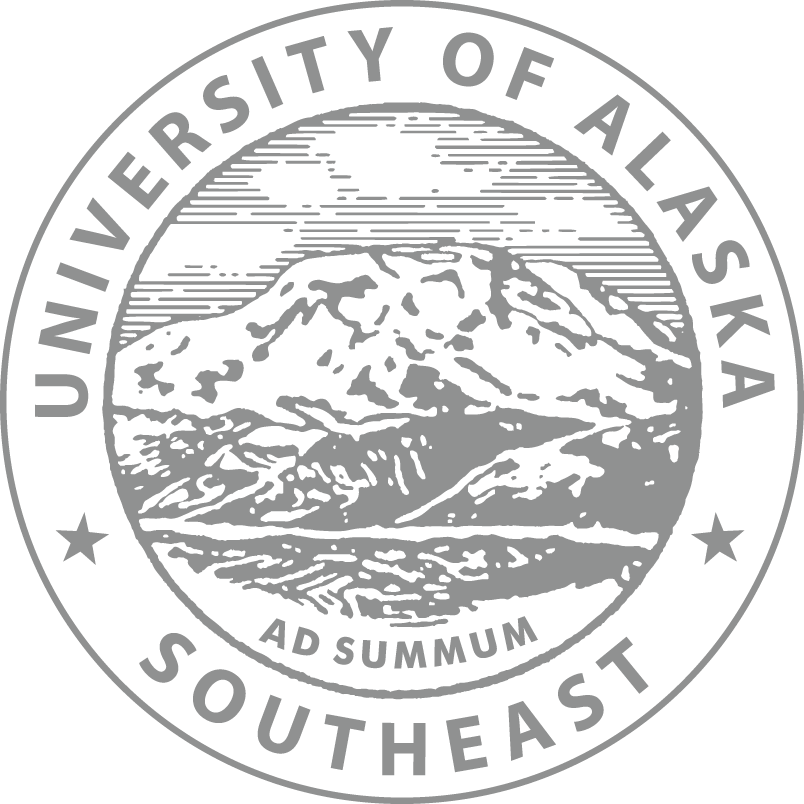 University Seal: Limited to official documents, the Chancellor, and selected merchandise.
Partnership Logos: Joint entities with other organizations may qualify for an exception to the branding policy. Contact ackrein@alaska.edu for more information.
Logos and Advertising Resources
Materials representing the UAS institution, its campuses, and schools must coordinate with current brand design set by the Creative Manager, UAS Enrollment Management and Student Affairs.
Logos are available in both raster (.PNG format, supports transparency) and vector (.PDF) formats
Bitmap format: right click on the image and select "Save image as..."
Vector format:click on the image itself to open up the .PDF in another tab
University of Alaska Southeast Zoom backgrounds cannot be used or distributed, in part or in whole, for marketing or commercial use.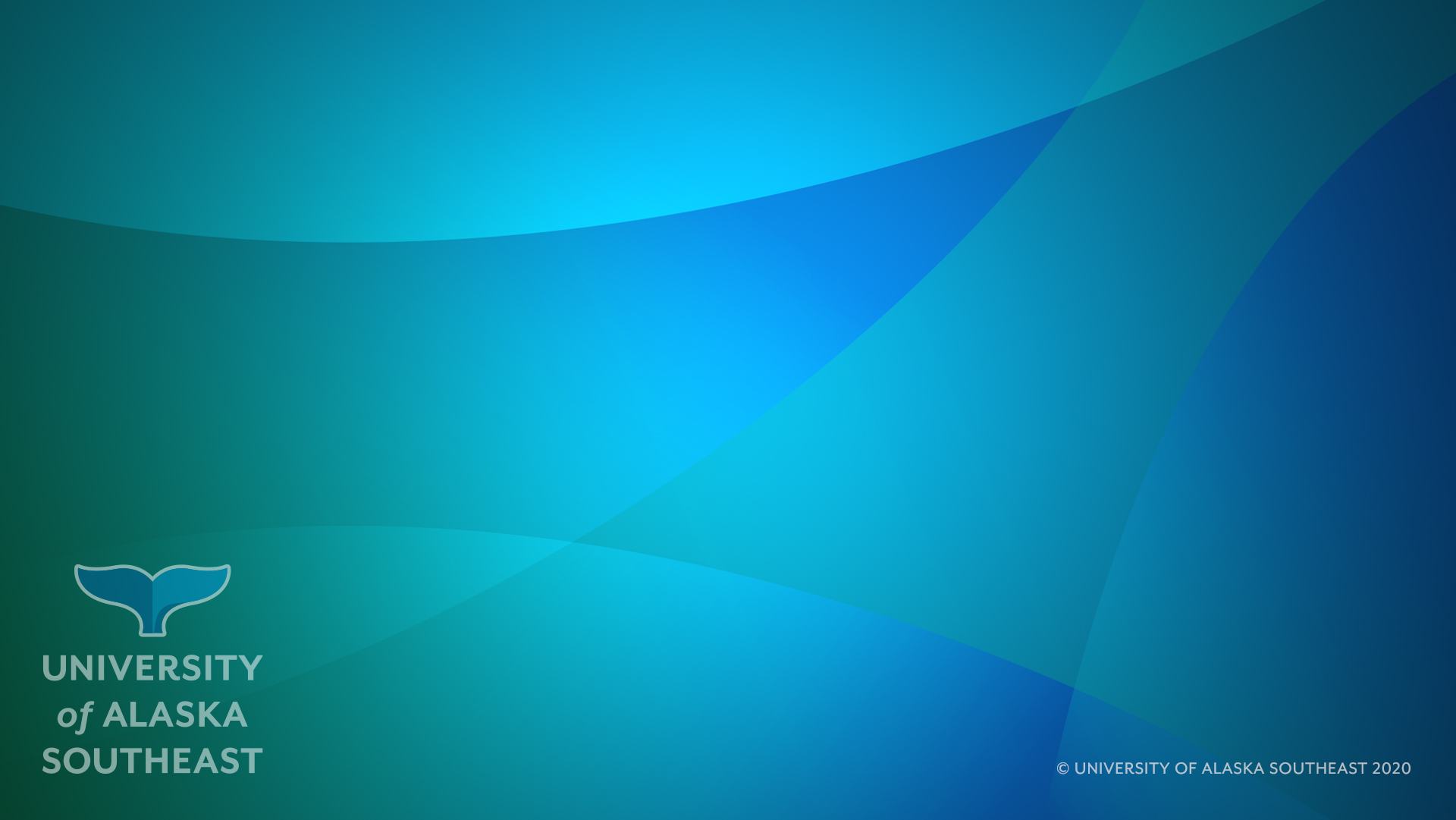 View UAS background in browser
---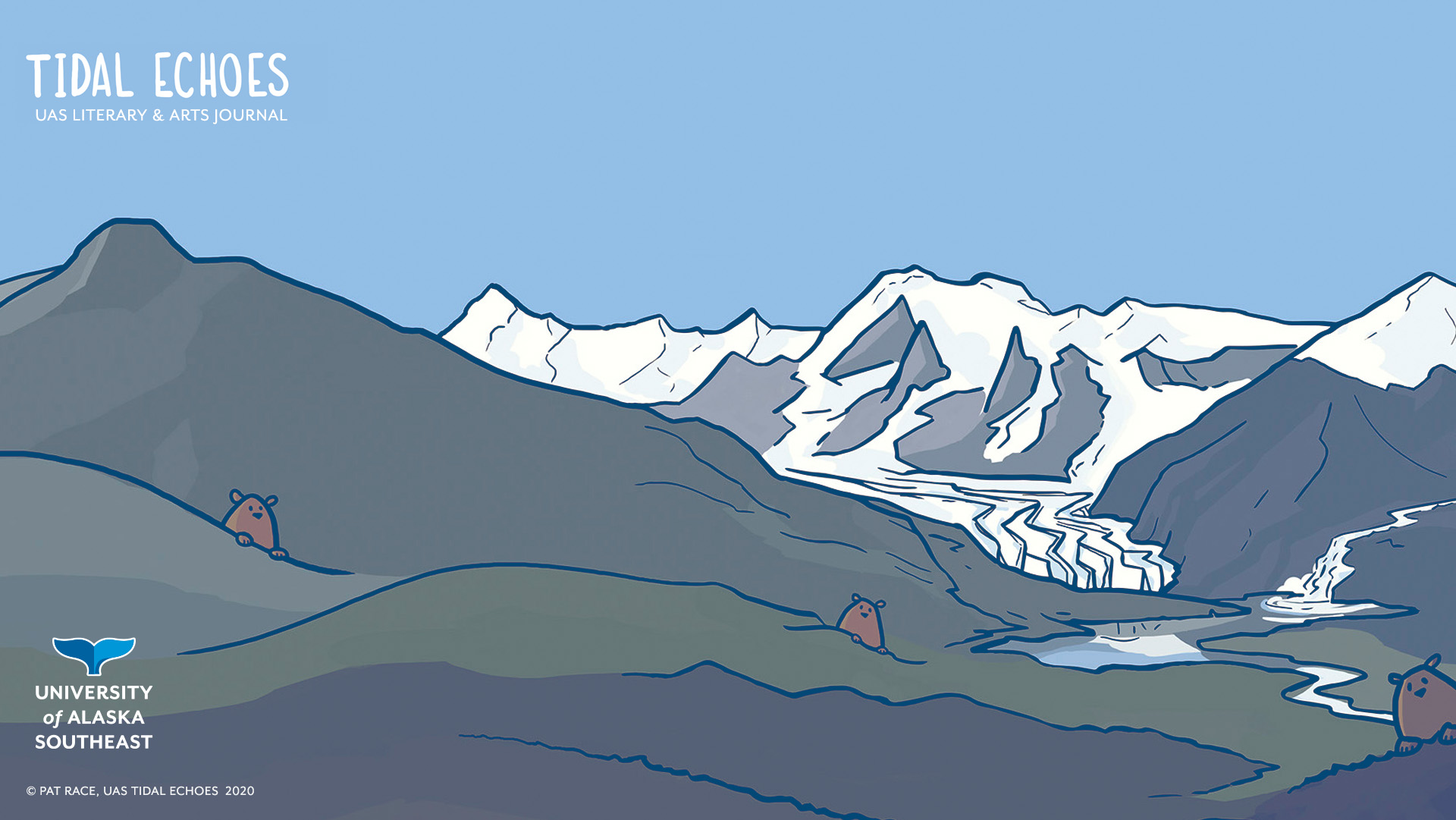 View Tidal Echoes background in browser
---
Get Social
Like, Follow, and Share
Use these suggested hashtags to keep conversations about UAS going
#uasoutheast

Conversations showcasing all that is happening within UAS

#uaslife

Array of posts about UAS life and school pride

#uasalumni

Keep in touch and updated about what UAS alumni are doing
Be a Social Superstar!
Something to share? Please complete the submission form to request a post for news, event, or story idea.
Lots to share? Takeover Instagram for a week and share what you love about your UAS life!
Interested in more ways to get involved with social media or want to suggest an idea? Email kcjordan@alaska.edu to set up a time to chat.
UAS Social Media Guide and Policies
Students, staff, and faculty: Please refer to the UAS Social Media Manual for policies and best practices for permissions and management of social media accounts associated in any way with the University of Alaska Southeast. Launching a social media account? Contact Katy Jordan, Social Media and Marketing Strategy Coordinator to discuss getting started and the approval process.
UAS reserves the right to delete comments and posts on all the UAS and UAS affiliated accounts that are deemed inappropriate by the page administrators, including but not limited to posts that are discriminatory or harassing in nature, use profane or abusive language, off-topic messages, political endorsements or banter, spam, or posts intended solely as advertising/marketing, to UAS students, faculty, staff or the community at large. Followers posting inappropriate content may be banned from the account(s). Comments expressed on the University of Alaska Southeast social media accounts do not reflect the opinions or position of the University of Alaska Southeast or its employees.
Suggested elements
Name
Title, Department
University of Alaska Southeast
Office Location | 11066 Auke Lake Way | Juneau, AK 99801
P: 907-PHONE | F: 907-FAX-NUMB | email@alaska.edu
Adding the UAS Logo to your signature
Visit the signature page (If you are Safe Zone Trained, visit the Safe Zone Signature page)
From your browser's edit menu, click on "Select all" (exact wording may vary between browsers)
From your browser's edit menu, click on "Copy"
From the " menu" within your Google Mail, select "Settings"
Scroll down to the "Signature" setting
Put your cursor in the desired location to insert the UAS logo
From your browser's edit menu, click on "Paste"
Click on "Save Changes" towards the bottom of the page
Pre-printed letterhead and business card orders are coordinated with the Creative Agency. To order, contact your department administrative assistant.
Download digital letterhead templates:
Google Doc Template: Under the Template Gallery in Google Doc, locate the "Letters" header. Select the down arrow to show more templates. Select the "UAS GENERAL LETTERHEAD"
Merchandise and promotional items often have specific color and size specifications. Maximize the impact of your investment; contact ackrein@alaska.edu for these special projects.
Federal law requires one of the following statements to appear on all UAS print, multimedia, and web publications designed for external distribution:
UA is an Affirmative Action/Equal Opportunity employer and educational institution and provider and prohibits illegal discrimination against any individual: www.alaska.edu/nondiscrimination.
An optional sentence may be added:
In accordance with the Americans with Disabilities Act, this material is available in alternate formats upon request.
The accreditation statement can also be included with the AA/EO statement:
The University of Alaska Southeast is accredited by the Northwest Commission on Colleges and Universities.
The UAS Writing Style Guide is set up alphabetically and contains listings that will allow you to standardize everything you write for the University of Alaska Southeast. Reference materials include The Associated Press Stylebook, Webster's New Dictionary and McGraw-Hill Dictionary of Scientific and Technical Terms. Use our web form to provide suggestions to this guide or the Website Content Guide.
Radio and TV/Internet ads must include "University of Alaska Southeast" in the script/copy. For all campuses, proper use is:
"University of Alaska Southeast, Ketchikan Campus"
"UA Southeast, Ketchikan Campus" (audio only)
Do not use these examples: "UA Juneau" or "University of Alaska Sitka" Do not use a comma, dash, or hyphen between Alaska and Southeast, e.g., "University of Alaska – Southeast".
Audio Variation
"UA Southeast" may be used instead of "University of Alaska Southeast" to avoid confusion with "UAF", which has a similar sound.
Social Media Handle/Account Name
"UASoutheast" is the preferred handle/account name for social media.
Website Address
You are encouraged to use the UAS website addresses www.uas.alaska.edu or uas.alaska.edu on printed materials, websites and presentations.
Campus-specific URLs are uas.alaska.edu/ketchikan, uas.alaska.edu/sitka, and uas.alaska.edu/juneau
Color Palette
The UAS palette: warm, saturated, nature-based colors inspired by the ocean, ferns, spruce and hemlock, salmon berries, soft gray skies — all the colors of Southeast.
| Color usage | CMYK Value | HEX Value | RGB Value | Sample swatch |
| --- | --- | --- | --- | --- |
| Primary color | c100m45y0k20 | #005C9E | r0g92b158 | |
| Secondary color | c50m0y100k0 | #8DCA46 | r141g202b70 | |
| Juneau Campus | c50m0y100k20 | #74A73A | r116g167b58 | |
| Ketchikan Campus | c50m95y20k5 | #7A3476 | r132g42b118 | |
| Sitka Campus | c100m0y50k0 | #00A79B | r0g167b155 | |
| Accent color | c20m0y100k0 | #D0E534 | r208g229b52 | |