UAS Development
The University of Alaska Southeast Development Office focuses on increasing private support for UAS student scholarships, teaching, research, and programs.
UAS Alumni Auction Raises Over $18,000!
The UAS Alumni Auction raised over $18,000 for the UAS Alumni Endowed Scholarship for student support! Staff, faculty, and members of the community came together for a fun night of bidding and networking! Thank you to all that came and your continued support for our student!
UAS Giving Day 2023 was a Splashing Success!
An outstanding 185 donors gave $41,123 in support of UAS students and programs during this year's #49HoursForAlaska! You helped make this happen! We're so grateful for UAS's amazing alumni, employees, and friends who came together to make this event a success.
Statewide, UA Giving Day 2023 raised over $1.3 million from 1650+, splashing last year's record out of the water! UAS and the entire University of Alaska system are proud to be supported by the Alaskan community: together, we are building a brighter future for our state.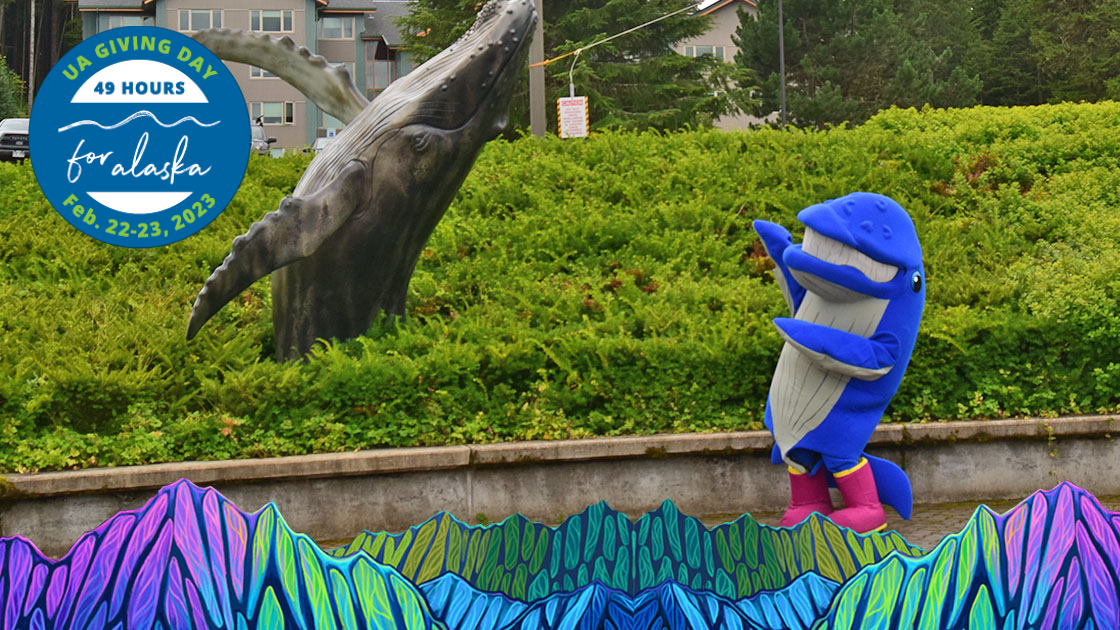 We Change Lives. You make it happen. Giving to UAS | Office of Development & Alumni Relations
Secure Online Payments
The University of Alaska is important to Alaska's future economic development. Through partnerships with business and industry, UAS is able to focus its highest priority initiatives in response to Southeast Alaska's employment and job training needs.
Statistics show that the more education an individual receives, the less money the government will spend on welfare, unemployment, child support enforcement, incarceration, health care and other social services. Furthermore, the more likely that person is to vote, be active in their community, and contribute to charities.
A strong university brings more to our community than opportunities for higher education and professional advancement. Nationwide, our country's colleges and universities are centers for the arts and scientific research. These programs enrich our lives and strengthen our community, while attracting new businesses to invest in our local economy.
For More Information About Giving Visit Our Donate Now Page
Annual Giving
At UAS alumni, friends, employees and community members can give meaningful gifts on an annual basis to the Chancellor's unrestricted fund.  These funds are used for many purposes: to supplement existing named funds, or start new endowed funds as well as general scholarships, depending on the needs determined by the current Chancellor. Gifts to existing funds

Contributions can be made to existing endowed or restricted funds at any time.
Establishing a New Fund
There are two types of funds here at UAS: endowed and restricted.  
Endowed
A minimum of $25,000 is required to create an endowed named fund.  Endowed gifts are invested. This is the most long-term, monumental form of support. For more in-depth information about this process, please see the UA Foundation, which provides administrative overview of all UAS funds
Restricted
A minimum of $5,000 is required to create a restricted named fund.  Restricted funds smaller and not invested, but donated directly into the fund and used for the purposes defined in a gift agreement between the donor and the University. If the funds are not replenished by additional gifts, they will be closed.
We'd love to talk with you about your ideas for creating a new memorial fund or contributing to an existing fund.
Contact Us
Please feel free to email us at development@uas.alaska.edu or contact us at the phone number below.

We can provide the wording typically used in obituaries to specify contributions in honor of a loved one, if you need that immediately. Please note the additional steps in order to create a memorial fund.

For more information, contact:
UAS Office of Development & Alumni Relations
11066 Auke Lake Way
Juneau, AK 99801
(907) 796-6416