Leadership Transition at UAS
Chancellor Pugh retires after 28 distinguished years of service to UAS
Juneau, Alaska
Date of Press Release: May 27, 2015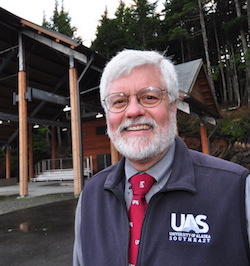 The public is invited to a goodbye reception for Chancellor John Pugh in honor of his retirement on Saturday, May 30, 2015, from 4:30-7:30pm at the Lakeside Grill in the Mourant Building, UAS Juneau campus. Music by Tom Locher and friends and refreshments will be provided. Attendees are invited to thank Pugh by sharing memories and stories from his 28-year career at UAS that began as a Dean in 1987. He was appointed Chancellor in 1999.
In some ways, Pugh said in recent remarks to staff, UAS has come full circle. "When then-Chancellor Marshall Lind hired me in 1987, oil prices were down to 8 dollars a barrel. I was asked to cut 1 million dollars from a $12 million budget." Pugh recalled how despite tight funding over the years, the UAS administration found ways to build a recreation facility, create a development and alumni office and build a freshman residence hall on the Juneau campus.
Provost Rick Caulfield will start work as Chancellor June 1. Caulfield was selected to replace Pugh by UA President Pat Gamble after a months-long national search. Pugh announced last October he would retire at the end of May.
"Rick's done a good job as Provost and will do a good job as Chancellor," Pugh said. "I am pleased that we have someone in place for this important transition with experience in higher education in Alaska." He added that Caulfield's leading academic programs over the past five years as Provost will serve the institution well as it moves into challenging budget times. Caulfield completed undergraduate degrees at the University of California Berkeley, a master's degree at the University of Alaska Fairbanks, and his doctorate in the United Kingdom. He has worked in the University of Alaska system for more than 30 years, including as provost, dean, campus director, and tenured full professor.
"I am honored and humbled by the opportunity to serve as UAS Chancellor," Caulfield said. "UAS is a student-centered university with terrific faculty and staff. We've come a long way in recent years in promoting student learning and student success. We're going to keep moving forward in partnership with employers and the communities we serve."
An email poll asking staff what they'll miss most about Pugh garnered several comments and compliments. Professor of Education Katy Spangler wrote, "I dearly remember his campaign to get students to go their classes in the morning: it was called 'Get Off Your Ass and Go to Class'. He has left UAS an entirely different institution from when he arrived in 1987." Alumna Denise Caposey wrote, "A hard act to follow, Chancellor Pugh. You set the standard for what a University Chancellor can do for a community of learners."