Students Safe after Bear Attack on Faculty
Chancellor Rick Caulfield said "I commend the students for their quick action in responding to this situation and appreciate the prompt response from Alaska State Troopers, Haines Police, Temsco Helicopters, and medical staff in Haines, Juneau and Anchorage. Our thoughts are with faculty member Forest Wagner as he recovers from this incident, and we are thankful that all involved are safe."
Juneau, Alaska
Date of Press Release: April 19, 2016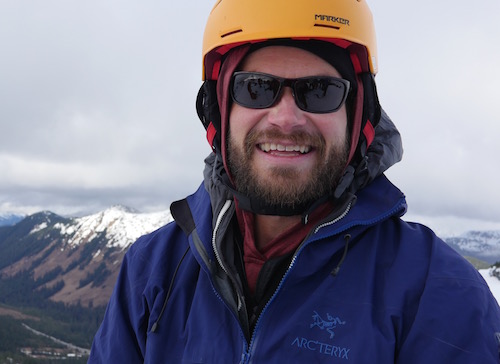 Monday, May 9, Juneau University of Alaska Southeast (UAS) Assistant Professor Forest Wagner, 35, was released from Providence Hospital in Anchorage. He is continuing outpatient physical therapy and wound care in Anchorage. Wagner was mauled by a brown bear Monday, April 18 during a field mountaineering course near Haines and medevaced to Providence Hospital. In a statement issued May 11, Wagner said, "Thank you to everyone for the overwhelming amount of support. I'm doing well, currently walking on crutches and scheduled to return to Juneau in June." Forest looks forward to teaching again in the fall.
Alaska State Troopers and university officials coordinated with Temsco Helicopters to evacuate the class group from the area. Students returned to Juneau with UAS Professor Kevin Krein on Tuesday, April 19 via ferry as previously planned. Haines is located 92 miles north of Juneau and only accessible from Alaska's capital city via air or sea.
UAS is supporting the students involved. Chancellor Rick Caulfield said "I commend the students for their quick action in responding to this situation and appreciate the prompt response from Alaska State Troopers, Haines Police, Temsco Helicopters, and medical staff in Haines, Juneau and Anchorage. Our thoughts are with faculty member Forest Wagner as he recovers from this incident, and we are thankful that all involved are safe."
Wagner grew up in Fairbanks. He teaches mountaineering, backcountry navigation and travel, ice climbing, rock climbing, and outdoor leadership, and has led many extended expedition courses. He guides on Mt. Denali for Alaska Mountain School, has worked internationally as a high altitude guide and completed several wilderness classic mountaineering routes in Alaska.
In an April 20 public statement released through Providence Hospital, Wagner thanked well-wishers for the outpouring of support.
This report will be updated as needed.