Ronalda Cadiente Brown Promoted to Associate Vice Chancellor of Alaska Native Programs
Juneau, Alaska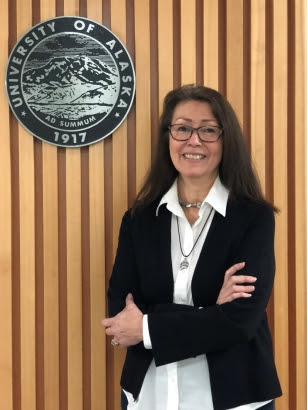 Ronalda Cadiente Brown, M.A., has accepted the position of Associate Vice Chancellor for Alaska Native Programs at the University of Alaska Southeast (UAS). As part of her duties, she will continue to serve as Director of the PITAAS program—Preparing Indigenous Teachers and Administrators for Alaska's Schools. In her expanded role, she will report directly to Chancellor Rick Caulfield and provide executive-level leadership at UAS in advancing programs and services supporting Alaska Native students. She will also serve as a vital link to Alaska Native tribes and corporations, school districts, and other stakeholders in enhancement of Alaska Native programs and services across the entire UA system.
Cadiente Brown grew up in Juneau and earned her Bachelor's degree in Social Work from Pacific University with the goal of becoming a high school counselor. She earned a Master's degree in Curriculum and Teacher Education at Stanford University.
Ms. Cadiente Brown, who is of Tlingit and Filipino heritage, has dedicated her career toward systems improvement for student engagement, most recently serving as Assistant Dean in the UAS Alaska College of Education. She is a distinguished educator who began her career with Portland Public Schools as an Indian Education specialist prior to returning home where she served as an administrator for Juneau Public Schools for over 28 years. Ronalda's professional experience includes Indian Studies Program Director, where she led an Indigenous curriculum project that was adopted by the district and received a federal Showcase Award by the U.S. Department of Education. She also served as a Middle School Assistant Principal, Alternative High School Principal, and leader of a dedicated team of teachers in designing a credit recovery model that increased student graduation rates. She served in the district's central office as program coordinator of federal grants, including a Safe Schools/Healthy Students Initiative with multi-community partnerships and K-12 curriculum and teacher training projects. At UAS she has served as PITAAS program director for over seven years.
"Ronalda has provided exemplary leadership at UAS in the realm of teacher education. With the recent departure of Vice Chancellor Joe Nelson, it was clear that we needed her leadership talents at the top executive level to maintain momentum in expanding programs for success of Alaska Native students," said UAS Chancellor Rick Caulfield. "Ronalda will continue to be engaged in supporting teacher education, but in her new role she'll be part of our Executive Cabinet and be in a position to advocate for innovative programs and partnerships that are essential to meeting our mission. I'm very grateful that she's agreed to take on this new assignment."
In taking on her new position, Cadiente Brown commented: "I look forward to contributing my perspective and experience within an organization that strives to meet the academic needs of our students and state. It is a privilege to be invited to serve an institution whose greatest attribute is its dedicated faculty, staff, and leadership."