Northwest Coast Arts Partnership Expansion
Juneau, Alaska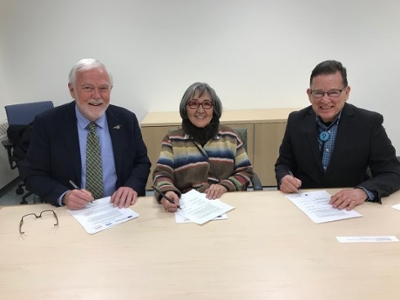 Northwest Coast Arts education continues to expand at the University of Alaska Southeast (UAS) with a recent renewal of its agreement with the Sealaska Heritage Institute (SHI) and the Institute of American Indian Art (IAIA) in Santa Fe, New Mexico. UAS has been working with SHI and IAIA since late 2016 and continues to enhance and grow its Northwest Coast Arts programs, most recently by hiring Tlingit Master Carver Wayne Price as Associate Professor of Northwest Coast Arts.
The agreement builds on the vision for Juneau and Southeast Alaska to become world-renowned centers for Northwest Coast Arts and indigenous artistic development. The three organizations will work together to provide enhanced Northwest Coast art programs, with instructional opportunities and collaborative academic offerings to enrich the experience for Alaska students. The near term goal is have these classes lead to a certificate, associate of arts degree, or bachelor's degree with a concentration in NWC arts. The long range plan would be to extend these programs to other students throughout Alaska and the United States.
Under the agreement, SHI will continue sponsoring a Native Artist Committee to provide advice and direction for development of programming. SHI will also provide access to the William L. Paul, Sr. Archives, ethnographic and art collections, and exhibits. Visiting artists will use space in the Delores Churchill Artist-In-Residence Studio or monumental arts space in the Walter Soboleff Building. Scholarships will be provided to qualified students.
UAS and IAIA will provide opportunities for Native students of all ages to have a "campus experience" and will work to make this experience as affordable as possible. The university and IAIA will support faculty exchanges to broaden arts education, and will work together to ensure that student credits transfer seamlessly between IAIA and UAS. As part of the agreement, IAIA will seek the appointment of Southeast Alaska Natives to sit on its Board of Trustees.
"It's wonderful to see all the efforts bear fruit in short order. This is the place where NWC art and culture, language, performing arts, and art history can merge together for a better future for the next generation, to make a better world that we all share," remarked Wayne Price, UAS Associate Professor of Northwest Coast Arts.
Alaska Native Languages and Studies at UAS examine three primary components of modern and historical Alaska Native life: languages, arts, and society. Taught by Alaska Native professors, language study courses focus on language revitalization through learning, documentation, and community activities. Courses in the arts include Northwest Coast formline design, carving, weaving, and textiles. Students examine modern and historical materials from diverse perspectives, seek an understanding of what it means to live in Alaska today, and connect with the lands, languages, and peoples of Southeast Alaska. To learn more about NWC arts and other programs available at UAS visit our website or call (907) 796-6100.