UAS and Juneau School District Renew Partnership
Under the agreement, UAS will also welcome JSD students who are ready for advanced classes to earn dual enrollment credit; earning both high school and college credits.
Juneau, Alaska
Date of Press Release: May 23, 2019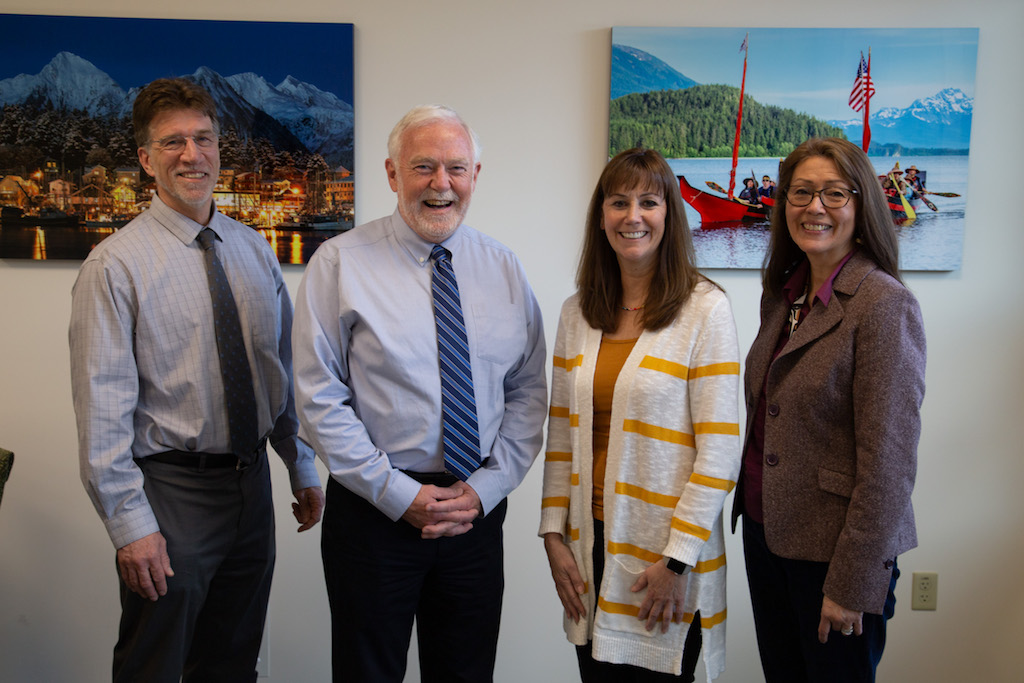 The University of Alaska Southeast (UAS) and Juneau School District (JSD) recently renewed their partnership to support sustained collaboration for improving student achievement, honoring a long-term relationship that builds a pre-Kindergarten to post-secondary system of educational excellence in the Juneau community. UAS Chancellor Rick Caulfield joined JSD Superintendent Dr. Bridget Weiss in signing the new agreement, which extends to June 2021. The agreement builds on prior collaboration and success in improving JSD college readiness, and also includes several new initiatives.
As lead university for teacher education in the UA system, UAS is providing JSD with $20,000 in support of a Juneau chapter of Educators Rising, a program for high school students which encourages them to consider the teaching profession. A significant portion of this funding comes from the Teacher Excellence Fund housed at the Juneau Community Foundation. The Fund was established by the City and Borough of Juneau plus numerous private donors to support UAS' leadership in teacher education. In addition, the university is providing $7,500 for the continuation of Getting Ready for College, a program for students in grades 5-12, providing college exploration activities. These include the Juneau Douglas High School/Yadaa.at Kalé Early Scholars Program and the Thunder Mountain High School AVID program.
The agreement also calls for UAS and JSD to collaborate on professional development opportunities, including conferences and speaking engagements on college readiness training, multicultural education, and curriculum alignment in the areas of Mathematics, English, Native Languages, and Arts education. High school counselor training will also be hosted at UAS.
Under the agreement, UAS will also welcome JSD students who are ready for advanced classes to earn dual enrollment credit; earning both high school and college credits. The partners will also work together to encourage students to consider post-secondary education, including events like Kids2College, an annual event for fifth graders. UAS will also offer campus tours and workshops throughout the year at events like the UA Scholars reception, Enrollment Day, Explore Southeast, STEM outreach, the Juneau Apprenticeship Annual Fair, and the Native Oratory event. Events hosted by JSD include the Senior Scholarship Award Night and the College Goal Evening.
UAS and JSD will continue their long-standing cooperative agreement to provide UAS teacher candidates' access to JSD classrooms for student teaching. This includes training of host teachers to include pre-service assessments used in professional dispositions, teacher observation protocols, and a post degree follow-up study by Alaska College of Education (AKCOE) faculty. Equity access opportunities including Dual Enrollment are included, and the two entities will work together to keep current course agreements and identify potential for new course alignments.
UAS Chancellor Rick Caulfield notes, "We are very pleased to extend this cooperative agreement with Superintendent Weiss and the Juneau School District for the benefit of our students and our community. Our prior collaboration led to significant improvement in JSD students being college-ready in key areas. This agreement will help continue that trend and contribute to more high school graduates achieving success at the college level."
Information about the college experience at UAS and registration can be found on our website or by calling (907) 796-6100.