University of Alaska Southeast Launches the Kayak Oceanography Program
From July 5 to July 19, faculty and students paddled over 200 km in Holkham Bay and Endicott Arm in a new Kayak Oceanography Program at University of Alaska Southeast (UAS).
Juneau, Alaska
Date of Press Release: August 19, 2019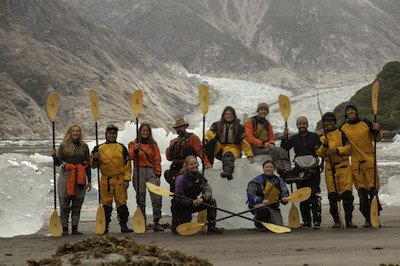 From July 5 to July 19, faculty and students paddled over 200 km in Holkham Bay and Endicott Arm in a new Kayak Oceanography Program at University of Alaska Southeast (UAS). The program was led by university professors Dr. Michael Navarro and Dr. Glenn Wright, kayak instructor and naturalist Hallie Heath, and University of Washington researcher Dr. Mattias Cape. The inaugural year of the program provided UAS undergraduates oceanographic training to understand interactions between glaciers and the coastal ocean, integrating themes in sustainability, physics, chemistry, biology, and science communication. The Alaska Space Grant Program provided supplemental funding during the initial year.
"We designed this program, featuring collaboration between UAS Natural Sciences and Outdoor Studies, so students can learn fundamental oceanographic principles through a 15-day expedition paddling experience, camping and data-gathering in beautiful Southeast Alaska," said Dr. Michael Navarro. "Our course in Kayak Oceanography demonstrates UAS' commitment to interdisciplinary teaching and research, integrating biology, oceanography, expedition planning, paddling skills, and the social sciences," added Dr. Glenn Wright.
About the program:
The Kayak Oceanography Program provided hands-on training for students to learn on-the-water methods for oceanography, including use of state of the art sampling equipment and sensors.
While experiencing Alaska's coastal environment though wilderness travel and scientific exploration, students also learned how to plan and execute a backcountry kayak expedition, gradually taking the lead in travel planning, camp setup, and data collection.
Students developed expedition travel and paddling skills, learning to work as a team member on an expedition in a remote wilderness environment.
Kayak oceanography is a low waste option (e.g. minimal CO2 emissions and plastic pollution) and compliments traditional shipboard surveys along nearshore regions. Researchers developed methods to conduct sustainable science/data acquisition to meet student needs and to provide student opportunities for scientific writing and publication of their findings.
The course was also designed to meet needs of the SE Alaskan communities: Kayaks can rapidly and inexpensively respond to unusual oceanographic events to gather data on vital fishery nearshore nursery systems.
The UAS Kayak Oceanography Program provides cost-effective oceanographic surveys to scientifically explore the productive, glacially-influenced local marine environment of Southeast Alaska. These ocean data ultimately benefit local industries such as fisheries and tourism.
Finally, the UAS Kayak Oceanography Program allows for growing collaborations with the University of Washington to carry out research and teaching of mutual interest to both institutions. Going forward, UAS will continue to develop this and similar courses, taking advantage of kayaking, a favorite Southeast Alaska pastime, to efficiently gather information about many data-poor areas, to the benefit of Alaskan industries and our understanding of the marine environment.
Dr. Tom Thornton, UAS Dean of Arts & Sciences, noted,"This course provides a unique and innovative means for students to combine a recreational passion—kayaking--with cost-effective oceanographic and marine ecosystem science in an intimate, hands-on setting, yielding immediate and ongoing results of relevance to earth systems science, local resource managers, and policy makers. It represents UA at its best in combining teaching, research, and educational experience for the benefit of students and society."
Learn more about exciting programs such as Natural Sciences and Outdoor Studies at UAS or by speaking to an advisor at 907-796-6100.