UAS Evening at Egan Fall Lecture Series Begins September 6
The annual fall lecture series Evening at Egan kicks off on September 6 at the University of Alaska Southeast Auke Lake campus with guest lecturer Dr. Carrie Diaz Eaton's presentation, "Finding Community to Advance STEM Education."
Juneau, Alaska
Date of Press Release: August 29, 2019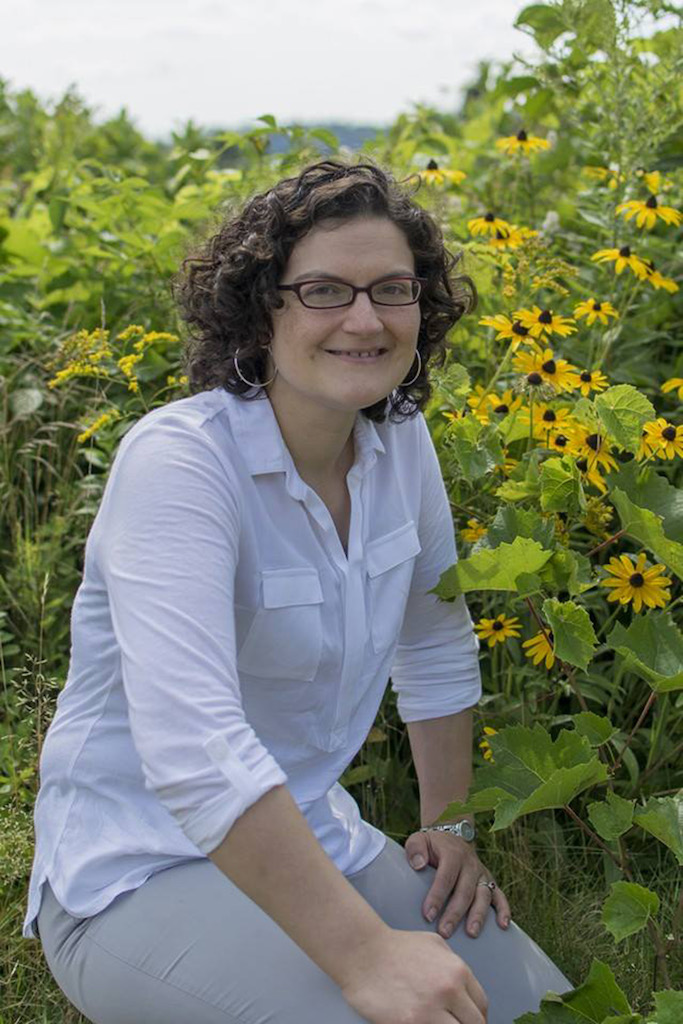 The annual fall lecture series Evening at Egan kicks off on September 6 at the University of Alaska Southeast Auke Lake campus with guest lecturer Dr. Carrie Diaz Eaton's presentation, "Finding Community to Advance STEM Education." Dr. Diaz Eaton is the co-founder of QUBES, a community of math and biology educators who share resources and methods for preparing students to tackle real, complex, biological problems. In this talk, she will discuss community successes, current challenges, the shifting landscape, and ask what our community will do moving forward. Mathematical models, big data, and data science are becoming ubiquitous in addressing the complex problems facing the public from economics and policy to climate and medicine.
Dr. Diaz Eaton notes, "This is an amazing time where we have the opportunity to shape the conversation about what data science education for the life sciences will look like, not just in content, but in who we are teaching. Perhaps our greatest challenge and our greatest opportunity is in shaping not just the math or the biology, but who our 'community' will be."
All Evening at Egan lectures are scheduled for 7 p.m. at the Egan Library and live-streamed on the UAS YouTube channel. The schedule and more details are posted at at the UAS Evening at Egan Lecture website.
The full schedule
September 6
Dr. Carrie Diaz Eaton, Associate Professor of Digital and Computational Studies at Bates College
Finding Community to Advance STEM Education
Mathematical models, big data, and data science are becoming ubiquitous in addressing the complex problems facing the public from economics and policy to climate and medicine. However, our greatest challenge and greatest opportunity is in shaping the community of data scientists and the community data science will serve.
---
September 13
Vera Starbard, Perseverance Theatre Playwright-in-Residence
(Still) Healing Through Storytelling
For thousands of years, healing from trauma and grief in Southeast Alaska was communal, and involved artistic process. While many of these practices were outlawed or discouraged for decades, pursuing them again can offer answers to both personal and societal trauma recovery.
---
September 20
Dr. David Noon, Professor of History
The Gothic Executive: Images of Presidential Violence in American Popular Culture, From Andrew Jackson to Donald Trump
From its inception, the presidency has served as a cultural as well as a constitutional institution; images of presidents (as well as their policies) are part of our political history. This talk considers how themes of violence have shaped our understanding of the most powerful office in American politics.
---
September 27
Dr. Alexis Shotwell, Associate Professor of Sociology at Carleton University in Ottawa
What is food? Eating and Mutual Aid
We face complex problems we cannot solve alone — no individual lifestyle, eating choice, or shopping decision will solve climate change, water crises, or resource-scarcity global conflicts. This talk explores the usefulness of relational ethics for creating a livable future for everyone.
---
October 4
Kate Troll, Columnist and Author
Alaska Beyond Oil
The world is moving beyond oil. By looking back at where Alaska's economy has come since the pipeline boom started; noting new industries and growth within Alaska's core industries, Kate Troll makes the case that Alaskans need not fear this shift in global energy policy. She also examines the ongoing clean energy economy and discusses how Alaska can benefit by joining in.
---
October 11
Jacob Adams, Attorney and Cultural Heritage Researcher
Cultural Appropriation and Traditional Arts in a Contemporary World
Historically, improper use of clans' at.óowu (our property) was deemed a capital offense and enforced through traditional law. But, with Western law came a lack of mechanism to protect cultural properties and at.óow. Cultural Heritage researcher Jacob Adams will summarize his experiences and new knowledge, and explore contextual intellectual property solutions.
---
October 18
Dr. Sanjay Pyare, UAS Associate Professor of Environmental Science
Sumatra to Southeast Alaska: what the journey of a migratory seabird can teach us
Dr. Pyare is a U.S. Fulbright research scholar who will present how the story of the Aleutian tern, a seabird migrating between Alaska and coastal Indonesia, represents not just the plight of the ocean environment and biodiversity, but rather is a global message reminding us about the promise of human potential, outlook, and cooperation.
---
October 25
Dr. Robin Walz, Professor of History
The French Avengers
Long before D.C. or Marvel comics, the French went crazy for avengers from the criminal wild side in serialized stories about the Count of Monte Cristo, Rocambole, and Chéri-Bibi. In this entertaining presentation, UAS Professor Robin Walz recounts some their outrageous exploits from his current book project, Shady Detectives, Elegant Criminals and Dark Avengers: Popular French Heroes, 1815–1950.
---
November 1
Dr. Sol Neely, UAS Associate Professor of English
Indigenous Cosmopolitanism: Being Cherokee in the Raven Bioregion
During Fall 2019, Dr. Sol Neely, a citizen of the Cherokee Nation, traveled the Trail of Tears with his father and daughter, meditating on historical violence, transgenerational perseverance, memory, and repair. In his presentation, which inaugurates National Native American Heritage Month at UAS, Dr. Neely will draw from this experience in a blend of memoir, critical theory, story, and Indigenous philosophy to talk about what it means to be Cherokee in the Raven Bioregion.
---
November 8
Walter Echo-Hawk, Attorney and Author
The Sea of Grass, Book Lecture
The Sea of Grass is a Native American version of Roots which tells the story of ten generations of the author's Pawnee family in the Great Plains of North America. The book hopes to inspire Native America to reclaim its history, find its voice and tell its own stories; and encourage all readers to research their families' histories and tell the powerful stories of their ancestors.
---
November 15
Dr. Heidi Pearson, UAS Associate Professor of Marine Biology
Making Science Matter: Communicating the Science of Blue Carbon
Dr. Pearson will present on her experience as a Fulbright Scholar to Norway. The goal of her project was to connect Arctic regions through blue carbon science, communication, and policy. Blue carbon refers to the natural mechanisms through which the marine environment can store carbon. There is increasing global recognition of blue carbon as a potential strategy for climate change mitigation. In a travelogue style, she will discuss her work with UN Environment/GRID-Arendal in Norway, Iceland, and the United Arab Emirates.
---
November 22
Swapna Mukhopadhyay, Ph.D., Professor Emerita, Portland State University
Ethnomathematics: Mathematics of People
Ethnomathematics emphasizes that mathematics is pervasive in culturally embedded practices, such as construction, cooking, craftsmanship, and so on, activities that rarely involve formal mathematics. I argue for a vision of school mathematics that relates to people's lived experiences rather than being dominated by the needs of society for a cadre of skilled mathematicians.
Full details for the lectures series can be found on the UAS Evening at Egan Lecture website. Lectures can be watched live or recorded on the UAS YouTube channel.