UAS Students Start Strong Through First Year Experience
This program aims to give students the best opportunity for success
Juneau, Alaska
Date of Press Release: August 30, 2019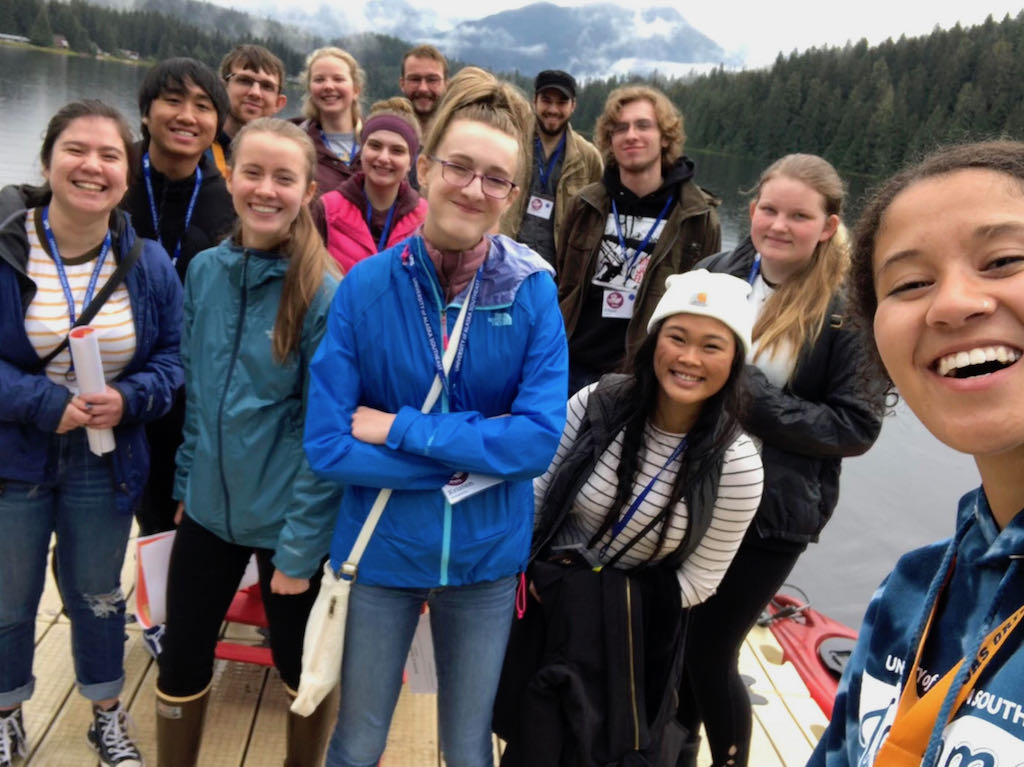 Whether a first time freshman, a transfer student, or an exchange student, the University of Alaska Southeast (UAS) starts the year off right by engaging new students in a variety of exciting activities as part of the First Year Experience (FYE). This program aims to give students the best opportunity for success. Welcome Week began Thursday, August 22 with housing move-in day, and new student orientation activities were held Friday through Sunday. Classes began Monday, August 26.
UAS offers several orientation experiences, including UAS 101 e-Orientation, a required pre-arrival module, and the UAS Welcome Week which kicks off with New Student Convocation. An optional orientation is available for parents and families. Required for full-time students, the activities are optional but highly recommended for any students taking less than 12 credits. New program students complete UAS 101 e-Orientation. This program helps them better understand how to transition to college by providing information about campus resources, academic expectations, and time management, as well as how to get involved on campus and online.
Each year, UAS faculty and staff welcome students by helping them settle into housing on the Juneau campus as part of the the "Move Crew," which included Chancellor Rick Caulfield. "I love the opportunity to greet new students and their parents when they first arrive," he commented. "We want them to know that all of us at UAS are here to help them succeed." The move into campus housing a fun, easygoing event, that helps new students make friends and learn about all that the campus has to offer. The Rec Center hosted a welcome barbecue at the end of the day for students, parents, faculty and staff.
At the Juneau Auke Lake Campus in the beautiful Egan Library, students were welcomed Friday by Chancellor Rick Caulfield and Provost Karen Carey. An entertaining "whale pride activity" was led by Eric Scott, Dean of Students, followed by Woosh.ji.een, an Alaska Native dance and drumming group who invited students to learn a drumming routine.
Following that, campus tours were led by faculty, staff, and returning student volunteers. For lunch, students met at the Lakeside Grill for "Food with Faculty," in which they met potential professors and could ask questions about classes. Practical sessions were also offered on financial literacy, degree completion, financial aid, and registration. In the "Our Community" activity, students learned about social, personal, and community wellness and safety. Residents of the John Pugh Hall gathered to learn the basics of living in a communal environment, providing a great opportunity to connect with housing staff and fellow hallmates.
Taking advantage of the school's Southeast Alaska location, a whale-watching expedition was held on Saturday to help make memories and build community. That evening, as part of the UAS Student Concert Series, famed comedian Morgan Jay performed, sponsored in part by Alaska Airlines. The concert series continues through the year and is free and open to the public. On Sunday, an excursion to downtown Juneau was provided to familiarize students with their new city. They explored shops and museums, and rode the Mt. Roberts Tram.
While students are encouraged to be as independent as possible, a resource page for parents is also available, which contains information about a wide variety of topics related to starting college at UAS. "We highly encourage parents to expect their students to reach out for assistance through our faculty and staff who are friendly, approachable, and can teach students about self-advocacy and being resourceful," notes Sean McCarthy, UAS Coordinator for Residence Life & First Year Experience.