UAS professor and master carver Wayne Price featured in documentary Journeys to Adäka
The film will be shown week on Friday, November 1 from 5–6
Juneau, Alaska
Date of Press Release: October 28, 2019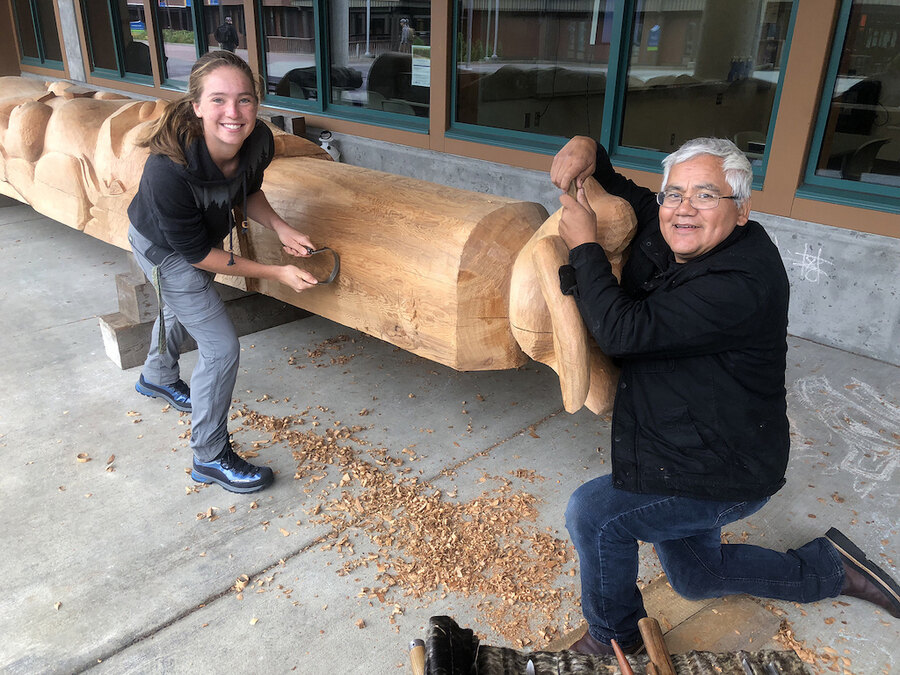 Wayne Price, Associate Professor of Northwest Coast Arts at the University of Alaska Southeast (UAS) is featured with six other Alaska Native artists in the documentary film Journeys to Adäka, which shares the story of indigenous artists as they prepare for the Adäka Cultural Festival in Whitehorse, Yukon Territory, Canada. The film will be shown this week on First Friday, November 1 from 5–6, sponsored by the Friends of the Alaska State Library, Archives, and Museum. Wayne and Cherri Price will lead a discussion with the audience following the screening.
Produced in association with the Yukon First Nations Culture and Tourism Association, Journeys to Adäka "paints a moving portrait of self-empowered indigenous communities at an inflection point in our history. [It] is the story of seven indigenous artists who look to the past for the strength to overcome a legacy of hurt, becoming cultural giants and leaders in the process," according to the film's website.
Tlingit master carver Wayne Price teaches Northwest Coast arts classes in design and carving on the Juneau Campus. A member of the Wooshkeetaan clan, he has carved over 30 traditional and non-traditional totems. He owns the Silver Cloud Art Center in Haines, and is a featured artist in the UAS Egan Library Northwest Coast Art Collection. In addition to totems, Price uses his skills to create canoes and paddles, masks, boxes, drums, and regalia for dance and ceremonies. He has been carving since 1971, and his art is featured throughout the world.