UAS Chancellor Rick Caulfield Announces Retirement Plans
"I have dedicated my career to the University of Alaska, and I have especially appreciated the opportunity to provide leadership at the University of Alaska Southeast over these past 10 years,"
Juneau, Alaska
Date of Press Release: November 8, 2019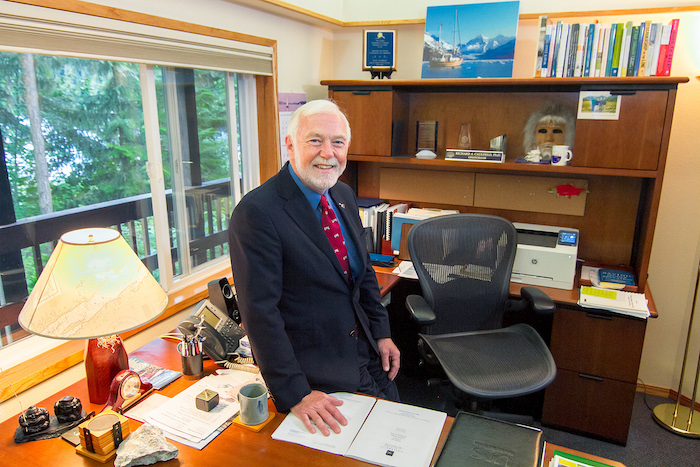 After 35 years of exemplary service and leadership at the University of Alaska, UAS Chancellor Rick Caulfield plans to retire at the end of the academic year in June 2020.
"I have dedicated my career to the University of Alaska, and I have especially appreciated the opportunity to provide leadership at the University of Alaska Southeast over these past 10 years," Caulfield said.
He began his UA career as a faculty member at UAF's Bristol Bay Campus, working with the Department of Alaska Native and Rural Development. Rising to the level of full professor, Caulfield's work at UA included research on the sustainability of Greenlandic Inuit whaling that was the basis for his doctoral study in the United Kingdom. He moved from UAF to UAS in 2010 to take up the position of provost, and was appointed UAS chancellor in 2015.
UA President Jim Johnsen thanked Caulfield for his dedication and service to UA. "I am especially appreciative for Chancellor Caulfield's leadership through the recent successful reaccreditation of UAS by the Northwest Commission on Colleges and Universities."
Caulfield praised UAS administrators, faculty, and staff who worked hard to achieve that result, stating that "the renewal of UAS accreditation this year reflects the high quality of educational programs at our university and our intense focus on student learning and success. I'm confident that UAS will maintain that focus even as we continue to address budget challenges."
The search process for Caulfield's successor will begin immediately. Johnsen said a representative search committee will be created along with a timeline for the search. The Committee will include representatives from UAS governance groups, campus advisory councils, and community partners.
The search timeline will include on-campus visits by finalists in the spring. Visits will include the UAS Ketchikan and Sitka campuses. There also will be opportunities for input from community members in Juneau, Ketchikan, and Sitka prior to a decision being made by President Johnsen. It is expected that Chancellor Caulfield's successor will take the reins at UAS in July 2020.
Chancellor Caulfield and his wife Annie Woodward Caulfield plan to remain in Juneau following his retirement. "We love the Juneau community and the abundant opportunities provided by Southeast Alaska's environment," he said.
Press Release Contact
Roberta Graham, Associate Vice President of Public Affairs
University of Alaska Media Contact
(907) 360-2416 (cell)
rlgraham3@alaska.edu