UAS places 2nd and earns awards at 2019 GEO Hack international competition
Students and Earth Observation experts tackle effects of "global weirding"
Juneau, Alaska
Date of Press Release: December 3, 2019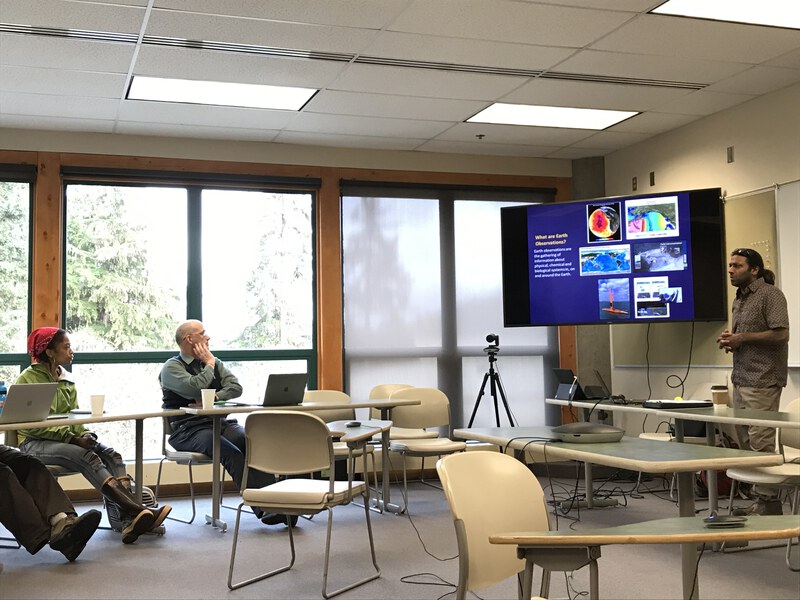 The University of Alaska Southeast (UAS) hosted the Geohackathon workshop for Southeast Alaska as part of the 2019 GEO Hack online event with Australia's National University in Canberra Australia, and the German Centre for Integrative Biodiversity Research, Halle-Jena-Leipzig, Germany. UAS students worked remotely to summarize the concept into a short narrated slide show. This proposed solution was then submitted to the GEO Hack 2019 challenge in Australia. Four judges reviewed entries from 13 teams across Peru, India, Australia, the United States, Thailand, and the Philippines. UAS took 2nd place in the international contest. The team was also presented the "Societal Value Award" and the "Usability and User Interface Award."
Calling for "out of the box thinkers," the event drew a great mix of undergraduate and graduate students, recent alumni, school teachers, tribal community members, representatives from federal and state agencies, and researchers, as well as experts from NASA and the mobile-applications industry. The hackathon is described as a hardware and software marathon in which participants have 36 hours to work on a solution to a societal challenge using Earth Observation (EO) data.
The UAS "pre-hack" was held on October 25 in which attendees listened to traditional perspectives from Alaska tribal representatives about resource challenges that locals faced as a result of 'global weirding", e.g.; climate change. Then, for the November 1 Global Geohackathon the group mapped out a concept for a food-security related mobile phone application that allows locals in rural Alaska communities throughout the region to track events and trends of paralytic shellfish poisoning (PSP) and plan harvesting activities accordingly. The group envisioned an app with the capability to visualize environmental conditions associated with possible harmful algal blooms (HABs), report observations and anomalies, and get scientific/community feedback and PSP advisories through text messages.
The app was also envisioned to ultimately integrate with a network of 'Alaska-caliber' smart buoys located near communities that could not only sample marine waters for toxic forms of algae but also collect critically needed information about local ocean currents and micro-environmental conditions that affect HABs. This could help develop research in oceanography and remote-sensing detection of HABs in nearshore Alaskan waters.
Lead organizer Dr. Sanjay Pyare noted, "I thought the Geohackathon, which was also run experimentally as a university class here, broke the mold for immersive educational possibilities: where else could students have worked in close quarters with NASA scientists, Alaska Native leaders, experts ranging from oceanography to anthropology, not to mention mobile app developers and staff from the National Weather Service? It's distinctively UAS!" Pyare is an Associate Professor of Environmental Science at UAS and the coordinator of the Geography Bachelor of Science Program.
Dean of Arts & Sciences Tom Thornton, who helped coordinate the event, found that Indigenous participant's panel "really clarified the practical stressors and vulnerabilities that rural Alaska Native communities face as a result of oceanic change impacts on their traditional food supplies, including salmon and shellfish. New knowledge from real time earth observation data, in combination with Local and Traditional Knowledge, can improve local communities' capacity to respond to these environmental shifts."
Learn more about degree programs at the University of Alaska Southeast, including geography and environmental science, on our degree programs page or speak to an advisor at 907-796-6100.