Southeast Conference gives another $20,000 in support of student scholarships at UAS
This brings their total contributions to nearly $300,000 since 1998.
Juneau, Alaska
Date of Press Release: December 20, 2019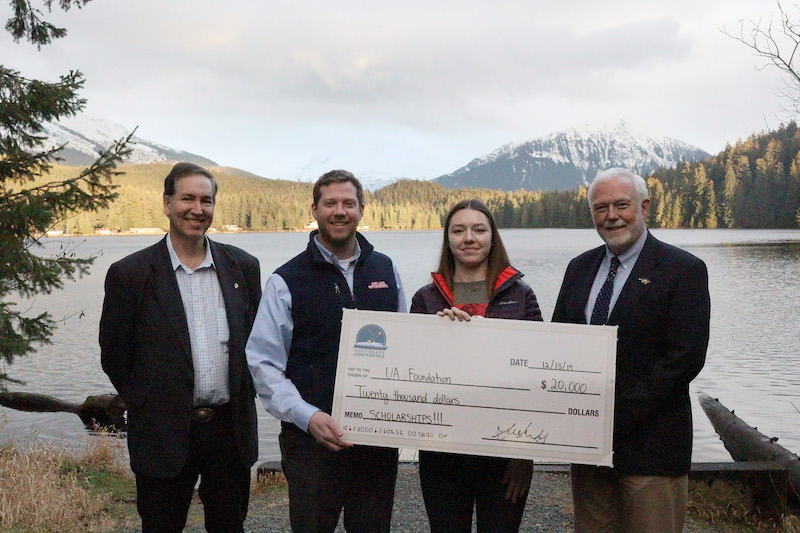 Southeast Conference has contributed another $20,000 to a scholarship endowment for University of Alaska Southeast (UAS) students in the coming academic year. This brings their total contributions to nearly $300,000 since 1998.
Southeast Conference was formed in 1958 to promote the regional transportation system known as the Alaska Marine Highway. Their mission has since expanded to include promotion of activities that promote strong economies, communities and a quality environment in Southeast Alaska. It is comprised of more than 185 organizations and individuals including most municipalities, federally recognized tribes, businesses, government agencies, organizations and private businesses.
Their annual contribution to the scholarship endowment has become a big part of the effort to meet their mission. Southeast Conference Executive Director Robert Venables is enthusiastic about continuing their efforts even as the university faces the challenge of continued budget cuts. "Of all the amazing resources we have here that surround us in Southeast Alaska, the most valuable are our students," says Venables, "We are very proud to support them and the University of Alaska Southeast."
The organization has awarded 170 scholarships to UAS students. This year Marina Ogai was one of the four selected. Ogai is working on a Bachelor of Arts in Social Science with a primary concentration in Economics. She moved to Alaska from Russia when she was just ten years old. She learned English while helping her single mom care for the family, and now is a first-generation college student. She says earning the scholarship has inspired her to give back to Juneau, a community that she loves and cherishes.
"Even though my family and I learned English pretty fast after moving to the United States, my mom and I did not know anything about the school system in America," Ogai says. "I know that education is a privilege, which is why I take it seriously. I got my Associate of Arts, graduating cum laude, and am more than halfway through my bachelor's with a 3.7 GPA."
The current board president for Southeast Conference is Alec Mesdag, who is the Vice President and Director of Energy Services for AEL&P. Not only does AEL&P support UAS as members of Southeast Conference but their parent company Avista established a separate scholarship with a $50,000 contribution in 2015 when they acquired AEL&P. Mesdag remarked, "It's important for AEL&P and Southeast Conference to support UAS because we understand how important it is for these students to be able to complete their education and contribute to our communities and our businesses."
Students enrolled at UAS are encouraged to apply for scholarships by February 15th for the next academic year. Students can be considered for every eligible award within the UA system by completing the online application. Donations to any UAS scholarship can be made via the University of Alaska Foundation's scholarship donation website.