University of Alaska Southeast: One Campus, One Book 2022
The 2022-23 UAS One Campus, One Book selection is Eat Like a Fish: My adventures as a fisherman turned restorative ocean farmer by Bren Smith.
Juneau, Alaska
Date of Press Release: August 31, 2022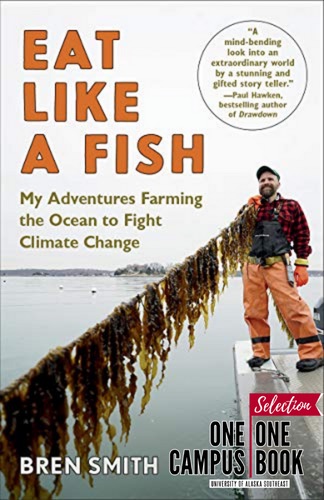 UAS will partner with the Sitka Public Libraries, Barnacle Foods and others to celebrate and explore mariculture, food security, local foods and the deep connections our communities have to the ocean.
Related events will provide opportunities for Alaskans to learn more about the role of mariculture and aquaculture in the Alaskan economy, local and global food security and in mitigating effects of climate change.
Participants will gain knowledge of employment pathways and opportunities related to mariculture.
Eat Like A Fish provides readers a timely introduction to issues central to life in Southeast Alaska as showcased in Tlingit oral literature and the research and economic development sectors.
Bren Smith will visit Juneau and Sitka in Spring 2023 (TBA) thanks to a grant from the Alaska State Library.
All new UAS Students will receive a complimentary copy. Additional library copies (print, ebook, audiobook) are available at Egan Library and others. Additional complimentary copies will be available for anyone at locations throughout Juneau, Sitka and Ketchikan soon thanks to funding from the Alaska State Library. More information is available on the One Campus, One Book website.
About the Book
In the face of apocalyptic climate change, a former fisherman shares a bold and hopeful new vision for saving the planet: farming the ocean. Here Bren Smith — pioneer of regenerative ocean agriculture (mariculture) — introduces the world to a groundbreaking solution to the global climate crisis.
A genre-defining "climate memoir," Eat Like a Fish interweaves Smith's own life — from sailing the high seas aboard commercial fishing trawlers to developing new forms of ocean farming to surfing the frontiers of the food movement — with actionable food policy and practical advice on ocean farming. Written with the humor and swagger of a fisherman telling a late-night tale, it is a powerful story of environmental renewal, and a must-read guide to saving our oceans, feeding the world, and — by creating new jobs up and down the coasts — putting working class Americans back to work. Listen to a sample read by the author.
Part memoir, part treatise on the life of a professional fisherman, part manual for the future of eating worldwide, this unique book cannot help but make readers think long and hard about the fate of the earth as it faces the challenges of global warming and the outlook for feeding the planet... Smith has now become a visionary leader in cultivating what may turn out to be a primary source of the world's food. This is a book about a man as well as a book about an idea.
About Bren Smith
Bren Smith is a former commercial fisherman turned ocean farmer who pioneered the development of restorative 3D ocean farming. Born and raised in Newfoundland, he left high school at the age of 14 to work on fishing boats from the Grand Banks to the Bering Sea. His debut book, Eat Like A Fish, was nominated for IACP Cookbook Award and won the 2020 James Beard Foundation Book Award for Writing. His writing has appeared in The New York Times, National Geographic, The Atlantic, and elsewhere; his ocean farm won the Buckminster Fuller Challenge for ecological design, and, in 2017, was named one of TIME magazine's Best Inventions. He is the owner of Thimble Island Ocean Farm, and Executive Director of the non-profit Greenwave, which trains new ocean farmers.
Confirmed Events
Eat Like a Fish @ UAS Campus Kickoff
Friday Sep 2, 3-5 p.m. | Mourant Courtyard, Juneau Campus
Stop by the Egan Library table to sample dishes featuring kelp and other mariculture products. Free copies of Eat Like a Fish by Bren Smith while supplies last.
Bedding Down: Seaweed Service Day
Saturday Oct 8
UAS students enrolled in Term Assistant Professor JoMarie Alba's Experiential Learning: Ecology of Southeast Alaska course (Biology 108) will work in conjunction with Associate Professor Darren Snyder from UAF Cooperative Extension to learn about the benefits of seaweed in agriculture/horticulture contexts and other uses and then disperse to area beaches to collect seaweed to donate to local gardeners and Juneau area Community Gardens.
Local Foods Tour: Barnacle Foods + Juneau Greens
Thursday Oct 13, 5:30-7:00 PM | Register
Get a behind-the-scenes tour of two Juneau businesses using innovative approaches to produce sustainable, fresh and fantastic local foods. Space is limited and masks are required for this event. Transportation will depart from John Pugh Residence Hall at 5:40.
Ocean to Table: Let's Talk Mariculture in AK
Tuesday Oct 25, 7:00 PM | Zoom
Panelists will discuss their roles in mariculture and reflect on local foods, sustainability and growing a new industry in Alaska. Featuring Max Stanley (Barnacle Foods), Chelsea Goucher (Foraged & Found), Dr. Schery Umanzor (UAF College of Fisheries and Ocean Sciences), Hannah Wilson (Alaska Fisheries Development Foundation) and Dan Lesh (McKinley Research).
TBA Events
Bren Smith: Sea Farming, Sustainability and the Future of Food
Spring 2023 TBA UAS Juneau
In this talk, Bren Smith looks at the relationship between agriculture and climate, explaining how he bridges land and sea farming to create a new model that brings a high yield with a low impact. Learn more about the exciting possibilities of 3D ocean farming, from fresh food sources and flavors to climate change protection and prevention.
Bren Smith: Ocean Farming and the Fight for Equality in a Changing World
Spring 2023 TBA Sitka
Rising temperatures and sea levels bring rising inequality as climate change depletes our resources. In this talk, Smith explains how ocean farming is not only sustainable for the planet, but as a career, and how this new industry represents an exciting opportunity to build a uniquely diverse workforce with a regenerative economy.
Media Samples and Links
About One Campus, One Book
One Campus, One Book (OCOB) is the common reading program at UAS-Juneau and 2022 marks the 11th year of celebrating literature and the relationships and communities that develop between readers, writers and our stories. Discussing a common book can also provide a safe venue for beginning difficult dialogues and allows members of the UAS community (and the broader Juneau community) to begin each academic year on the same page. Complimentary copies are provided to UAS students attending Juneau Campus New-Student Orientation and distributed at the Egan Library, Student Housing and other venues where UAS students gather. Additional print copies, ebook and audiobook editions are made available through local libraries (find a copy).
Beginning in 2021, two books will be announced each cycle in order to aid advance planning for curriculum development (UAS faculty) and community integration (campus and community partners) of OCOB selections. The 2023-24 selection will feature Disability Visibility: 17 First-Person Stories for Today by Alice Wong.
Press Release Contact
Jonas Lamb — Public Services Librarian & Associate Professor
University of Alaska Southeast
(907) 796-6440
j.lamb@alaska.edu