UAS Asian American and Pacific Islander Student Club kicks off with laughter, music, and food
A new opportunity for students to connect is underway this semester with the formation of the Asian American and Pacific Islander (AAPI) club.
Juneau, Alaska
Date of Press Release: February 13, 2023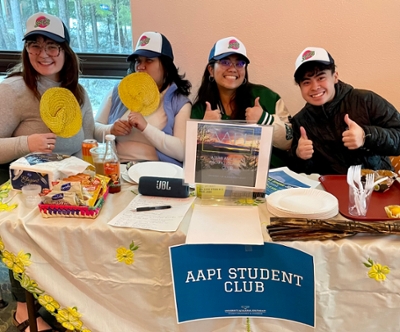 A new opportunity for students to connect is underway this semester with the formation of the Asian American and Pacific Islander (AAPI) club. "We are excited for our students and they are motivated to make this happen. I'm just happy to see their great energy and what they can bring to our campus because I know they work hard." shared Mae Delcastillo, Administrative Manager for Enrollment Management & Student Affairs. The motivation to start an AAPI club at UAS stems from the increase in anti-Asian xenophobia linked to the COVID-19 pandemic in this current world. The hope for this club is to unite and support our AAPI students in a safe place where we can educate and bring our own sense of pride in our heritage and culture into the institutional environment. We also want to explore and address issues concerning our AAPI students. This club would not happen if it were not for our students and the support and guidance from community leaders, committed faculty and staff, and our Student Equity & Multicultural Services Manager, Kolene James."
During its inaugural meeting on Friday, January 27, students came with great enthusiasm and energy. The students elected student representatives Chemery Marte (President), Charlene Zanoria (Secretary), and Corinne James (Treasurer). The members organized a volunteer effort to promote the club during the UAS Student Involvement Fair that brought together fourteen organizations where students can engage and contribute toward the campus community. "I am thrilled to see this club become part of the campus community. If you seek positive energy, a can-do spirit, and generous grace, this is the club for you.", said Ronalda Cadiente Brown, Associate Vice Chancellor of Alaska Native Programs & PITAAS Director. "My father, Andres Aquino Cadiente, immigrated from the Northern Philippines and came to Alaska in the early 1940's and dedicated his life toward raising a healthy family and contributing toward community building. He was one of the founding fathers of the Filipino Community and hall in Juneau and viewed education as a gift and opportunity. He became a student of (then) UAJ following his retirement at age 70. I look forward to supporting the AAPI club and invite you to join in to support amazing, hard-working students."
Lizell Uddipa, is a second year student pursuing a major in biology and is one of the first members to help launch the new APPI club: "Having been born and raised here, I thought my culture was too foreign, and sometimes embarrassing. I sought ways in which I could fit in more to lessen my chances of sticking out. Ironically, I was never Filipino enough when visiting the Philippines. I was too American to most, and unfortunately, this has brought some confusion in my sense of cultural identity. Where do I fit in?
"We all have a story to tell and I think this is the right step in which we can all come together, regardless of background, and share our experience living in the land of Lingít Aaní. I can already feel the future of this club growing and I'm very excited to be a part of it."
A good insight provided by our club president Chemery Marte, second year pre-nursing student:
"Moving from the Philippines to Alaska I felt like I was in a snow globe, a cold place, snowing, and constantly raining. I was young so I felt trapped being in Juneau. Everyone I knew, everything I was familiar with, the smell, the sounds, the flavors of food, the language was all so different. I never felt so isolated and so different from my surrounding peers, like a figurine in a snow globe, I stood out.
"This brings me to a quote that I made that I wished my younger self could've heard: 'No matter how many doors are closed in front of you there will always be a window of opportunity open.' This means no matter how far you have fallen or how dark, narrow, and lonely the path in front of us might look, as long as you push yourself forward you will eventually realize that we were squinting and not seeing how wide and bright the road in front of us is and how many different paths were open.
"As I grew older I learned to appreciate my culture and embrace my differences and my new culture. The two are so imprinted that I find it difficult to separate, henceforth the broken and elementary grade Tagalog and Bisaya, the weird pronunciation of English words, and a unique perspective and experience.
"I am excited to share my experiences and culture and for others to also have the space to do so as well, a place where we can come together and not feel isolated, alone, to feel like a figurine in a snow globe."
The AAPI club will meet every other Friday (in-person and via ZOOM). Please reach out to AAPI, President, Chemery Marte, cdmarte@alaska.edu or Mae Delcastillo, Club Advisor, at mae.d@alaska.edu