University of Alaska Southeast Commencement 2023
On the first weekend in May, the University of Alaska Southeast (UAS) will celebrate student achievement and success at commencement activities on its three campuses in Sitka, Ketchikan, and Juneau.
Juneau, Alaska
Date of Press Release: May 2, 2023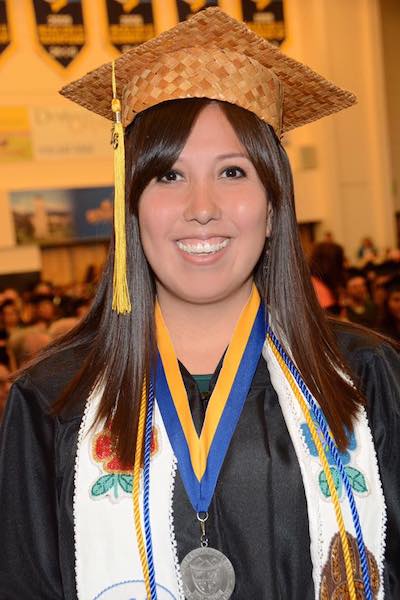 On the first weekend in May, the University of Alaska Southeast (UAS) will celebrate student achievement and success at commencement activities on its three campuses in Sitka, Ketchikan, and Juneau. UAS expects to award 581 associate, bachelor, and master's degrees, as well as certificates, professional licensures, and occupational endorsements. Commencement in Sitka takes place Friday, May 5, Ketchikan on Saturday, May 6, and Juneau's event is Sunday, May 7. Details for each ceremony follows.
UAS Chancellor Karen Carey, Provost Maren Haavig, UA regent Dale Anderson, and UA President Pat Pitney will travel to the campuses to celebrate the success of graduates in the three communities.
"We are enormously proud of our graduates at all three UAS campuses," noted Chancellor Karen Carey. "Many of our students are first-generation college students and are completing their degree while raising a family and working one or two jobs. Every one of them chose to advance their skills and education at UAS as a pathway to improving their life and that of their family and community. They've put in a lot of hard work, and now it is time to celebrate their accomplishments! Well done, all!"
Community Celebration Details
MAY 5 – Sitka
The UAS Sitka Campus ceremony will take place on Friday, May 5 at 7 PM at the Harrigan Centennial Hall, and a reception will follow. The commencement speaker for Sitka will be Crystal Duncan. Duncan is the Vice Deputy Mayor for the City and Borough of Sitka. Crystal is a beneficiary of the University of Alaska. She attended the University of Fairbanks where she completed a Bachelor of Science degree in Psychology and a Master of Business Administration in General Management in 2019. She was also employed at the university in the Title III staff position.
Brianna Forbis will give the Student Reflection. Brianna is a graduate of the Associate of Applied Science Health Information Management Program, and was selected as the Student of Distinction for Health Information Management. Brianna lives in North Pole, Alaska.
MAY 6 - Ketchikan
The UAS Ketchikan Campus ceremony is set for Saturday, May 6 at 2:00 PM at the Ted Ferry Civic Center; a reception will follow.
The Ketchikan Campus commencement speaker will be Helen Mickel, President and CEO at Tongass Federal Credit Union. Mickel is a 2015 UAS graduate of the Bachelor of Business Administration program and she served on the Ketchikan Campus Advisory Council from 2014-2020.
The Ketchikan Campus student speaker will be Rochelle King. King is graduating with an Associate of Applied Science in Marine Transportation with a Deck Emphasis. After 16 years in the US Army, Rochelle was honorably discharged in 2019 as a Chief Warrant Officer 2. She resides in Ketchikan.
MAY 7 - Juneau
The 52nd UAS Juneau Campus Commencement ceremony is on Sunday, May 7, at 2 PM at the Charles Gamble Jr.-Donald Sperl Joint Use Facility, 12300 Mendenhall Loop Road (REC Center). Earlier that morning, the UAS Native & Rural Student Center hosts its annual Alaska Native Graduation Celebration at 11 AM in the Egan Library on the Auke Lake campus. The Juneau commencement ceremony is followed immediately by a reception in the Lakeside Grill in the Mourant building on the UAS Auke Lake Campus. Shuttle service will be available from the main campus parking area to the REC center. The event will be live streamed on YouTube Live from the channel "University of Alaska Southeast."
UAS is pleased to announce that graduating senior Kali Spencer will deliver the Student Commencement Address at the Juneau Ceremony. Kali has served as the president of student government since 2020, and recently served as the Student Regent on the UA Board of Regents since 2021.
Chilkat Weaver Anna Ehlers will be presented with an Honorary Doctorate of Fine Arts at the Juneau ceremony. Honorary degrees are bestowed on individuals who exemplify a significant and lasting contribution to the University, to the State of Alaska, or to the individual's discipline or profession.