Alaska Native Arts, Languages & Studies
Explore Indigenous cultures and arts in the ancestral home of the Tlingit, Haida, and Tsimshian peoples
Alaska Native Languages and Studies at UAS examines three primary components of modern and historical Alaska Native life: language, art, and society.
As language learners, we seek to follow the path our fluent elders created for us, while bringing these languages into all areas of our life. Taught by Alaska Native professors, indigenous language study courses focus on revitalization through learning, documentation, and community activities. Student have the opportunity to learn X̱aad Kíl (Haida), Sm'algyax (Tsimshian) and Lingít yoo X̱'atángi (Tlingit Language) conversational and ceremonial language. Students within the Alaska Native Languages programs will develop a strong foundation in language learning, use, and advocacy.
Northwest Coast art courses include formline design, carving, weaving, and textiles. Examine modern and historical material from diverse perspectives, seek an understanding of what it means to live in Alaska today, and connect with the lands, stories, and peoples of Southeast Alaska.
Alaska Native Arts, Languages & Studies Degrees
Student Experience
Inside the Degree
Take a deeper look inside the Alaska Native Arts, Languages, and Studies programs.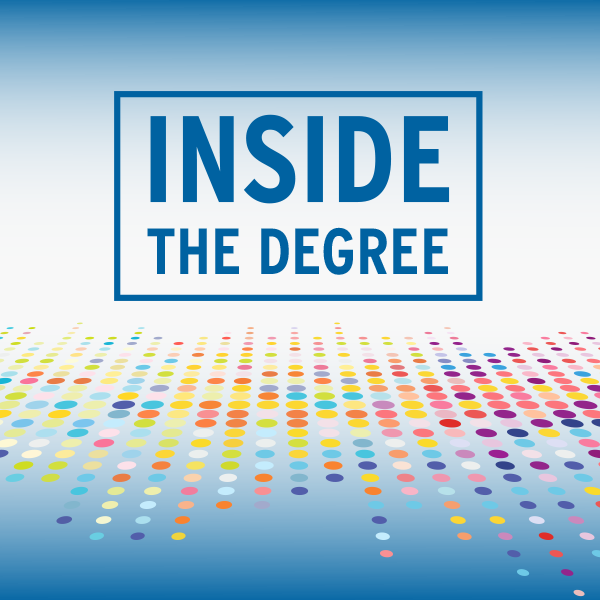 Expand Your Cultural Knowledge Through Art
The University of Alaska Southeast and Sealaska Heritage Institute have co-developed this series of innovative Northwest Coast art classes and degree paths. Taught by expert Indigenous art instructors, students absorb cultural lessons while learning formline, carving, and Raven's Tail weaving techniques. In these degree programs, students are provided with the tools to create and appreciate Northwest Coast Arts. Join us in uplifting the ancient cultures of Southeast Alaska while building economic opportunities in the arts.
Formline Design
"Formline is a visual metaphor for our culture. This balance, the red and the black, the two sides of a family. I think it's a glimpse into how we thought as a people."—David Boxley, Tsimshian artist and UAS instructor. Sealaska Heritage partners with UAS on our new Northwest Coast Arts program.
Northwest Coast Language, Art, and Society
Language
There are few universities in the world where one can study Indigenous languages. UAS is at the heart of revitalization for three Alaska Native languages: Tlingit, Haida, and Tsimshian. The learning experience is dynamic and engaging through community activities and historical and linguistic research projects working with Elders and senior faculty.
For students of Alaska Native ancestry, this is a way to connect with the heritage language of their ancestors. For the non-Native learner, it is a way to connect to the land and people of Southeast Alaska.
Art
Juneau and Southeast Alaska are world-renowned centers for Northwest Coast Arts and Indigenous artistic development. Join respected Elders, artists, and master carvers to learn about the heritage, skills, and techniques that inform and create traditional Northwest Coast pieces. Students learn formline design, carving, weaving, and textiles that apply to creating totems, canoes, paddles, masks, drums, and regalia.
Society
Students learn about what makes up Alaska Native cultures and organizations — from historical migration patterns and contact with other cultures to modern day tribes, ANCSA corporations, consortia, and civil rights organizations.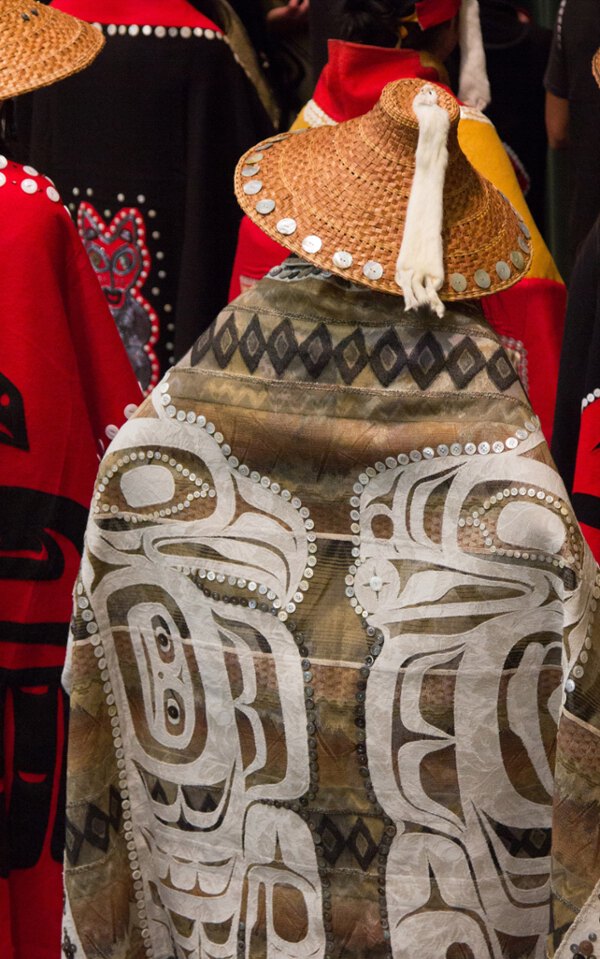 Northwest Coast Arts Emphasis
UAS, Sealaska Heritage Institute, and the Institute of American Indian Arts partner to offer an Associate of Arts with an emphasis in Northwest Coast Art. This program provides a solid foundation in the Northwest Coast arts tradition and prepares students for work as a professional artist or scholar. Students with this degree may work towards a degree in Alaska Native or Indigenous Studies, a degree in Education in order to teach Northwest Coast Arts, or participate in a transfer partnership with the Institute of American Indian Arts, located in Santa Fe, New Mexico.
Northwest Coast Art Expertise
The Northwest Coast art classes at UAS feature guest artists and faculty members with a depth of cultural understanding and artistic expertise in their respective art forms. Past and current instructors have included master carver Wayne Price, master carver Tommy Joseph, master weaver Delores Churchill, musician and mixed media artist David Galanin, culture bearer Lyle James, and formline artist and master carver David Boxley.
"This whole school year, [Master Carver] Wayne Price has been a great mentor and cultural educator for me, helping me to stay connected to my heritage while I'm away from home." —Teaghyn Vallevand, Yukon, Canada
"I wanted to combine my experience in Southeast Alaska with my European heritage, the paint [on my paddle] is inspired by an old European artifact dated to 500 BC, a clothespin in the shape of an eagle." —Sam Vivengnis, exchange student, Germany
Learning Environments
Indigenous Lands in Alaska
The three UAS campuses are located on the ancestral lands of Alaska Native peoples. The Juneau campus is located within Tlingit territory on the land of the Áuk' Kwáan clan. Sitka is also associated with the territories of the Tlingit, while the Ketchikan area shares the presence of the Haida, Tsimshian, and Tlingit peoples. Today, Indigenous peoples value their traditional knowledge, operating and investing in educational programs and subsistence-related initiatives, as well as managing corporations and investments throughout the world.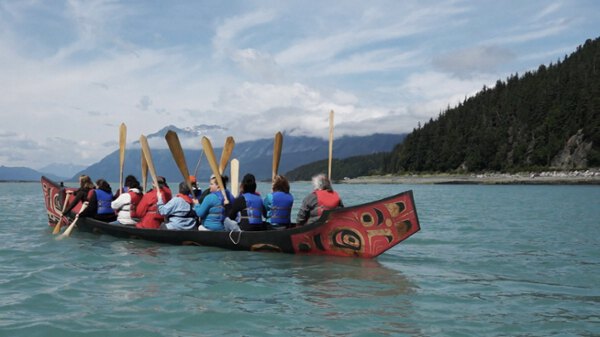 Ancestral Knowledge in Modern Alaska
UAS is in a continuous conversation on subjects related to culture and academics: sharing, learning, and evolving. Events like the Power and Privilege Symposium provide an opportunity to examine generational trauma or ask what a "decolonized" curriculum might look like. The Art of Place series might share Alaska Native traditional foods or showcase a weaving process. Collaborative educational conferences encourage a sense of place, bringing new voices to the conversation. And, perhaps most powerfully of all, language revitalization classes increase the number of Tlingit and Haida speakers, along with providing a whole new way of understanding.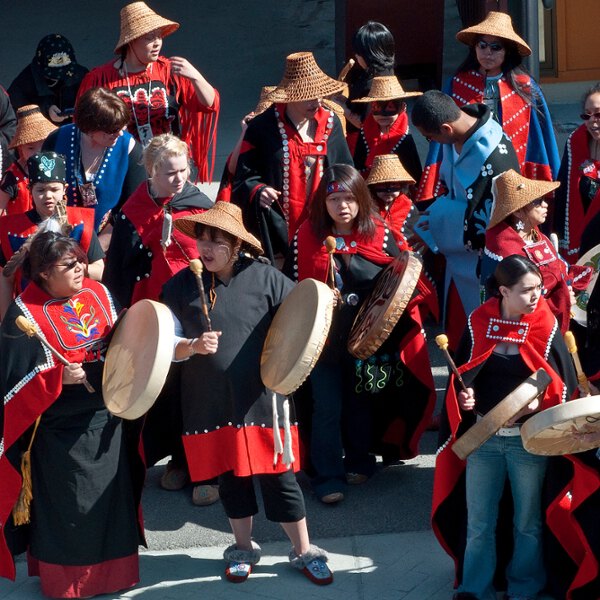 Wooch.Een
The Native & Rural Student Center is a student-centered environment that honors diversity, celebrates cultural traditions and knowledge, and enhances learning experiences for all students.
The Center hosts Wooch.Een, or "Working Together" in Tlingit, the Alaska Native students club. Members plan and host student events, including Native Oratory, lectures by distinguished Native authors and scholars, Food Sovereignty, and Native Youth Olympics.
The NRSC is many student's home away from home, and provides a a warm, inviting atmosphere filled with opportunities to gather with peers, receive academic support, and develop leadership skills.
Sealaska Heritage Institute
UAS and Sealaska Heritage Institute partner together to bring Northwest Coast art and expertise to the UAS campus. Sealaska Heritage Institute is a private nonprofit founded in 1980 to perpetuate and enhance the Tlingit, Haida, and Tsimshian cultures of Southeast Alaska. Its goal is to promote cultural diversity and cross-cultural understanding through public services and events. Sealaska Heritage Institute also conducts social, scientific, and public policy research that promotes Alaska Native arts, cultures, history, and education throughout the state.
"When we take a serious look at Alaska Native languages, literature, philosophy, and understanding of the natural world, we will see world views that differ radically from what is typically studied in high schools and colleges. These ways of seeing the world developed over thousands of years in specific places, so it makes sense to study those knowledge systems on the lands on which they developed and see how they apply today."
​