Woosh Een áyá Yoo X̱'atudli.átk — We're Talking Conversation
Tlingit Conversation Documentation Project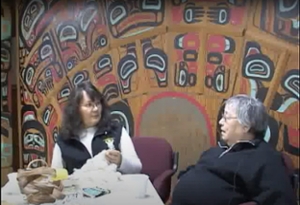 Overview
The project team of Tlingit faculty and students at the University of Alaska Southeast and fluent Tlingit elders produced these video/audio recordings for language learners. To suggest corrections or offer comments, please email alicetaff@gmail.com. All improvements are welcomed.
Software development is underway to link the videos with scrolling time-aligned bilingual text.
The Recordings
To download audio files on a computer, right click (or, alternatively, control-click) and select 'Save Link As...' (Chrome, other browsers similar).
List of Alaska Native Language videos

| Index | Speakers | Media links |
| --- | --- | --- |
| 1 | Ḵeixwnéi Nora Dauenhauer and Ḵaanáḵ Ruth Demmert | Video  Audio (.mp3) |
| 2 | G̱uneiwtí Marsha Hotch and Ḵaax̱kwei Evelyn Hotch | Video  Audio (.mp3) |
| 3 | Sháayi Éesh Smith Katzeek and Gax̱daakashú Joe Hotch | Video  Audio (.mp3) |
| 4 | Ḵ'asa See Anita Wright and Daasdiyáa Ethel Makinen | Video  Audio (.mp3) |
| 5 | Neish Archie Cavanaugh, Sr. and Kaaxwaan Éesh George Davis | Video  Audio (.mp3) |
| 6 | Neish Archie Cavanaugh, Sr. and Kaaxwaan Éesh George Davis | Video  Audio (.mp3) |
| 7 | Ḵaaḵal.aat Florence Sheakley and G̱oochtlein Ron Grant | Video  Audio (.mp3) |
| 8 | Shuwateen Martha VanHeel and G̱uneiwtí Marsha Hotch | Video  Audio (.mp3) |
| 9 | La.oos Tláa Ida Calmegane | Video  Audio (.mp3) |
| 10 | Kingeistí David Katzeek and Kaaxwaan Éesh George Davis | Video  Audio (.mp3) |
| 11 | Kingeistí David Katzeek and Kaaxwaan Éesh George Davis | Video  Audio (.mp3) |
| 12 | Ḵaachkoo.aaḵw Helen Sarabia and Ḵaaḵal.aat Florence Marks Sheakley | Video  Audio (.mp3) |
| 013-014 | Shák'sháani Margaret Dutson and G̱uneiwtí Marsha Hotch | Video  Audio (.mp3) |
| 15 | Saḵaayí Anita Lafferty and Yaxduláx̱kt' Lillian Austin | Video  Audio (.mp3) |
| 16 | Shgóonde Walter Soboleff and Keihéenák'w John Martin | Video  Audio (.mp3) |
| 17 | Kaaxwaan Éesh George Davis, Ḵaachkoo.aaḵw Helen Sarabia and Naakil.aan Mark Hans Chester | Video  Audio (.mp3) |
| 18 | Aan Yax̱ Saxeex June Pegues and Sakaayí Anita Lafferty | Video  Audio (.mp3) |
| 19 | Kaaxwaan Éesh George Davis, Ḵaachkoo.aaḵw Helen Sarabia, and Naakil.aan Mark Hans Chester | Video  Audio (.mp3) |
| 20 | Ḵeiwnéi Nora Dauenhauer, G̱unaak'w Fred White, Xwaayeenáḵ Richard Dauenhauer, Naakil.aan Mark Hans Chester and Dzeiwsh James Crippen | Video  Audio (.mp3) |
| 21 | Ḵaalkáawu Cyril George with Ḵaagwáask' Ishmael Hope | Video  Audio (.mp3) |
| 22 | Ḵaalkáawu Cyril George with Ḵaagwáask' Ishmael Hope (Continued from 21) | Video  Audio (.mp3) |
| 23 | Latseenk'i Tláa Irene Lampe and Yaxduláx̱kt' Lillian Austin | Video  Audio (.mp3) |
| 24 | Ḵaajín.aa Nelly Lord and Achkwéi Lena Farkas | Video  Audio (.mp3) |
| 25 | Ḵaajín.aa Nelly Lord and Achkwéi Lena Farkas | Video  Audio (.mp3) |
| 26 | Ḵaajín.aa Nelly Lord and Achkwéi Lena Farkas | Video  Audio (.mp3) |
| 27 | Tléiḵw Wás'i Lorraine Adams, Yéiyikanaléin Vincent Johnson, and Naakil.aan Mark Hans Chester | Video  Audio (.mp3) |
| 28 | Tléiḵw Wás'i Lorraine Adams, Yéiyikanaléin Vincent Johnson, and Naakil.aan Mark Hans Chester | Video  Audio (.mp3) |
| 29 | Achkwéi Lena Farkas and Naakil.aan Mark Hans Chester | Video  Audio (.mp3) |
| 30 | Achkwéi Lena Farkas and Naakil.aan Mark Hans Chester | Video  Audio (.mp3) |
| 31 | Wooshjix̱oo Éesh George Ramos and Naakil.aan Hans Mark Chester | Video  Audio (.mp3) |
| 32 | Wooshjix̱oo Éesh George Ramos and Naakil.aan Hans Mark Chester | Video  Audio (.mp3) |
| 33 | Woochjix̱oo Éesh George Ramos and Achkwéi Lena Farkas | Video  Audio (.mp3) |
| 34 | Wooshjix̱oo Éesh George Ramos and Achkwéi Lena Farkas | Video  Audio (.mp3) |
| 35 | Sháayi Éesh Smith Katzeek, Jigéi Jackie Williams, Seidayaa Mary Anderson, Ḵeixwnéi Nora Marks Dauenhauer | Video  Audio (.mp3) |
| 36 | Kaséix̱ Selina Everson, Seidayaa Mary Anderson and Ḵeixwnéi Nora Marks Dauenhauer | Video  Audio (.mp3) |
| 037-038 | Kaséix̱ Selina Everson, Seidayaa Mary Anderson, Ḵeixwnéi Nora Marks Dauenhauer, and Naakil.aan Mark Hans Chester | Video  Audio (.mp3) |
| 37 | Yaak'w Góos' Jackie Williams, Sháayi Éesh Smith Katzeek, Kaséix̱ Selina Everson, Seidayaa Mary Anderson and Ḵeixwnéi Nora Marks Dauenhauer | Video  Audio (.mp3) |
| 38 | Kaséix̱ Selina Everson, Seidayaa Mary Anderson and Ḵeixwnéi Nora Marks Dauenhauer | Video  Audio (.mp3) |
| 039a | Sháayi Éesh Smith Katzeek, Naakil.aan Mark Hans Chester, Kaséix̱ Selina Everson, Jigéi/Yaak'w Góos' Jackie Williams, Thomas Esquiro, and Ḵeixwnéi Nora Marks Dauenhauer | Video  Audio (.mp3) |
| 039b | Kaséix̱ Selina Everson, T'aaḵú Tláa Pearl Keenan, Wooshtudeidu.oo Florence Smarch, Kèyishí Bessie Cooley, Lasaayí Emma Shorty, and Ḵeixwnéi Nora Marks Dauenhauer | Video  Audio (.mp3) |
| 40 | Kaséix̱ Selina Everson, Wooshtudeidu.oo Florence Smarch, T'aaḵú Tláa Pearl Keenan, Chukateen Jane Smarch, Kèyishí Bessie Cooley, and Ḵeixwnéi Nora Marks Dauenhauer | Video  Audio (.mp3) |
| 41 | Kaséix̱ Selina Everson, Wooshtudeidu.oo Florence Smarch, T'aaḵú Tláa Pearl Keenan, Chukateen Jane Smarch, Kèyishí Bessie Cooley, and Lasaayí Emma Shorty | Video  Audio (.mp3) |
| 42 | Ḵeixwnéi Nora Marks Dauenhauer, Kaséix̱ Selina Everson, Kèyishí Bessie Cooley, Naakil.aan Mark Hans Chester, Jeesk'oo Jimmie Johnston, and Tánk Smith Katzeek | Video  Audio (.mp3) |
| 43 | Jeesk'oo Jimmie Johnston and Tánk Smith Katzeek | Video  Audio (.mp3) |
| 44 | Jeesk'oo Jimmie Johnston and Tánk Smith Katzeek | Video  Audio (.mp3) |
| 45 | Dagé Winnie Atlin, Gus'dutéen Bessie Jim, Sháayi Éesh Smith Katzeek, and Kax̱lige Norman James | Video  Audio (.mp3) |
| 46 | Kax̱lige Norman James, Dagé Winnie Atlin and Sháayi Éesh Smith Katzeek. | Video  Audio (.mp3) |
| 47 | Kax̱lige Norman James, Dagé Winnie Atlin, Sháayi Éesh Smith Katzeek, and Nakil.aan Mark Hans Chester | Video  Audio (.mp3) |
| 48 | Ḵeixwnéi Nora Marks Dauenhauer, La.oos Tláa Ida Calmegane, Kaséix̱ Selina Everson, Lasaayí Emma Shorty, Gus'dutéen Bessie Jim, and Kaltín Susan Jim | Video  Audio (.mp3) |
| 49 | Ḵeixwnéi Nora Marks Dauenhauer, La.oos Tláa Ida Calmegane, Kaséix̱ Selina Everson, Lasaayí Emma Shorty, Gus'dutéen Bessie Jim, and Kaltín Susan Jim | Video  Audio (.mp3) |
| 50 | Ḵeixwnéi Nora Marks Dauenhauer, Sháayi Éesh Smith Katzeek, Kaséix̱ Selina Everson, Seidayaa Mary Anderson and Shuwuteen Martha VanHeel | Video  Audio (.mp3) |
| 51 | Ḵeixwnéi Nora Marks Dauenhauer, Sháayi Éesh Smith Katzeek, Kaséix̱ Selina Everson, Seidayaa Mary Anderson, and Shuwuteen Martha VanHeel | Video  Audio (.mp3) |
| 52 | Ḵeixwnéi Nora Marks Dauenhauer, Sháayi Éesh Smith Katzeek, Kaséix̱ Selina Everson, Seidayaa Mary Anderson, and Shuwateen Martha VanHeel | Video  Audio (.mp3) |
| 53 | Shuwuteen Martha VanHeel and G̱uneiwtí Marsha Hotch | Video  Audio (.mp3) |
| 54 | T'aawchán, X̱aajaakwtí, Shgóonde Walter Soboleff and Woochjix'oo Éesh George Ramos | Video  Audio (.mp3) |
| 56 | Ḵaanáḵ Ruth Demmert and G̱uneiwtí Marsha Hotch | Video  Audio (.mp3) |
| 57 | Ḵaachkoo.aaḵw Helen Sarabia and Shak'sháani Margaret Dutson | Video  Audio (.mp3) |
| 58 | G̱unaak'w Fred White | Video  Audio (.mp3) |
| 59 | Achkwéi Lena Farkas | Video  Audio (.mp3) |
| 60 | Shák'sháani Margaret Dutson and G̱uneiwtí Marsha Hotch | Video  Audio (.mp3) |
| 61 | Shák'sháani Margaret Dutson and G̱uneiwtí Marsha Hotch | Video  Audio (.mp3) |
| 062a | Shák'sháani Margaret Dutson and G̱uneiwtí Marsha Hotch | Video  Audio (.mp3) |
| 062b | Shák'sháani Margaret Dutson and G̱unaak'w Fred White | Video  Audio (.mp3) |
| 63 | Shák'sháani Margaret Dutson and Kaséix̱ Selina Everson | Video  Audio (.mp3) |
| 64 | Kaséix̱ Selina Everson and Shak'sháani Margart Dutson | Video  Audio (.mp3) |
| 65 | Kaxwaan Éesh George Davis and Kinkawduneek Paul Marks, 1 | Video  Audio (.mp3) |
| 66 | Kaxwaan Éesh George Davis and Kinkawduneek Paul Marks, 1 | Video  Audio (.mp3) |
| 67 | L'x̱éisk Lily White and Shák'sháani Margaret Dutson | Video  Audio (.mp3) |
| 68 | Ḵintóow Adeline St. Clair and Deiwjee Genevieve Cook | Video  Audio (.mp3) |
| 069-070 | Jinduláa Katherine Hanlon and Shak'sháani Margaret Dutson | Video  Audio (.mp3) |
| 69 | Shtuwaax'eelge Samuel Hanlon, Jinduláa Katherine Hanlon, Shak'sháani Margaret Dutson, and Naakil.aan Mark Hans Chester | Video  Audio (.mp3) |
| 71 | Shák'sháani Margaret Dutson, Kaajinaat George Dalton, Jr., and Naakil.aan Mark Hans Chester | Video  Audio (.mp3) |
| 72 | Ḵintóo Adeline St. Clair and Tl'oon Shaa Deborah Dalton | Video  Audio (.mp3) |
| 73 | Ḵintóo Adeline St. Clair, Tl'oon Shaa Deborah Dalton, and Shák'sháani Margaret Dutson | Video  Audio (.mp3) |
| 74 | Ḵintóo Adeline St. Clair, Kaakwelaaxt Lootooskú Larry Sanders, and Shák'sháani Margaret Dutson | Video  Audio (.mp3) |
| 75 | Aanshiex̱ Jennie Lindoff and Ḵintóo Adeline St. Clair | Video  Audio (.mp3) |
| 76 | Shák'sháani Margaret Dutson and Kaséix̱ Selina Everson | Video  Audio (.mp3) |
| 77 | Kaséix̱ Selina Everson (Raven, Deisheetaan, Yeil Hít - Angoon, Kaagwaantaan yadi, granddaughter of the Bear clan Teḵweidee, Raven/beaver) and Ḵaachkoo.aaḵw Helen Sarabia (G̱aanax̱teidí, Klukwan, Whale house, Wooskeetaan yadi & Kaagwaantaan yadi), Ḵ'aagi Sháawu Keri Eggleston, and Ldéx̱' Shaax̱ Ryker Eggleston | Video  Audio (.mp3) |
| 78 | Kaséix̱ Selina Everson (Raven, Deisheetaan, Yeil Hít - Angoon, Kaagwaantaan yadi, granddaughter of the Bear clan Teḵweidee, Raven/beaver) and Ḵaachkoo.aaḵw Helen Sarabia (G̱aanax̱teidí, Klukwan, Whale house, Wooskeetaan yadi & Kaagwaantaan yadi), Ḵ'aagi Sháawu Keri Eggleston, and Ldéx̱' Shaax̱ Ryker Eggleston | Video  Audio (.mp3) |
| 79 | Shák'sháani Margaret Dutson | Video  Audio (.mp3) |
| 80 | Ḵaanáḵ Ruth Demmert, G̱uneiwtí Marsha Hotch, X̱'unei Lance Twitchell, Ḵalḵéis' Kiana Twitchell, G̱ooch Shaayí Harold Martin, Aanx'isk'oox Al McKinley, and X̱'aagi Sháawu Keri Eggleston | Video  Audio (.mp3) |
| 81 | Aanx'isk'oox Al McKinley and G̱ooch Shaayí Harold Martin | Video  Audio (.mp3) |
| 82 | Kooshdaak'w Éesh William B Fawcett and G̱unaak'w Fred White | Video  Audio (.mp3) |
| 083a | Ḵudeik Joe Thomas, Ḵaanáḵ Ruth Demmert, Xwaanlein Virginia Oliver, L'eiwtu Éesh Herman Davis, and Kawduk'eit Tláa Vida Davis | Video  Audio (.mp3) |
| 083b | Ḵudeik Joe Thomas, Ḵaanáḵ Ruth Demmert, Xwaanlein Virginia Oliver, L'eiwtu Éesh Herman Davis, and Kawduk'eit Tláa Vida Davis | Video  Audio (.mp3) |
| 84 | Shák'sháani Margaret Dutson and G̱uneiwtí Marsha Hotch | Video  Audio (.mp3) |
| 85 | Shák'sháani Margaret Dutson and G̱uneiwtí Marsha Hotch | Video  Audio (.mp3) |
| 86 | Shák'sháani Margaret Dutson and Kaaxwaan Éesh George Davis | Video  Audio (.mp3) |
| 87 | Shák'sháani Margaret Dutson and Kaaxwaan Éesh George Davis | Video  Audio (.mp3) |
| 88 | Shák'sháani Margaret Dutson and Kaaxwaan Éesh George Davis | Video  Audio (.mp3) |
| 89 | Shák'sháani Margaret Dutson and Kaaxwaan Éesh George Davis | Video  Audio (.mp3) |
| 90 | Shák'sháani Margaret Dutson and G̱unéiwti Marsha Hotch | Video  Audio (.mp3) |
| 91 | Kaach Ḵúleix' Mabel Jack, Shkanyadaká Elizabeth McCluskey, and Kaséix̱ Selina Everson | Video  Audio (.mp3) |
| 92 | Alan Zuboff | Video  Audio (.mp3) |
| 93 | Shaadáax' Daniel Johnson and Kaséix̱ Selina Everson | Video  Audio (.mp3) |
| 94 | Uxshkadusneek Frank Jack and Kaséix̱ Selina Everson | Video  Audio (.mp3) |
| 95 | Shx̱'oosaxws Verna Johnson, Shḵanyadaká Elizabeth McCluskey, and Kaséix̱ Selina Everson | Video  Audio (.mp3) |
| 96 | Shx̱'oosaxws Verna Johnson, Shḵanyadaká Elizabeth McCluskey, and Kaséix̱ Selina Everson | Video  Audio (.mp3) |