AY 2022 Graduates
There were two mathematics graduates this year.
To wrap up his capstone project, Austin Knull talked about his explorations into the mathematics behind measuring the power output for a Corvette for his Senior Seminar presentation.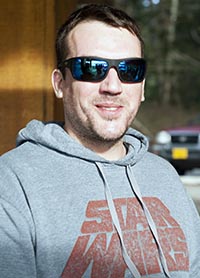 Josh Walsh had a busy year. After attending the 2021 IBA CURE workshop, he and his group (two other students, one from from Harvey Mudd College and the other from Scripp's College) went on to give a poster presentation at the 2021 International Symposium on BEER, and then publish an expository paper, titled Clustering for the Neophyte: An R Shiny App for Self-organizing Maps, describing the outcome of their project in the undergraduate journal Spora. Since UAS is an institutional member of the IBA, UAS students like Josh and others from past years get access to these summer research experience workshops, and more.
Josh also received an EPScOR Rolling Travel Award to cover registration costs for MAA MathFest in August 2021, which he attended virtually along with Brian Blitz and Andrzej Piotrowski.
Both Austin and Josh plan to work for a while before considering further studies.