Forest

 

S.

 

Haven

, B.A.
Term Assistant Professor of Anthropology and Alaska Native Studies

 
Arts and Sciences - Social Sciences
Juneau Campus: Whitehead Bldg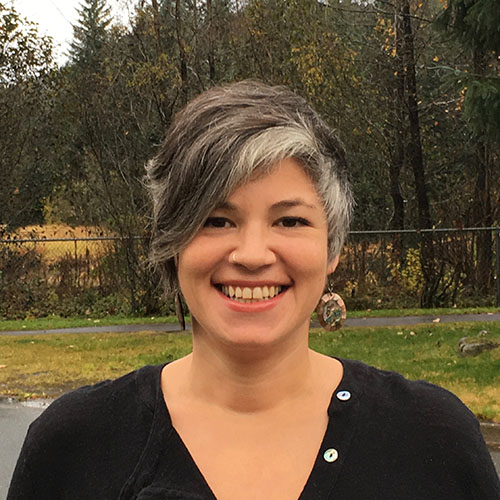 Education:
Ph.D. Candidate Cultural Anthropology, University of California Irvine (2018)
B.A. Social Sciences, University of Alaska Southeast Juneau (2013)
A.A. General Education, University of Alaska Southeast Ketchikan (2011)
Research:
Alaska Native Studies
Food Anthropology
Anthropology of the Senses
Critical Indigenous Studies
Affiliations:
Society for Applied Anthropology
American Anthropological Association
Native American and Indigenous Studies Association
Courses Taught:
Anthropology of Native North America
Introduction to Archaeology
Introduction to Alaska Native Studies
Alaska Native Cultures
Traditional Intertidal Foods of Southeast Alaska
Biography:
Forest Haven is Ts'msyen and a first-generation graduate student from the Metlakatla Indian Reservation in Southeast Alaska. In 2013, she a received her B.A. in Social Science with honors from the University of Alaska Southeast in Juneau, and  is a Ph.D. Candidate in Cultural Anthropology at the University of California, Irvine. Her research interests lie at the intersections of traditional subsistence foods, identity politics, Alaska Native studies, settler colonialism, and the anthropology of the senses. Forest has been personally involved with traditional food practices since childhood and was encouraged to channel those interests into scholarly pursuits during her time at UAS. As an undergraduate, she was awarded an Alaska EPSCoR fellowship to conduct research on subsistence foods in rural Alaska, which eventually led to the development of her current dissertation research. As a graduate student, she has been awarded several major fellowships in support of this research including the Ford Foundation Fellowship, the National Science Foundation Graduate Research Fellowship, and the UCI Oceans Initiative Graduate Fellowship. Forest has presented at numerous conferences around the U.S. and currently teaches Alaska Native Studies and Anthropology for the University of Alaska Southeast in Juneau.