Jason

 

B.

 

Fellman

, Ph.D.
Deputy Director - Alaska Coastal Rainforest Center & Research Assistant Professor of Environmental Science

 
Arts and Sciences - Natural Sciences / Alaska Coastal Rainforest Center
Juneau Campus: Whitehead Bldg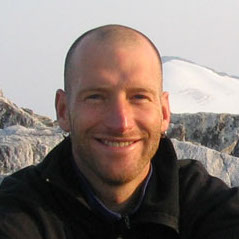 Education:
B.S. Biology, University of Scranton (1995)
M.S. Environmental Science, Washington State University (2000)
Ph.D. Biogeochemistry, University of Alaska Fairbanks (2008)
Research:
Stream biogeochemistry
Publications:
Arimitsu M, Hobson KA, Webber DA, Piatt JF, Hood E, Fellman JB. Tracing biogeochemical subsidies from glacier runoff into Alaska's coastal marine food webs. 2018. Global Change Biology 24(1):387-398.
Fellman JB, Hood E, Raymond P, Hudson J, Bozeman M, Arimitsu M. 2015. Evidence for the assimilation of glacier organic carbon in a proglacial stream food web. Limnology and Oceanography 60:118-128.
Fellman, J.B., E. Hood, R.G.M. Spencer, A. Stubbins, and P.A. Raymond. 2014. Watershed glacier coverage influences dissolved organic matter biogeochemistry in coastal watersheds of southeast Alaska. Ecosystems 17:1014-1025.
Fellman JB, Spencer RGM, Hernes PJ, Edwards RT, D'Amore DV, Hood E. 2010. The impact of glacier runoff on the biodegradability and biochemical composition of terrigenous dissolved organic matter in near-shore marine ecosystems. Marine Chemistry 121:112-122.
Hood, E., J.B. Fellman, R.G.M. Spencer, R.T. Edwards, D.V. D'Amore, P.J. Hernes and D. Scott. 2009. Glacial runoff as a source of ancient, labile organic matter to the Gulf of Alaska. Nature 462:1044-1048.
Biography:
Jason Fellman
 is the interim co-director of the Alaska Coastal Rainforest Center. He 

joined the Alaska Coastal Rainforest Center in October 2013 as a Research Assistant Professor of Environmental Sciences. Prior to that, he served as a postdoctoral fellow in Environmental Science at the University of Alaska Southeast as well as the University of Western Australia in Perth. Jason has a background in the biogeochemistry of terrestrial and aquatic ecosystems with the focus of understanding how carbon and nutrients link these distinct ecosystems. He has extensive experience in the coastal temperature rainforest of southeast Alaska exploring how wetlands and salmon influence stream biogeochemistry. Jason's current research is focused on understanding how stream biogeochemistry and ecology may change as receding glaciers are replaced by forests and glaciers contribute less meltwater to streamflow. Jason has a strong commitment to environmental stewardship and believes research can be used as a tool to balance human and ecological needs in a changing climate. He received a PhD in Biogeochemistry from the University of Alaska Fairbanks and an MS in Environmental Science from Washington State University. He enjoys climbing, skiing, trail running as well as camping and traveling with his wife and two children.